Where my content is valued the most !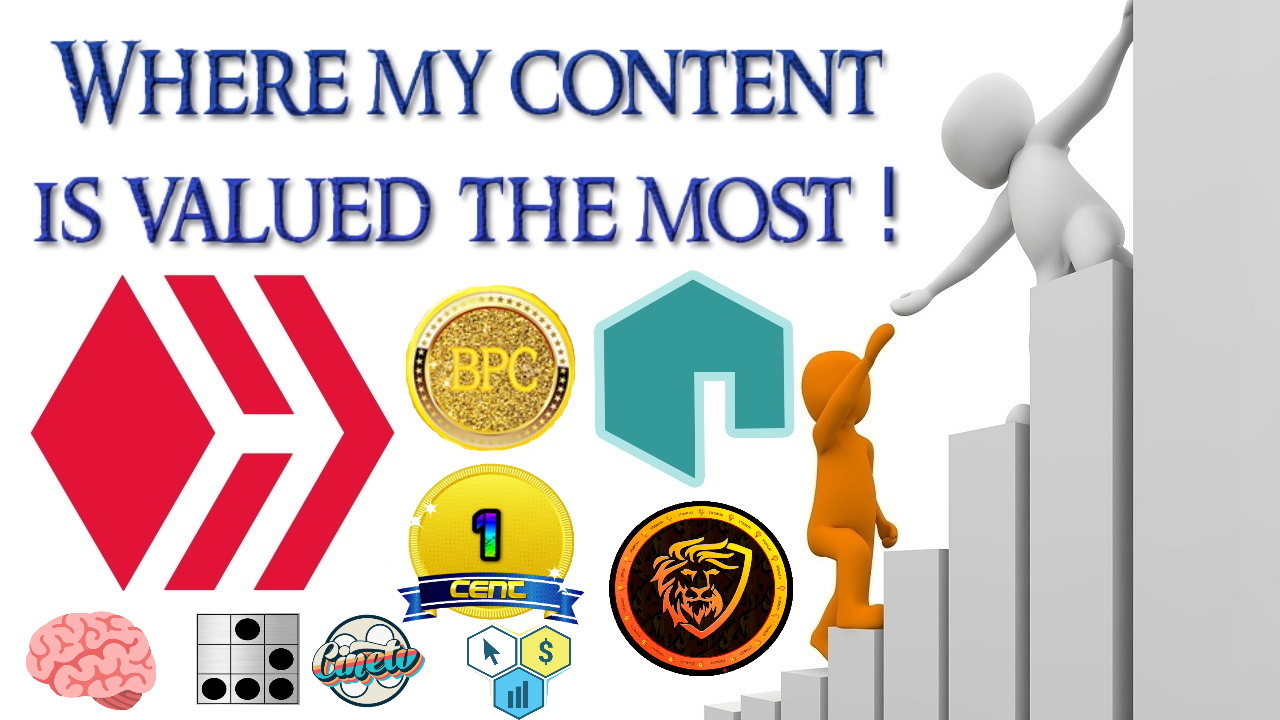 In this post, I would like to create an analysis of my content on a few platforms I create on.
The first one of course and this is the main blockchain where everything is created, it's hive.
And that's thanks to @threespeak video platform. One video I created made me more than $30 liquid and power I'll have !

Now I would like to write about the tribes. Because I'm creating content in many of them.
Checking this tool, I see the number of tokens earned from all my content during a week :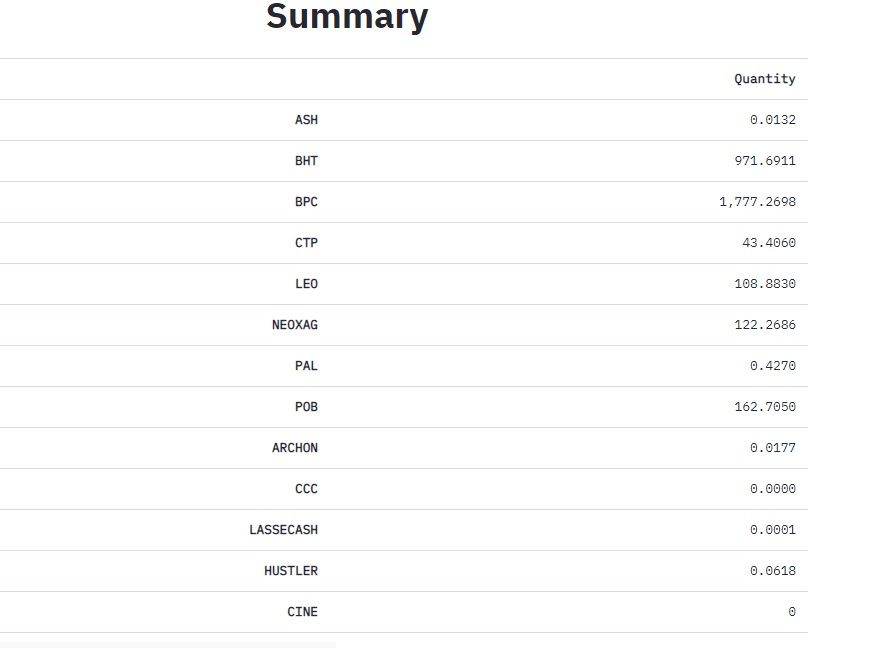 But that's the number of tokens, but not the support I feel.
Taking BPC tribe for example, I'm earning there the most !
And when I look at my page, there I see how many trading posts I have :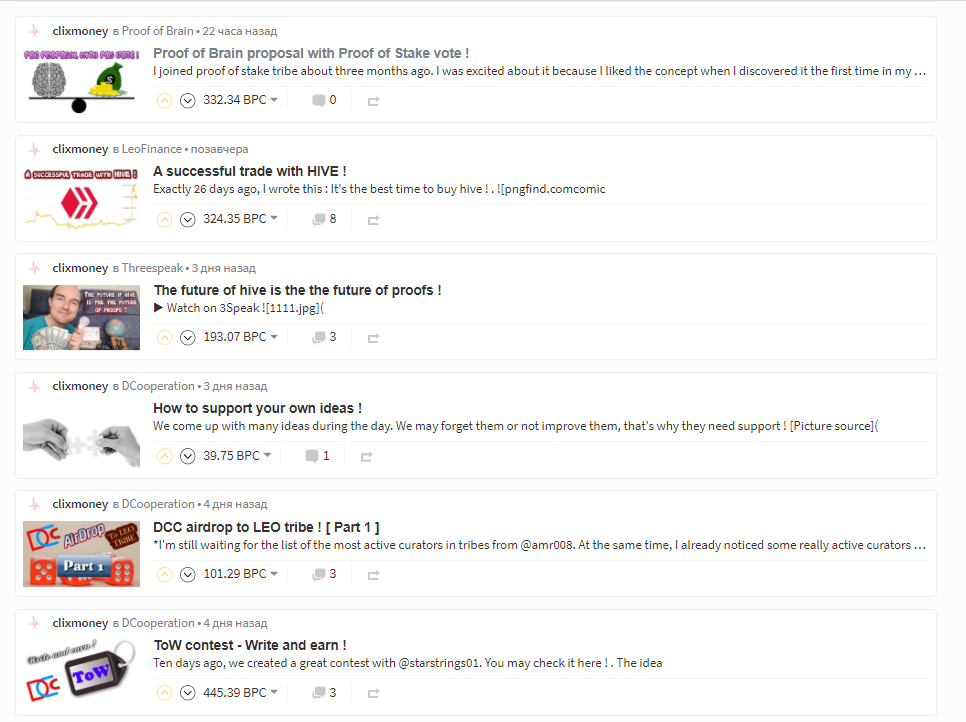 That's only in 4 days, but during this week I have there a trending post every single day. I understand that the price of the token is very low, but still, I'm supported there for a reason. Or maybe something is happening in the tribe. Something I don't know. Because I see the price today went to the bottom.
Or maybe it's just something related to the market. Recently someone sold for example DCC with 0.05 hive and another buy it, and the price went down 80%. So, the market is tough and any undervalued token may go crazy, while a famous token may go close to 0. It depends on the development, the community and many other factors. So, if I'll do my best and the community will help me to make the token be valuable, that will happen, and the price may grow again.

The second tribe where I'm supported the most is BHT. I also have a trading content there every single day. The price is a bit better than BPC, but I'm doing well there. Recently I created a contest there, I wish someone will participate in it : DCC & BHT collaboration ! - [ Skills Contest ], but I didn't find yet anyone participates. It's in fact a great collaboration contest, I'll move maybe to other tribes, so I may find some supporters.

The third tribe I'm supported in is the new one created called ''One cent''. This tribe looks really promising because the price is stable. We may call it a stable token. During one week I have 3 trading posts there.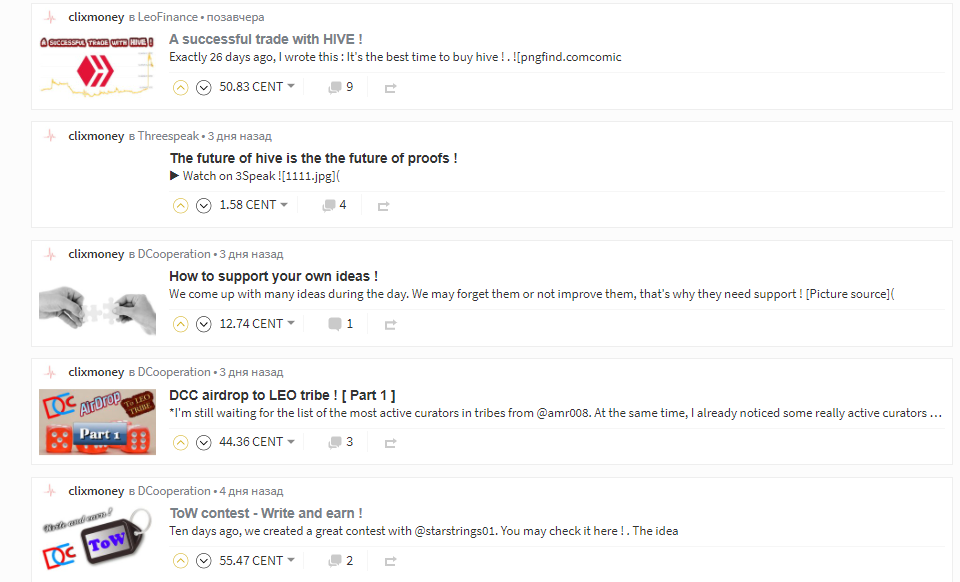 And I'm positive about the tribe. The name is cool, and it's a pretty new one. Let's see what will happen. ☺

The fourth one is leofinance and this week I have two trending content there !
Leofinance is one of the oldest tribes in hive-egine, and they have other related projects, what make it interesting for investors. So the recent price is just an interpretation of stability there. I like how hive there is supported, and many crypto are promoted. That could be a great platform to collaborate with other crypto communities. That's what I'm thinking to do with @dcooperation and that's why I'm building my account and the account of the community there. It's a great place as well to find the right investors, when a startup is ready. I think leo has a big future !

The fifth tribes where I'm supported the most is POB. About a month ago, I was the most rewarded author there. I was doing really well. But after I said my true opinion about many things, I lost that privilege. Even when powering up all my rewards and doing good things, like fighting the plagiarism there. I've found so many of the abuse I reported and keep reposting it sometimes when I have time. As well, I'm participating in contests and creating contests myself. Of course my contests are general, not related to a particular tribe or another because I still feel the main platform here is hive.
All the tokens on hive-engine don't have their own blockchain. I think it's data saved on hive-engine only. That's why they are slower than hive itself. But it's still nice to have those tokens as a fuel for communities. And to support more ideas on them. To diversify the ways of rewarding content. So, everyone may find his/her place in the right platform to grow and build in. Now I'm among 100 richlist in POB, with more than 1000 POB power. Maybe things will change when I'll have more of that. I'm still powering up when I can. I spent a lot when I was using the tokens to promote DCC. I'm still keeping some to always be able to promote. Promoting in tribes is good. You may use only about 10 tokens to place any post in trending page, and that's awesome. I'll keep building there because the growth is not always related to the whales if they support you, but sometimes is related to the great people who support you with any amount and any feedback. And when you find such people, you just keep growing with them. You keep supporting them, and they value any support, no matter how little it is !

The sixth is neoxian. It's one of the oldest tribes and many of my followers are creating and curating there. It's a general topic platform. And I like that I do well there, even not promoting it that much. So, in this case, I feel that I give them less than they give me. That's why I have to write about them from time to time. I know as well the founder of the tribe who is supporting, so many in hive as well. So, it's a hive friendly platform as well. I even like to promote content there sometimes because I see it effective.

The seventh platform I'm interested in is cinetv. Because I'm planing to create a documentary movie about hive very soon. We already started to work on it. One of our members is already preparing the introduction part to write and to record. I'll edit it with a few cool videos, and we will be ready to go. Recently I created in cinetv about the idea, and it was really supported very well.


And the eight platform I'm creating often on it and powering up all my content unless I need it to promote is ctp. CTP tribe was always the third for me to power up there after LEO and POB. I mean the third where I started to power up all my earnings and the earning of @dcooperation. Because I know so many people there who started the tribe. I remember how it all started, and I regret I didn't support tribes in that time. But now I'm back again, and I hope to prove my loyalty to all tribes I create in. I really want to be useful for all of them, and I want @dcooperation to be the link between them all. I hope my missions in the future will be more clear to the most here and I hope DCC will be one of the successful token and maybe a tribe in the future as well. I'm still learning from all of them.

Those are the platforms I create in. Of course, I'll create on those who support me the most. As a video creator, I should be more active in 3speak. As an investor, more active in leofinance. As a content creator in others. It's impossible to be on the top everywhere. I'll just do my best to be good enough for everyone.
The goal is not to earn as much as possible, but to find the right place where you belong the most !
---
---