Design and Architecture of Kallia Coffee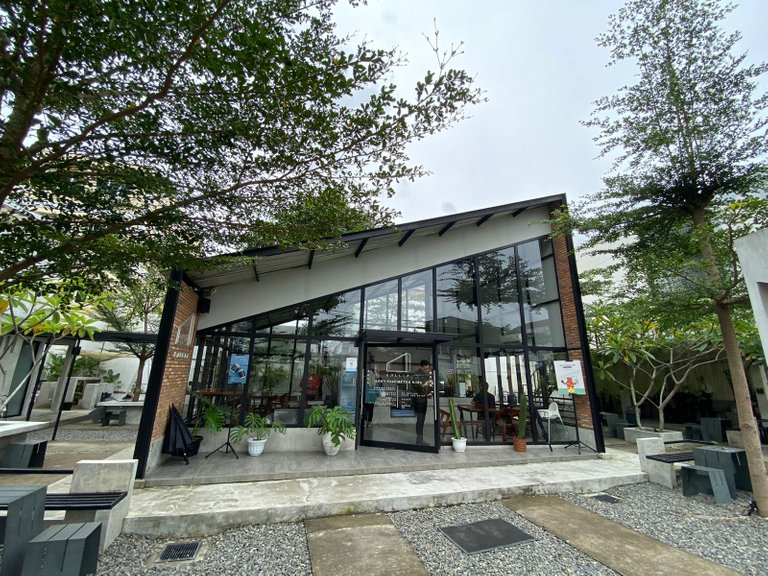 ---
---
Hello everyone
How are you today ? I hope and pray that all members of Architecture+Design Community are always in good health and also happy in living this life. This time, I want to participate again in this community I love, by sharing my story and impressions of a building that has an architectural design that is worth discussing.
Some of my content in this community is more concerned with design and architecture than cafes, coffee shops, or restaurants. I write, always based on experience and also an interest in one thing. I feel, since the era of the covid-19 pandemic, many coffee shops and cafes have sprung up with various interesting concepts. This coffee shop and café offers a different and unique vibe compared to previous years.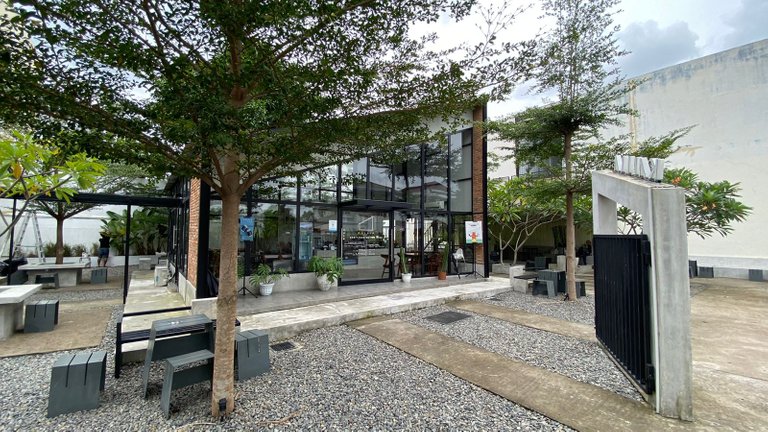 I feel the creativity of this new cafe and coffee shop, because of the effects of the covid-19 pandemic. During the last COVID-19 pandemic, my country implemented a strict regional quarantine policy and rules for traveling outside the city. At that moment, culinary entrepreneurs used to create restaurants, cafes or coffee shops with different vibes. Visitors feel they are in a different place. Like, this coffee shop that I visited some time ago, namely Kallia Coffee.
---
---
Kallia Coffee – Coffee with Cozy Inside and Outside Space
Kallia Coffee is a coffee shop that just appeared in 2021, just when the covid-19 pandemic hit all over the world. This coffee shop is located at Beo Street no. 39 Medan Sunggal District – Medan City. This coffee shop is very close to my parents house and I have come to this coffee shop several times in the evening. This coffee shop is very crowded and viral, what makes this coffee shop popular and viral for residents of Medan City? keep watching my journey.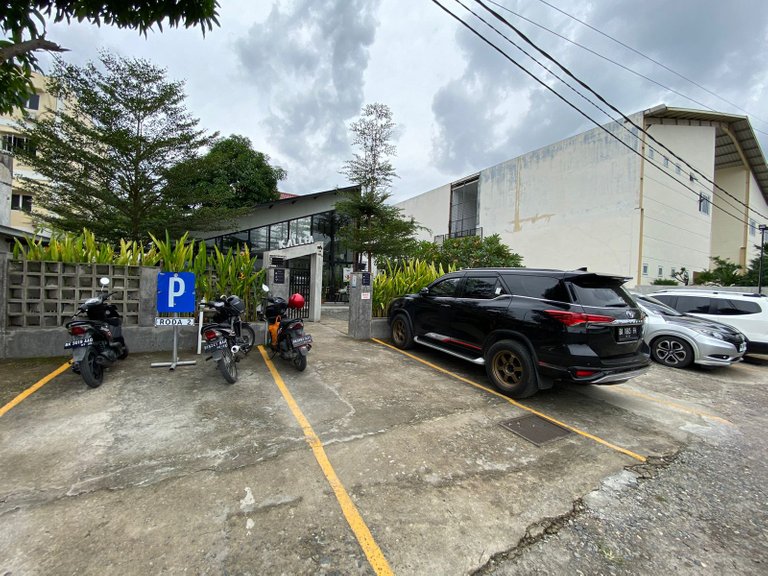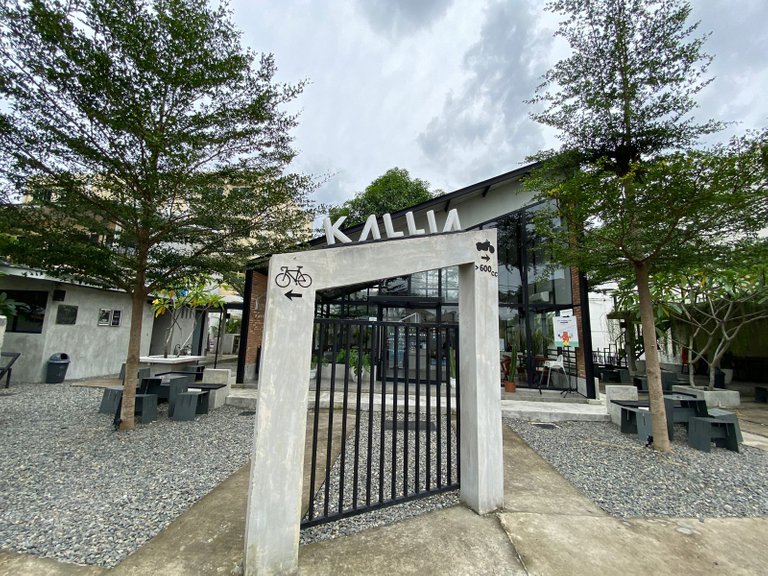 The front of Kallia Coffee is surrounded by a concrete fence with a natural cement color. The industrial impression shown from this coffee shop makes a simple and strong impression for those who see it. This coffee shop is designed to be friendly to visitors with cars as well as people who come by bicycle. We can see a very large parking area designed for visitors who drive a car. Here, we will see a lot of trapezoid-shaped ornaments, from the front of the coffee shop to even the coffee shop building is also shaped like that.
I came to this coffee shop in the morning to get the best photos and try to get an impression and reason of how popular this coffee shop is. When I saw this coffee shop in the morning, there were two words that might be suitable to describe Kallia Coffee, namely fashionable and aesthetic. This coffee shop facilitates every visitor who comes to take pictures. Almost every corner of this place can be used as a photo background.
---
---
Indoor Space Kallia Coffee
For me, Kalia Coffee combines industrial, minimalist and garden design concepts. Combining these various concepts is very interesting for us to discuss, and I try to discuss the indoor part of this coffee shop. Indoor Space from Kallia Coffee is not too wide, I think it's about 8x8 meters.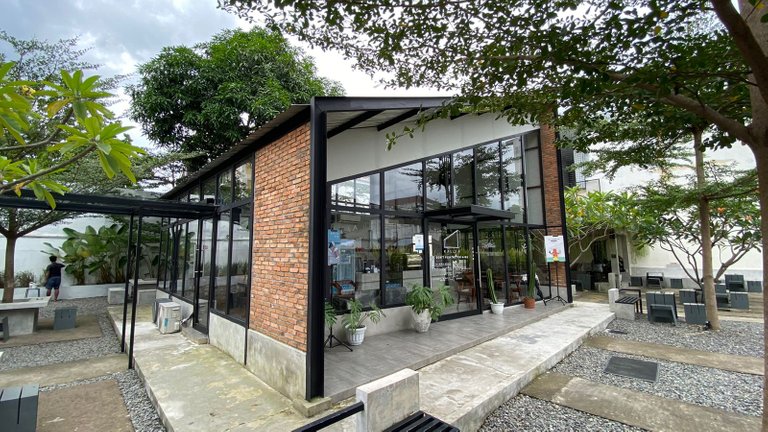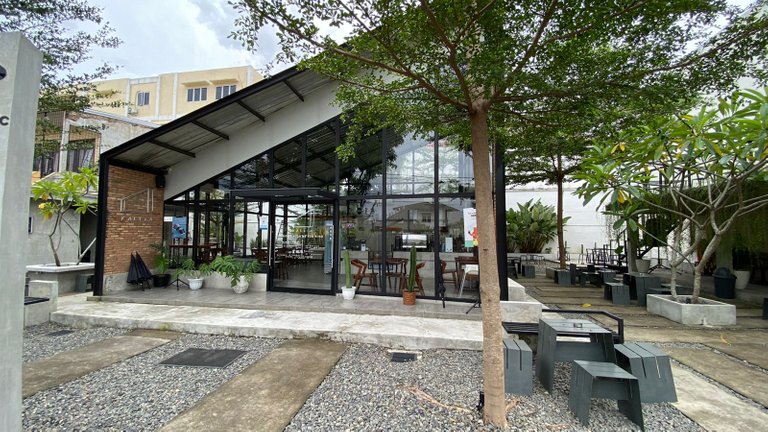 The building is very unique and becomes the identity of this coffee shop. The trapezium-shaped coffee shop or café building with transparent glass walls looks very cool and unique. When I first came to this coffee shop early last year, I felt this coffee shop to be a visionary because the building style, design and architecture were imitated by many other coffee shops in my city.
When we enter the room, the impression of industrial design cafe interior feels very strong. We can see that this building uses cement floors, cement walls, and the same coffee bar table. One of the characteristics of industrial design is the unfinished concept that is displayed. This room is also equipped with supporting furniture for comfort. Wooden chairs and tables were chosen as indoor furniture. The number of seats is not too many, because Kallia Coffee has more seating for the outdoor section.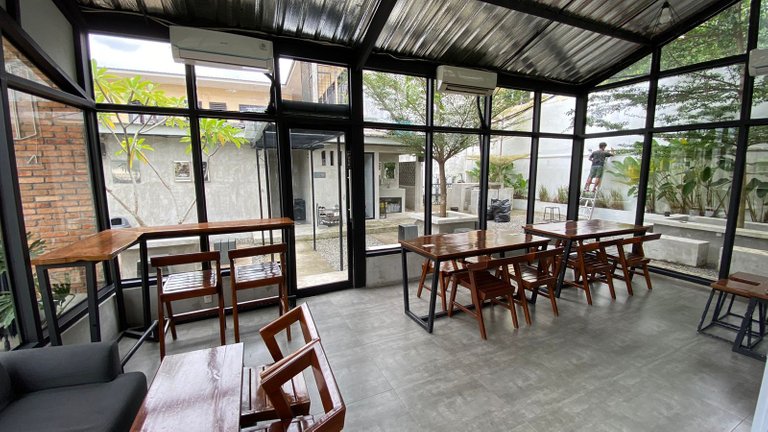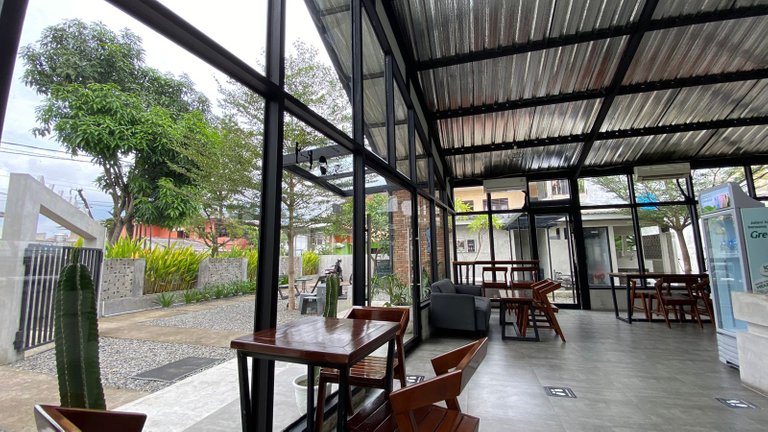 I always like buildings that use glass walls for the walls of the room. This indoor room looks more spacious and clean with that wall. In addition, when we sit in this indoor room during the day, we can see the gardens around. This indoor room is also quite cool, because the air conditioner installed is suitable for the room capacity of this coffee shop.
---
---
Outdoor Space Kallia Coffee
The outdoor part of this coffee shop is a favorite of visitors who come. In the outdoor section of this coffee shop, we will see how the cleverness of this coffee shop combines garden and industrial concepts in one design concept. I really like the design of the pebble floor in the outdoor part of this coffee shop, it looks natural and also very unique.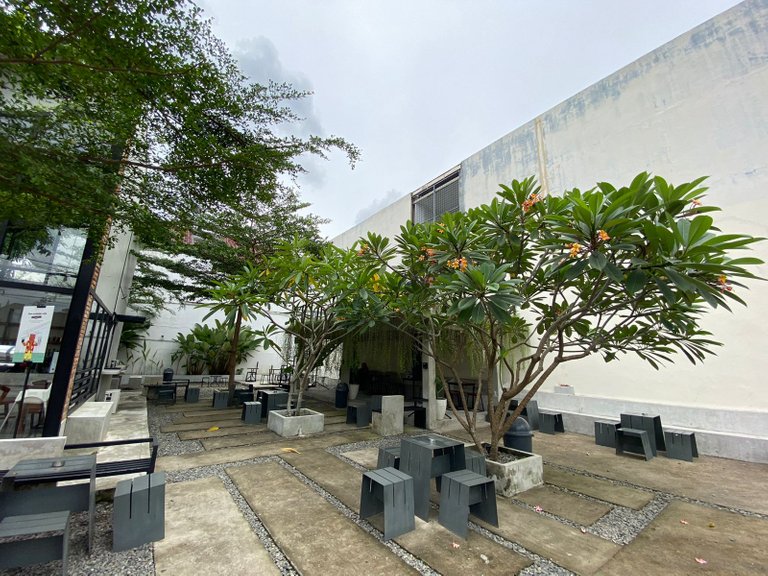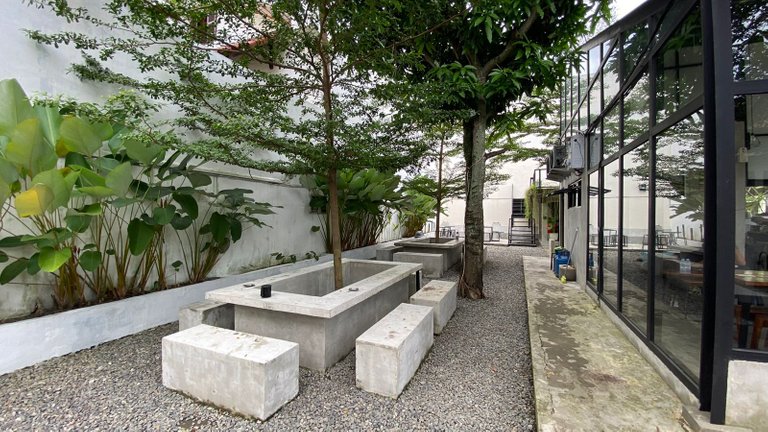 The outdoor space of Kallia Coffee is very spacious. Almost 80% of the total benches and tables are in the outdoor section. However, I like the way this coffee shop arranges the positions of the benches and tables so it doesn't seem too crowded. Diners' benches and tables are always arranged close to the trees or plants in this coffee shop, so that visitors who come can feel the garden vibes. For the outdoor part, this coffee shop also uses stainless steel benches and tables. In addition, there are also tables and chairs made of cement to give a stronger industrial impression.
Something makes me curious, I always come to this coffee shop at night and this coffee shop is always very busy. I think there are too few benches and tables in the morning and afternoon. I got the answer when I asked one of the owners of this coffee shop, Husni. He greeted me while I was taking photos around the coffee shop. He thought, I want to imitate the concept of this coffee shop. Because there are so many, coffee shops around my city and the province of North Sumatra are trying to make a coffee shop concept like that. I know very well, because I often browse coffee shops.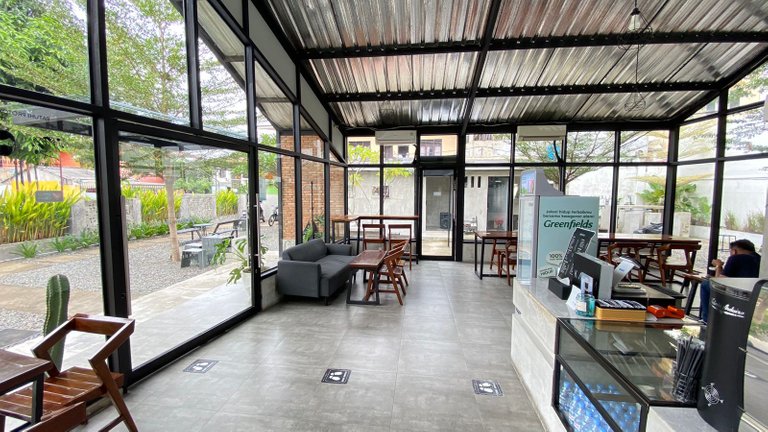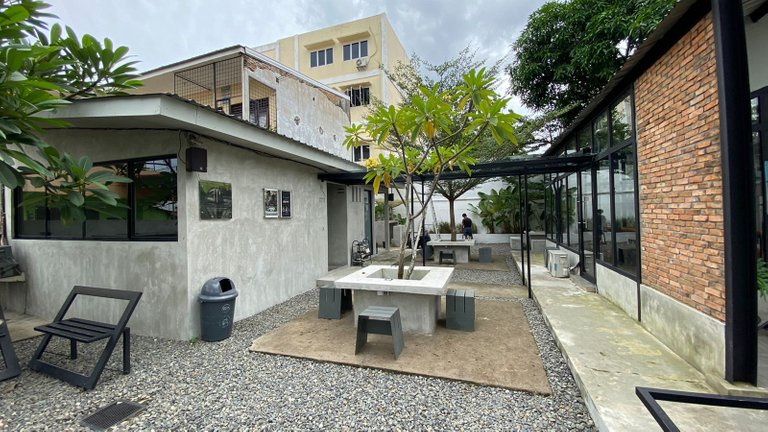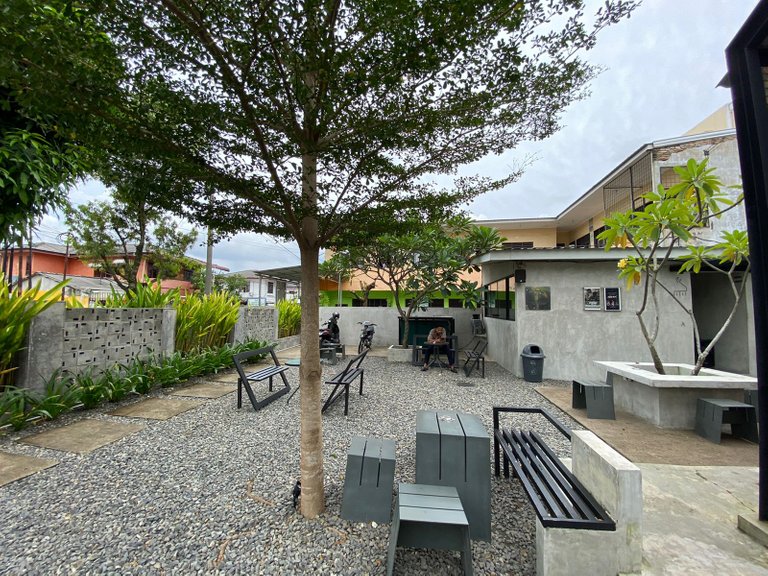 According to the owner, visitors who come during the day want to enjoy a calmer atmosphere and many want beautiful selfie photos. If all the chairs and tables are removed, it will certainly disturb the beauty of this coffee shop. At night, the visitors are dominated by young people chatting, discussing or just hanging out. I continued my question about the condition of the coffee shop business with the concept of an outdoor space during the rainy season like this. For information, in my city for the past few weeks it has often rained at night with quite heavy intensity.
Hearing the question, he laughed and smiled and said it was part of the business risk. Kallia Coffee also tried to add a room with a roof in the corner. Previously, this section was used as a stage but now it has been used as a place for customers.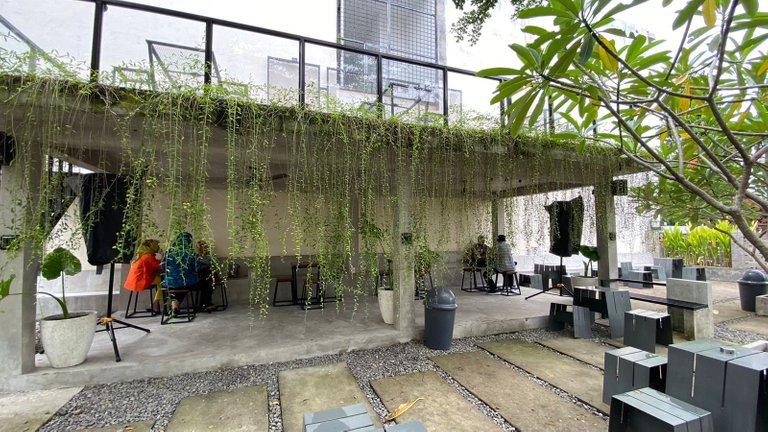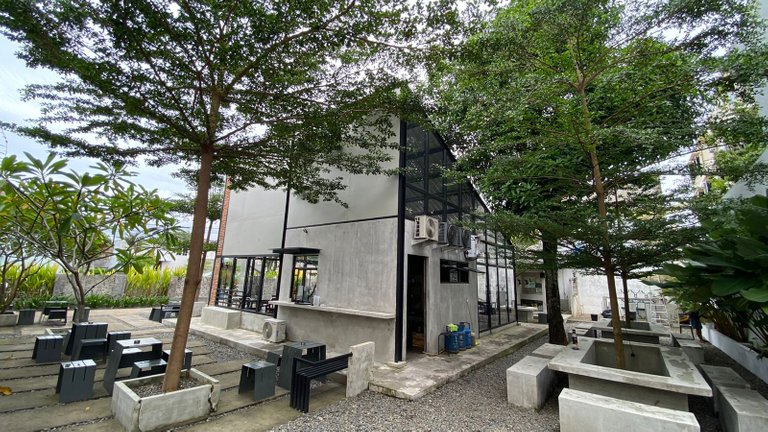 Other than that, I forgot one thing about this coffee shop. This Kallia Coffee also has a rooftop space, not too wide and not too special for me. I feel like this part of the rooftop just exists, or makes use of the rest of the lower room. Not too bad, at least suitable for photo backgrounds.
My conclusion. Kallia Coffee is one of the first generation of coffee shops to use the industrial garden concept in my city, so if our townspeople see a coffee shop that uses this concept, we always mention this coffee shop on top of mind. That is the importance of creating the right design and architecture for our business (restaurant, coffee shop or coffee shop), because if the design is liked we will get branding and many will imitate us. See you next week friends.
---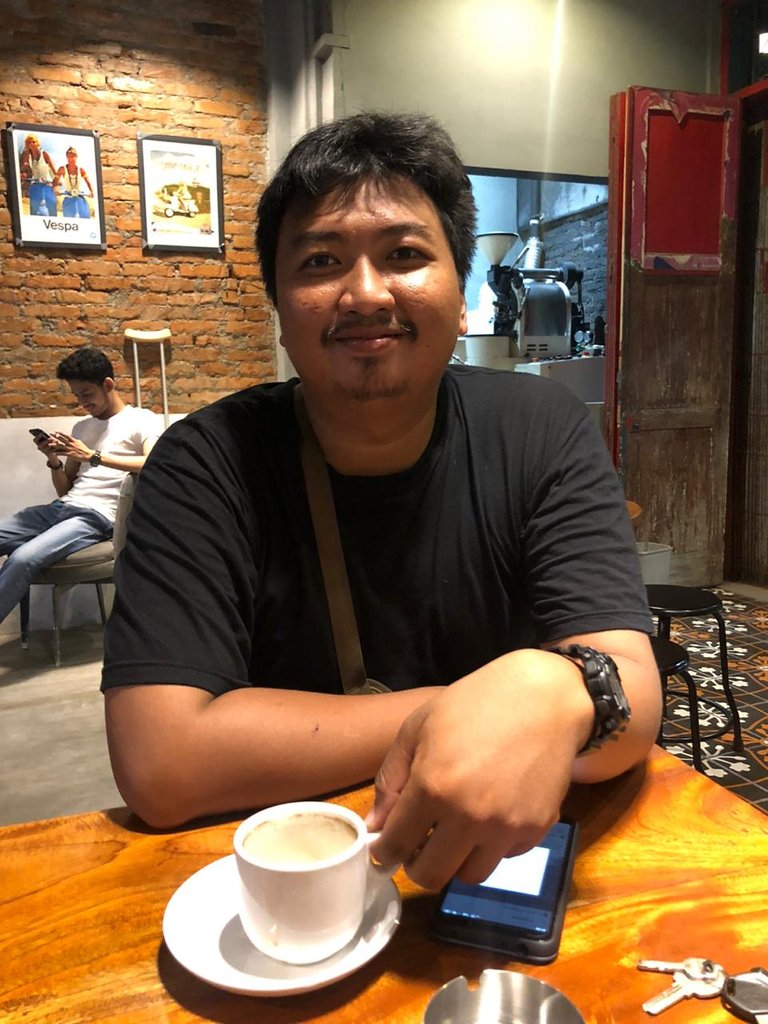 About Author

Call me Isdarmady, because I have a full name that is very long, namely Isdarmady Syahputra Ritonga. I am a head of the family who work as Farmers Vegetables Hydroponic and Consultant Hydroponics, sometimes I also sell coffee from various regions in Indonesia.
I have expertise dispensing coffee with a variety of techniques and tools brewing, because I have the desire to make a coffee shop with hydroponics as centerpieces. Help me realize that dream.
Thanks for read, vote, re-blog and support me in Hive. Maybe god will reward the kindness, let's success together.

---
---