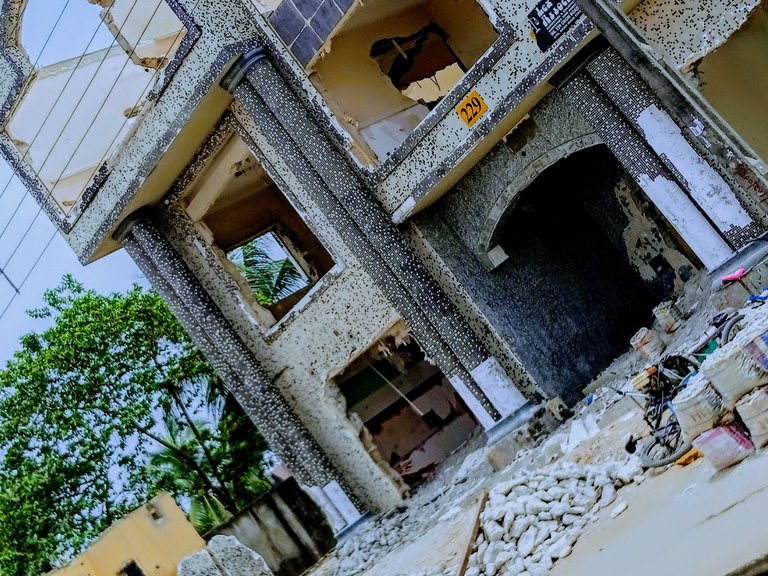 Some years ago when I visited this location, I noticed a nice structural building in an unusual spot with the name Lex Associates. Initially, the building wasn't there so I was surprised when I saw it.
And from the logo and sign that was designed on the walls of the building, one could tell that it has something to do with the court, and the name Barristers, mediators written on the walls of the building also confirmed it.
The building structure and design of the house were nice ones and I liked the colors and the rounded pillars the building had.
A few weeks ago when I went to visit a friend after some years of not being there, I learned about the demolition of the building and not just that building alone but the surrounding buildings as well. Though my focus was really on the building.
When I passed by, I noticed that part of the house was already destroyed and I just wondered why it was so.
I guess the government wants to make use of the location as such, they had to move and the nice house had to be ruined.
I am not so sure the building has lasted for 5-6 years and I am certain they were compensated for the ruins.
And even if they were compensated, the nice building ruined was still something to be concerned and worried about.
I wonder where they moved their firm to and were they able to put up such a nice or similar building elsewhere?
Did they change their building design and structure in their new location?
Or better still, are they still around Uyo? Or they left entirely.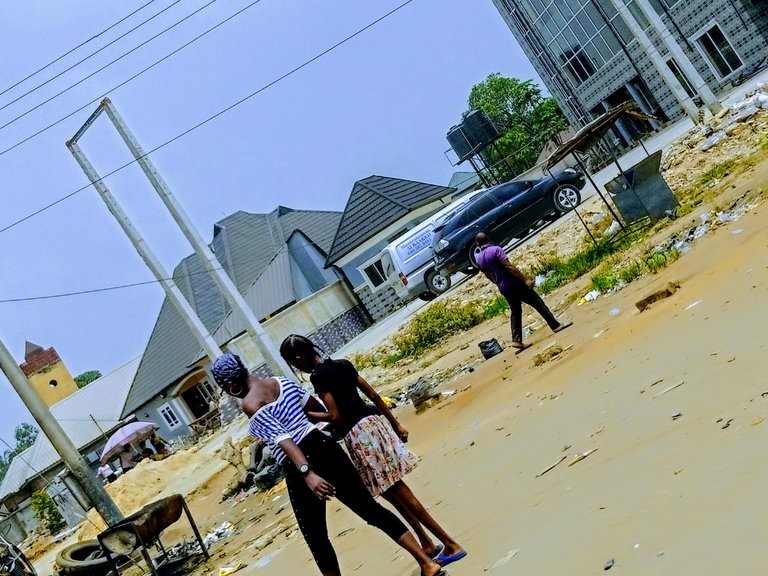 Looking at the house at a fixed angle, I like the dotted design on the building, and it appeared more like glitters but it isn't.
And it fitted the design and color of the house perfectly well.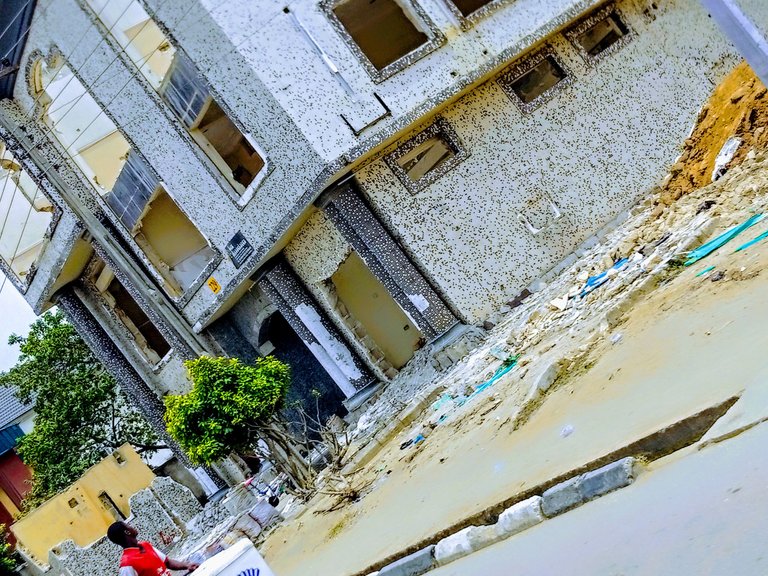 The surrounding area is wide, open, and quite spacious. I wonder if it's an individual property or the government's
Well, I doubt it's individual because I saw some ministry workers doing some work around this location, so I don't think it's an individual property, and of course, it can't be after a building quite close to this site was just ruined.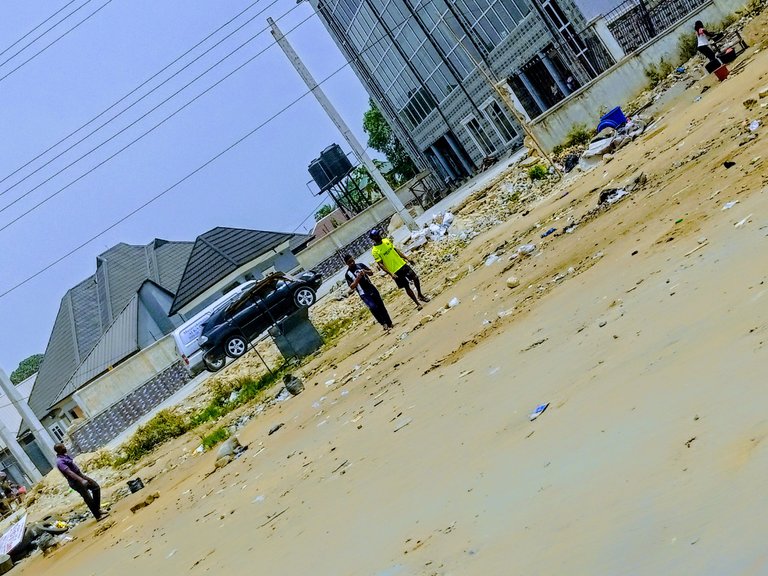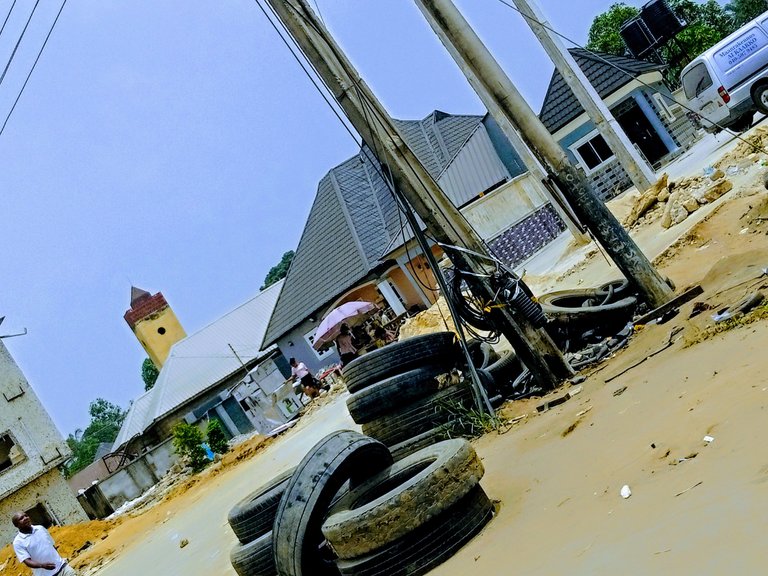 It is a 2 storey building with windows around.
It's so sad to see such a lovely and perfect raised building suddenly demolished or ruin because of one thing or the other.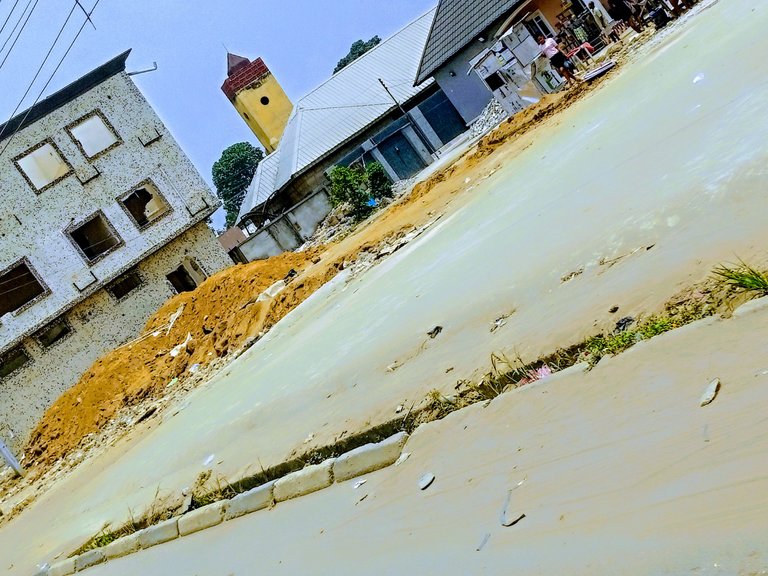 To me, it's much better if an uncompleted or abandoned building is ruined and not an already finished building well furnished, structured, and painted.
Though there are major factors that make a house to be pulled down and ruined even after its completion and one of those factors is closeness to the road. Most times ministry of works do go around to mark and destroy houses that are too close to the highway or roadsides and they will only destroy the house after several warnings, giving the owner a chance to move his or her goods if any but if the marked house just started its building process then it would be halted and marked for demolition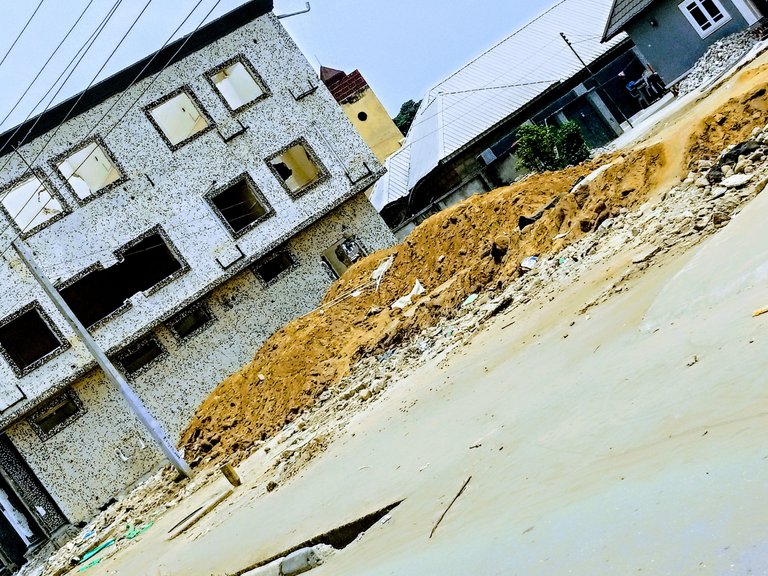 Many are always reluctant and adamant about pulling down their buildings even after receiving warnings and the house been marked by the government for demolition
And at the end of it, most houses get demolition and destroys with people's goods inside since they didn't want to adhere to instructions and warnings from the government.
How do you see a finished and well-structured house being destroyed after its completion?
What's your take on this issue?
I already see it as a disheartening occurrence