A Tour To Migaty Hotel And Resorts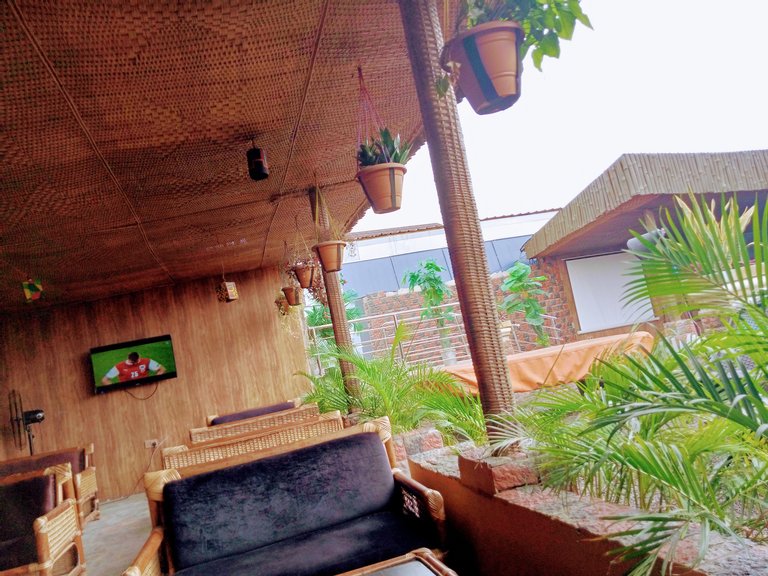 Sunday is usually one of the most eventful and fun-filled days for me.
Yesterday wasn't an exemption. We had series of programs to attend and places to visit.
We started by visiting a sister in the church that just safely gave birth to a bouncing baby boy.
We had a lot of fun at her place and one of us teased the young lady about having three army men lol, she had just boys and no girl child yet but we believe that God will grant her the desire of her heart someday because it appears she really love girl children too and wishes to have her own too.
After praying, blessing the name of God, and committing the newborn baby and his family into God's hands, we decided to step out quickly and head over to another of our brother's church to celebrate with him on his birthday. We thanked God for adding a new year to him.
We also celebrated with others whose birthday is also July, I must confess, I kinda liked how they conducted and organized their birthday celebration, it was good and fun too.
And after that location, we all decided to go to the field for the football match tournament we have at hand. We spent some hours in the field before we finally dispersed to our different destinations.
This is just an iceberg of how yesterday's Sunday went.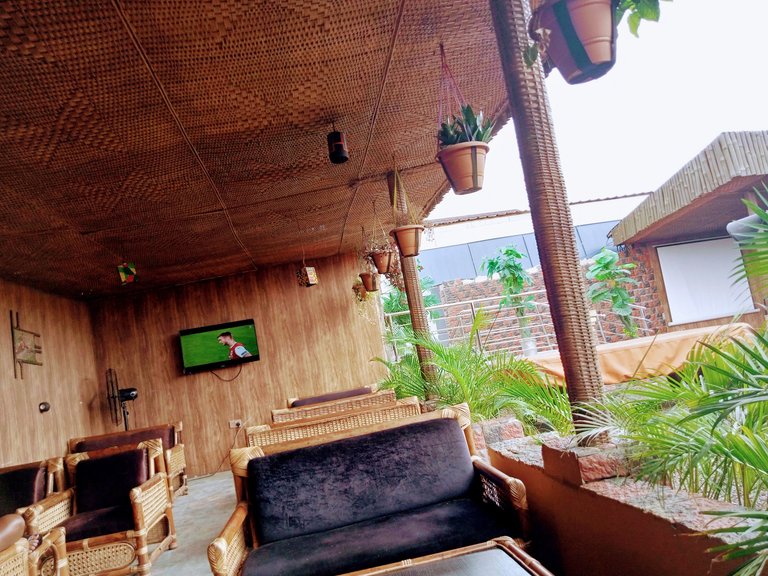 As for today, I wanted to share briefly about yet another Sunday experience I had.
This happened like three Sundays ago.
After service, I thought its been a while I saw one of my friends so I decided to visit her. The visit was supposed to be a brief one but when I got to her place the case was different.
I called her up after service to know if she was at home and since her place was quite close to my church, I knew it would only take me a few bucks to get there.
When I phoned her, she told me she was home, so I went ahead to board public transport to her place.
On arriving her mom and little sis were around.
They welcomed me very well and treated me to some snacks and drinks.
Her mom started asking about how I and my family are faring. We had a good time and before I left back home, she decided to take me on a tour to a small hotel close to her home.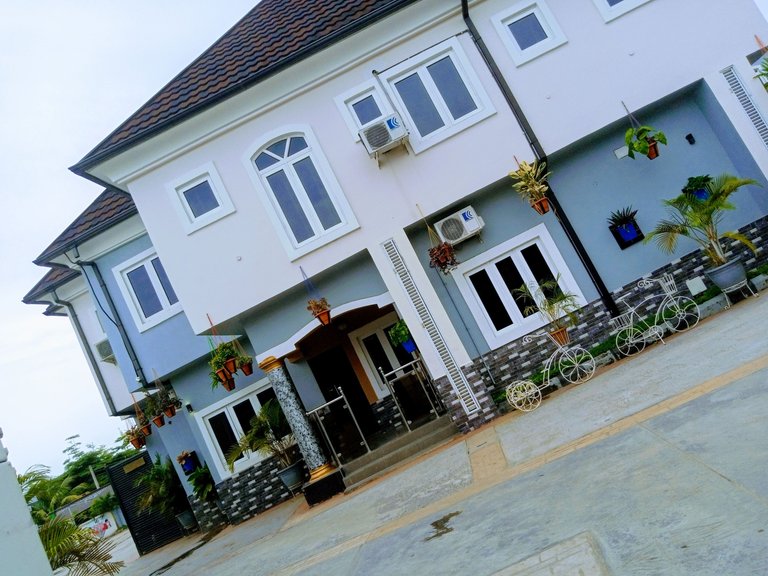 Actually, the hotel was newly built. And since it has been a while I visited their home, I didn't know about the changes that took place there.
She decided to use the opportunity to take me around the hotel a little bit and since it was Sunday, I had all the time in the world to do that.
She took me to the main building, the guesthouse, the swimming pools but unfortunately I didn't capture most of those areas because I didn't even have them in mind, it was only when I was about to go that I remembered that I should have taken a few shots of the place for memories sake.
So the few areas I captured is what I am sharing today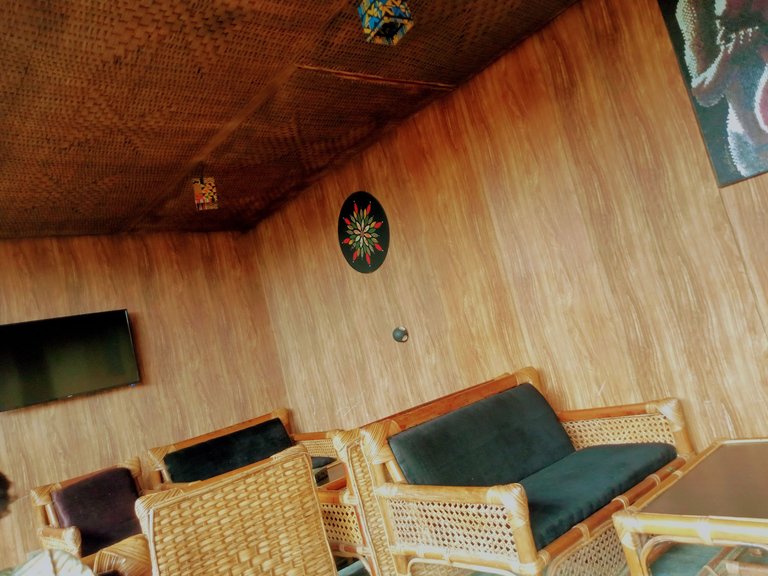 This is the entrance to the main building, it's a bit bigger than what is shown here. It's appearing small because of how I captured it and the angle which I did.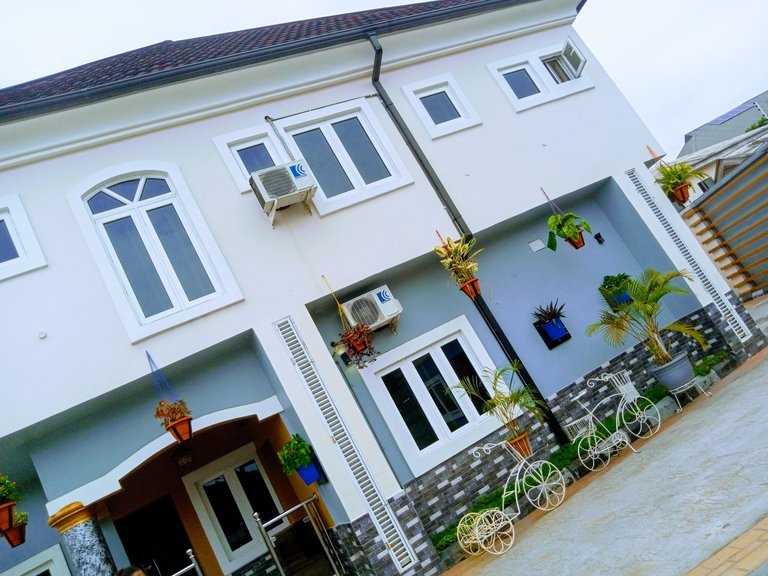 The main building looks small but very distinctive and lovely.
I like how the building is being decorated with hanging plants and flowers.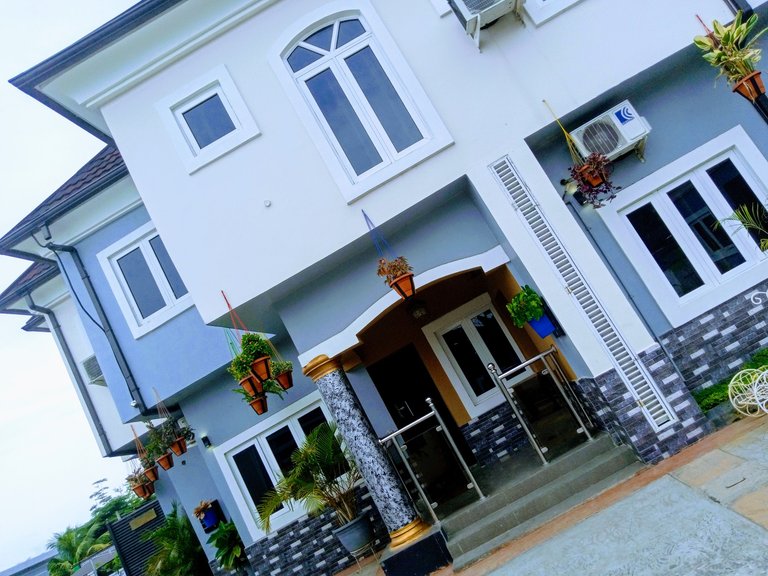 And here happens to be the guesthouse somewhat. Where you go to sit out and chill out.
You can order some drinks and treat yourself to a nice meal while sitting and watching the TV there.
Or even if you don't order for anything but you just decide to go there and calm yourself, you can still do that without any disturbance.
The place is very open and free for people so far you are not making or causing troubles.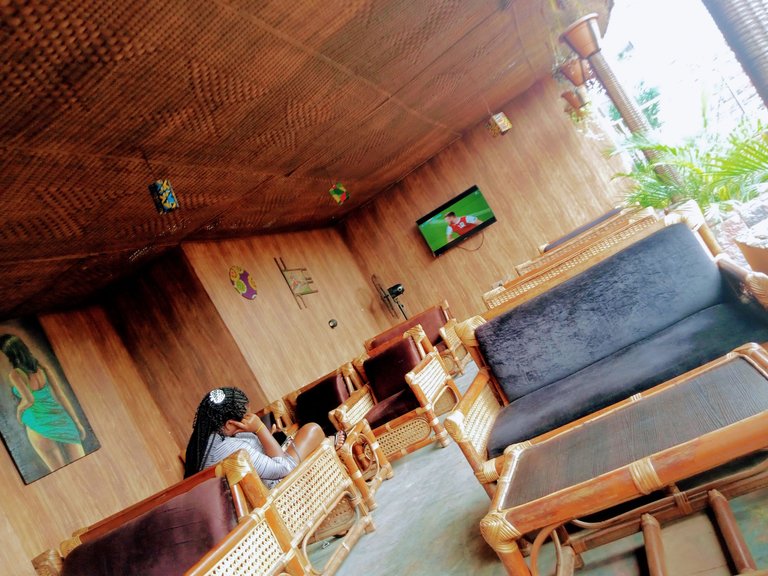 They have beautiful art around the building of the guesthouse. Both creative arts and paintings.
The roof is decorated with hanging squares designed with Ankara materials.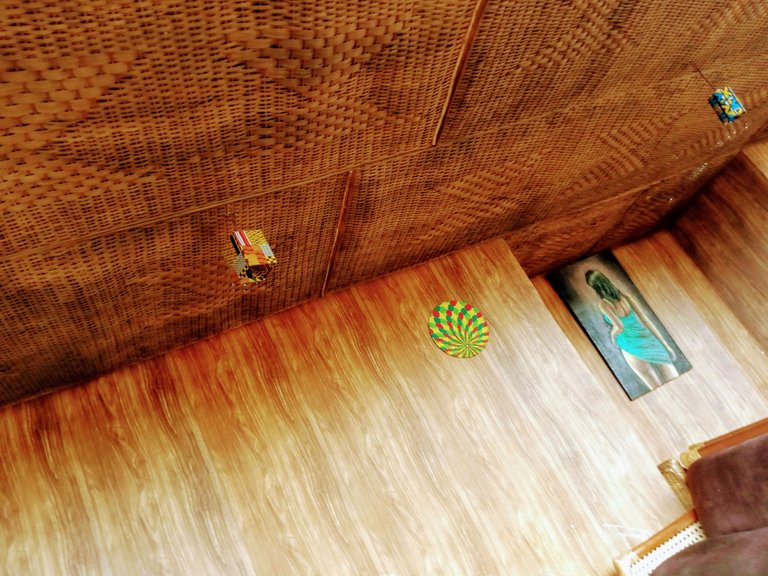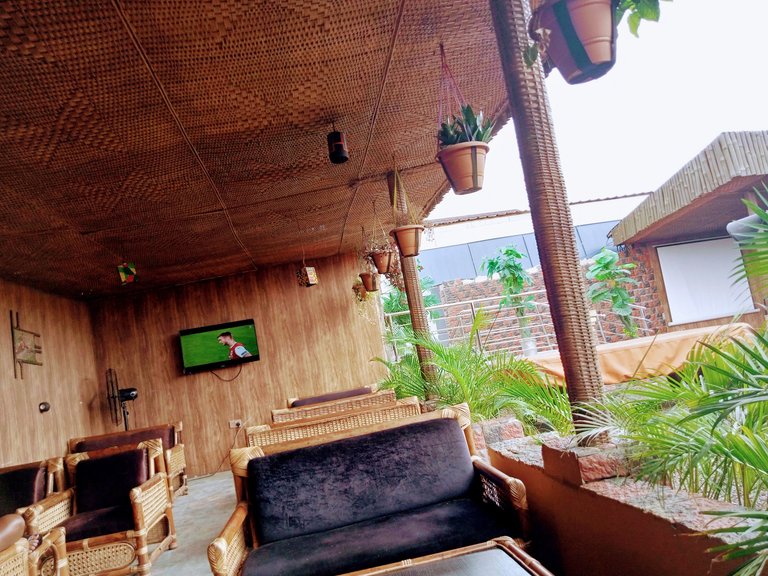 And this is an open space around the guesthouse where people sit to drink.
That is if they don't want to have the roof over their head. They can just decide to sit in the open and receive some sunshine.
The ground floor is made of palm kernel shells.
Such that it feels like you would get stuck if you weigh too much lol, just kidding, it isn't that bad.
I guess they were trying to make the whole place look traditional with all the native things they had around.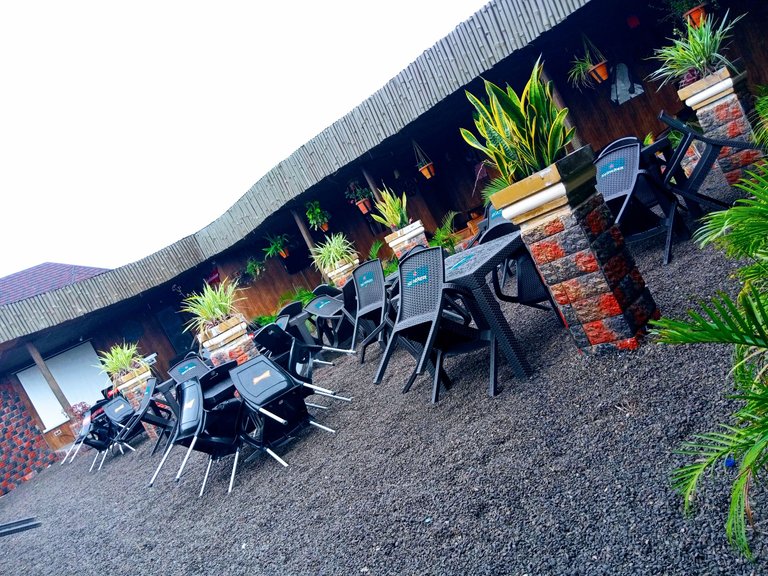 Looking closely or from afar, the palm kernel shells on the ground floor looks like small rocks and stones but that is not what it is.
They are black palm kernel shells.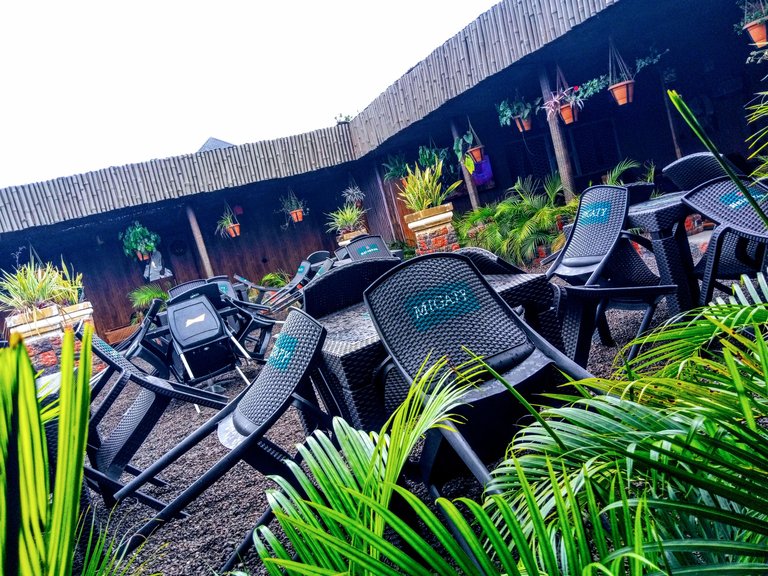 Even the pillars are made with those bamboo-looking materials.
And so is the walls of the surrounding building.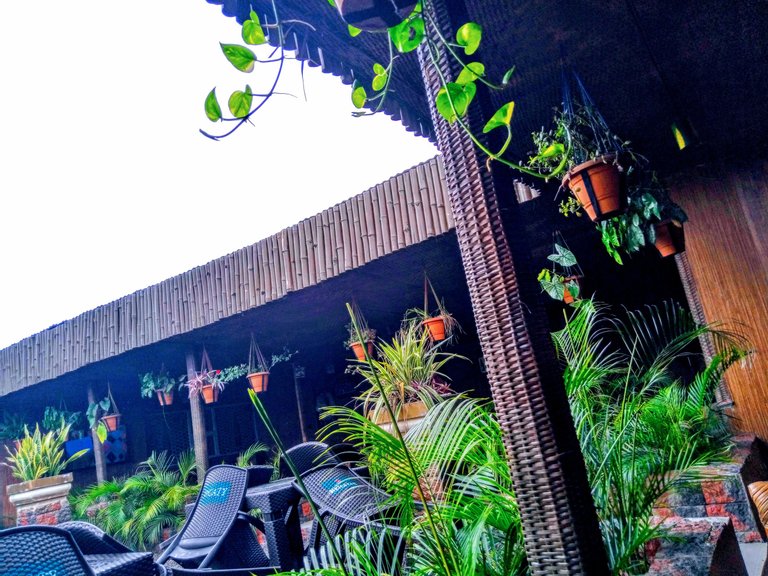 The roof and side roof shade is made with bamboo, cut evenly, and placed side by side.
Some plants are also planted around the guesthouse and open sit-out area.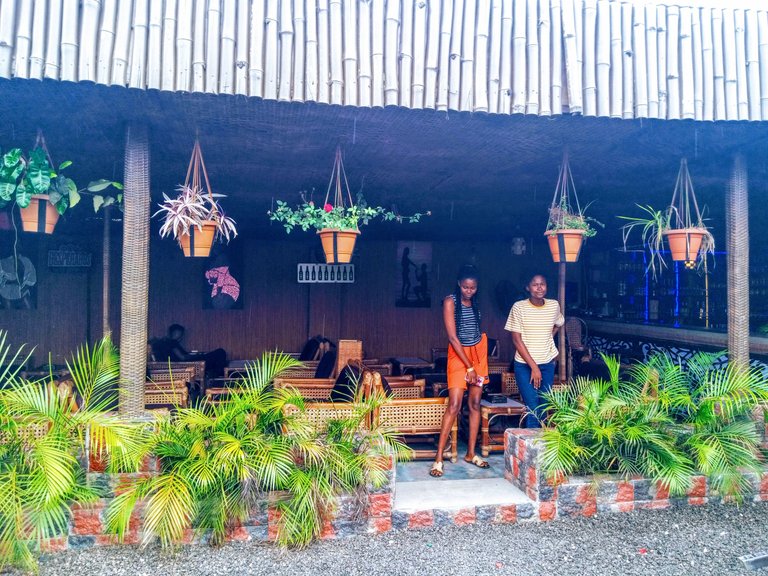 The plants and flowers in the hanging pot were already blossoming so well and looking good.
Each pot had a different plant/ flower type.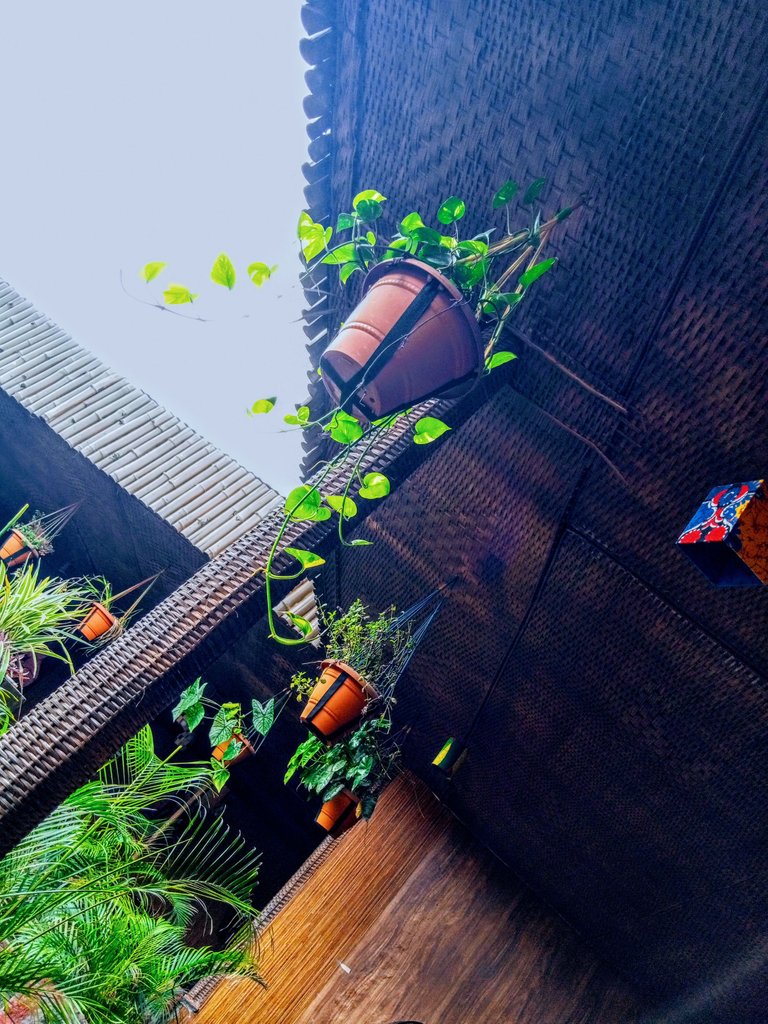 Oops, I think I forgot to mention the name of the Hotel right? Apart from my title I guess lol. It is Migaty Hotel and Resort
It was a really fun and nice time with my friend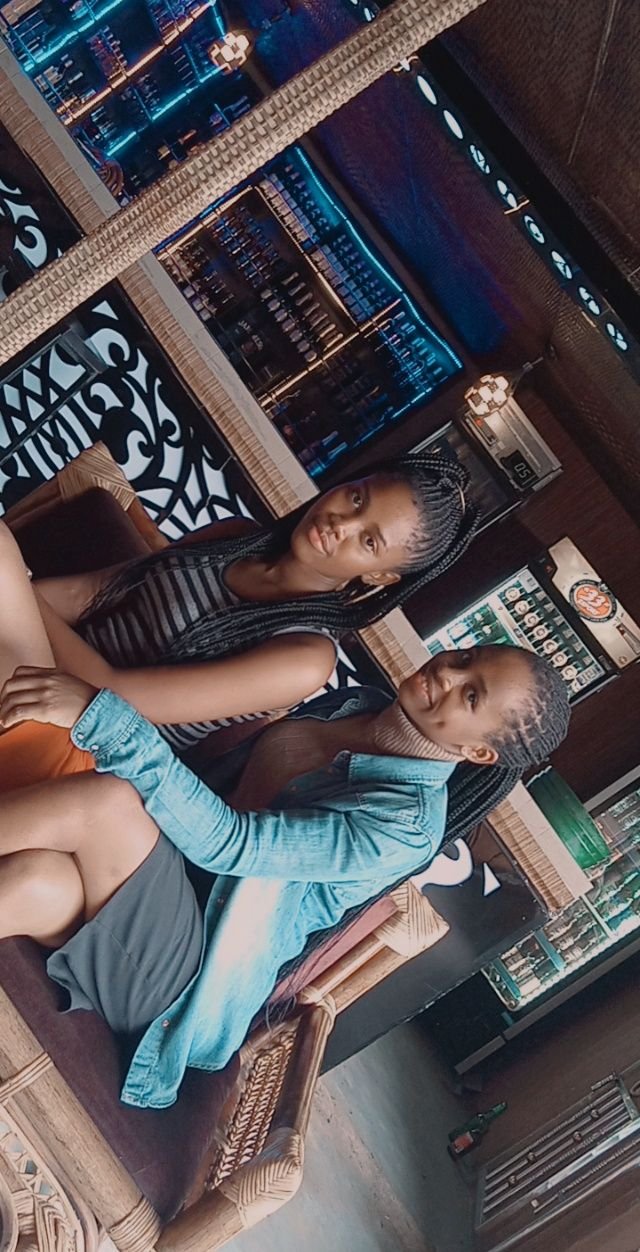 I was glad I visited her and I was also glad that she decided to give me that brief tour around Migaty Hotel and Resorts.
I was hoping to go back there someday when I want to chill out. The whole surrounding is very nice and serene. A great place to feel at peace and have your best moments.
---
---
And that was it for the tour. It's been a while I really visited places and that's why my articles in this area have been scarce. I know I still don't have the time to do that but I will in the future.
I hope you had fun with me going through those photos.
Until next time!
Still your baby girl ;)
---
To my faithful readers and wonderful sponsors, my heart goes out to you guys. Thank you for making my journey here a fun-filled and exciting one. Thanks for trusting and supporting my work too. I pray that God bless you all real good :)
---
26 July 2021
PS: All photos are mine except stated otherwise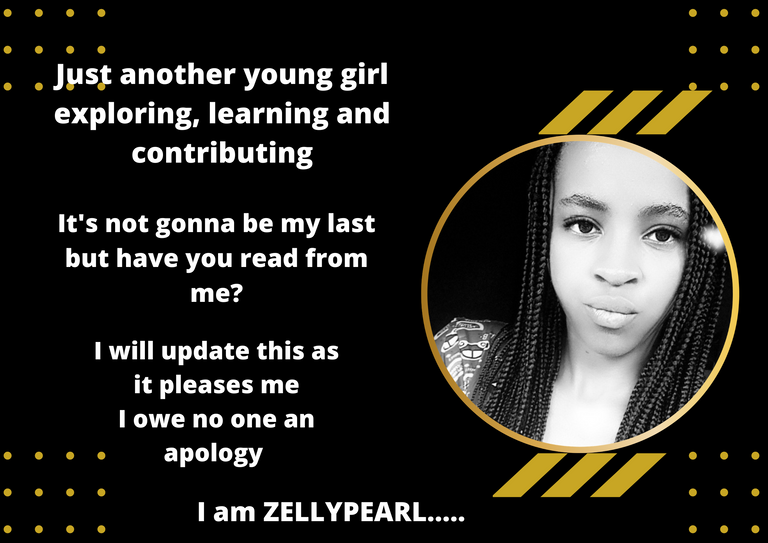 ---
---