We are having burritos tonight for dinner and Jerry being a Mexican Rescue he must be having euphoric moments or something 😆 totally getting in our way he was! It was as if his nose was leading him blindly towards home 😅
Strange how a smell can do that, some particular spice used in the burrito mix which draws him back to the times of being a beggar? He was under our feet and told to "stay out of the kitchen" and when listening we decided to give him a distracting treat 😉
Jerry enjoys his Kong with peanut butter on the inside, just a little goes a long way! In terms of licks anyways 😅. Jerry was sitting right where he is now giving me those 🥺 puppy dog eyes being a good boy staying out of the way. Look at him now, tongue deep in a tasty hole 🤭 well I just went there
This guy needs the challenge, the harder he works for it the more he enjoys it! We have long wanted one of those games for dogs but it seems they are way over priced and something like this where he chews a little will help with plaque also 😉
Doesn't my finance roll the most perfect burritos?
You know I share my food, look at those eyes on me and not the plate! He is waiting for my signal, any small piece in my hand with eye contact and a movement.
| | King Scaredy Bear |
| --- | --- |
He is really good at catching his treats, been practicing since we got him 😉 it's a good way of doing introductions to break Jerry of the fear when new people want to give him something. Respect the 2 foot distance barrier, pass it to him, eventually he forgets why he doesn't trust you 😆 many, many, MANY treats helps!
PS @dPet Community @kona is working hard on migration of @dpet services and further development while I believe aiming to remain supportive of both chains. Many aspects are in the works to ensure we continue forwards with my idea kick starting the dPet.io UI hopefully as a "quick switcher" and possibly dual poster 😉 when I dream I dream big! Please stay tuned in discord for official announcements 👍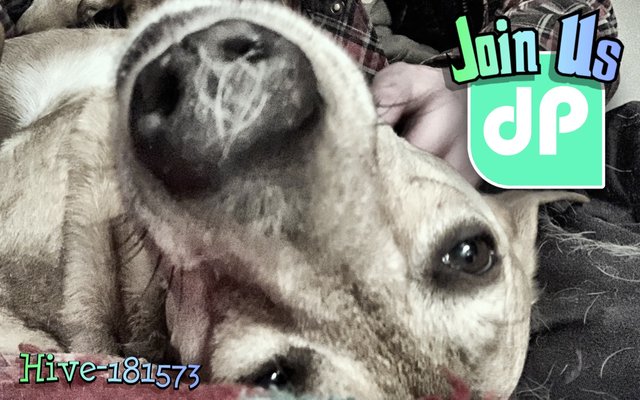 How To Earn DPET Tokens


Just by joining the @dPet Community @Hive-181573 you will be rewarded 1 DPET from the community 😅 that simple but if you want to be rewarded from me you must do a few things after that... Simple things 👌


Make a #dailypetphotography post to the community blog, make sure to use the #dailypetphotography tag!
Post must mention something about @dPet and/or Community @Hive-181573 and/or DPET Tokens and/or #DailPetPhotography Challenge.
Share link in comments below.
Mention a fellow animal lover in your comment.
Bonus pick your favorite from the below edits and tell me why to earn an extra @dPet Token.
That is a total of 3 DPET tokens, 1DPET for subscribing to the community, 1 DPET for following 1-4 & 1 DPET for choosing one of the below edits and telling me why you selected it 👍. Giveaway will run till post payout.


Can't Wait To Hear From You!

What All Is Going On In @dPet?

Use the tag #dailypetphotography in your post. It doesn't have to be the first tag.
Include a photo of your pet. Actually if there are stray cats or dogs, or any pets you meet while you are out and about, they will also count.
One photo is sufficient for this purpose. If you want to post more, yes please
(Optional) Do let me know the name of your pet and your camera type.
No plagiarized photos are permitted! Not just for this challenge, but for any posts on the Steem blockchain.


DPET Tipping Bot
| | dPet Tipping Bot Is Running! Now let us start to tip the adorable pets, and animals post with DPET tokens on Steem! |
| --- | --- |
type !DPET x (x is the token amount, if don't type x it will default to 1) in the comment of the post you want to be rewarded
dPet will send you a message confirmation, then your token transfer will be made in the post author's steem-eninge.com wallet
You must have at least have 5 DPET token in your own wallet to call the dPet tipping bot. Each user can call the bot up to 10 times each day.


Delegate & Earn DPET Tokens
| | Delegate your Steem Power to help us speed up the dPet development on Steem |
| --- | --- |
In return, you will get rewards paid in dPet tokens every month based on the following formula : SP delegated x 30 x 0.001. For example, if you delegate 100 SP, your monthly rewards will be 100 x 30 x 0.001 = 3 dPet tokens.
WITHOUT your delegation, our dream cannot come true!

Join Us, We Only Nibble 😉