Doing Good to Our Fellow Men// MCGI Mass Indoctrination Program Day 7.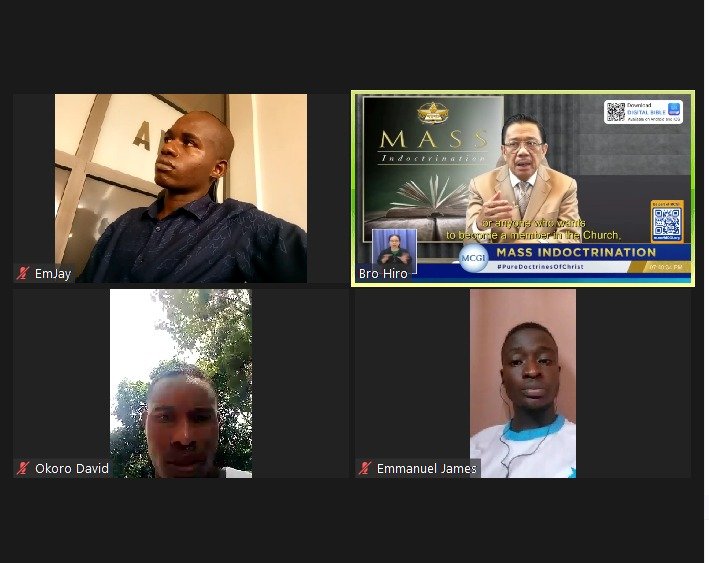 screenshot of the zoom meeting
Hello Brethren, hope everyone is doing good. Nonetheless, I wish to share the lessons I learnt from the MCGI day 7 Mass Indoctrination Program and I believe you would love reading.
Pastor Eli Soriano did justice as he taught on how we should deal with our fellow men through the different scriptures below:
Gal 6:10, John 8:44, Col 3:14, Matt 22:37, Matt 5:45, Luke 6:35, Rom 12:20, Matt 5:42, Mal 4:2, Hosea 10:12, 1 Cor 9:20-22, 1 Tim 2:4, Matt 22:39, Act 24:16, Isaiah 58:1, Gal 6:10, Rom 7:12, Matt 7:12, Eph 4:32, 1 Cor 6:5-7, Psalm 55:14, 1 Tim 3:15, 1 Cor 1:10, Phil 1:27, James 2:15-16, 1 John 3:18, 1 Cor 9:22, 1 Cor 13:4-8, 1 Pet 2:17, HEB 13:1, 1 Pet 2:17, Rom 13:1-3, Job 34:4, 1 Tim 2:1-3.
Galatians 6:10 As we have therefore opportunity, let us do good unto all men, especially unto them who are of the household of faith.(KJV)
According to this scripture even as explained by Pastor Eli, Christians have it as a responsibility to do good to everyone whether they are of our tribe, race, social status etc or not, we are to do good to them according to our capacity (that is, if we have what it takes to do good to them)
Notably, we are also persuaded to do good to fellow believers who are also in the Church with us since we can easily spot their needs as we gather in the Church daily or weekly for worship.
We don't do good to people because we have things in abundance, rather we help on account of what's disposed to us which makes it an order to always do good if we must fulfill the biblical principle of helping our fellow men.
Most times, there are people who wouldn't or may not appreciate what you're giving them as aid but it is a believers primary responsibility not to scout for people who should appreciate our little aid in anyway but we are to do good irrespective of whether the one at the receiving end would appreciate it or not since we are doing it unto the Lord and not necessarily to them because even the giver has needs.
Colossians 3:14 And above all these things put on charity, which is the bond of perfectness.(KJV)
It will be very difficult in a world like ours for many people to do good because of the time we are in where most people are just seeking their own good irrespective of who is hurt or not in the process.
No one can love perpetual as Pastor Eli said that we are to love at all times and not either in a month or a year but at all times. So, we can't do good to people when we don't have the love of God in us, because it is the love of God that is the driving force to love others.
Charity or love is a seal or mark which shows that one has attained perfection in God because we wouldn't quarrel and strife if there is love, we wouldn't envy and become self-centered when there is love. So love signifies that a believer has attained perfection and is no longer a Child or baby.
If we love our fellow men, our conscience should be void of offense- Pastor Eli Soriano
Acts 24:16 And herein do I exercise myself, to have always a conscience void of offense toward God, and toward men.(KJV)
We are to maintain a good conscience before man and God in all we are doing.
We don't have to do things that are detrimental to others, we have to make sure that our life is not putting others to peril while we enjoy our safety.
*Matthew 7:12 Therefore all things whatsoever ye would that men should do to you, do ye even so to them: for this is the law and the prophets.(KJV)
This is a very interesting part of the pastor's teaching as he noted that if one needs help, let him also help others. If you would like people to give to you, first give to others.
This is a biblical truth that we must follow if we must be helped because God wouldn't take his word for granted. The fact is that no one may be watching you while you are helping others but when it's your turn for assistance, God will raise men to also assist you.
It has been my prayer for God to bless me so I can help others because you cannot give what you don't have. No matter the sympathy you might have on a needy person, without the capacity to assist, it is equivalent you never saw that person so it is important God blesses his people so we can show love to our fellow men even if it's to my detriment, I must show compassion on others.
Settling of issues among believers
According to the scriptures as Pastor Eli cited the book of 1 Corinthians 6:5-7, it is a big shame for believers to go to the court to settle their differences.
But the reverse is the case in different denominations where Christians gather. I have seen at different times where a believer takes his fellow believer to court to be judged by an occultic legal practitioner who doesn't know God.
Dispute which is inevitable is meant to be settled among believers and not those in the world but the case is that most times, even in the church some people will side with a brother who probably speaks their native language or who has more money than the other Brother.
We are to let ourselves be defrauded. Meaning we have to let go of whomever has done us wrong, we are not to fight back or take our brothers to the law court we have to forgive and let go of their offenses for peace to reign.
Our primary purpose is to lead our fellow men to Christ and not to fight or strife.- Pastor Eli Soriano
In 1 Corinthians 13:7, we will observe the characteristics of love, that one of it posits that; love endures all things. So we have to endure and forgive the wrongs of others and in most cases bear the loss so as to pave the way for peace.
Being Patriotic
We are advised to be patriotic citizens irrespective of where we find ourselves.
In Romans 13:1-3, we will observe that we must respect our government as they are instituted by God and a revolt against a good government is revolt against God.
Pastor Eli encouraged us through this scripture to be good citizens but in the case where the laws are evil, that is the instance where we shouldn't obey the government
In 1 Timothy 2:1-3, we are advised to pray for our leaders so that we could lead a peaceful Life.
The fact is that there would always be a government over the people and our work as Christians is to pray for them to make good laws that will be in favor of everyone. among believers, and we should try as much as we can to settle our disputes among ourselves.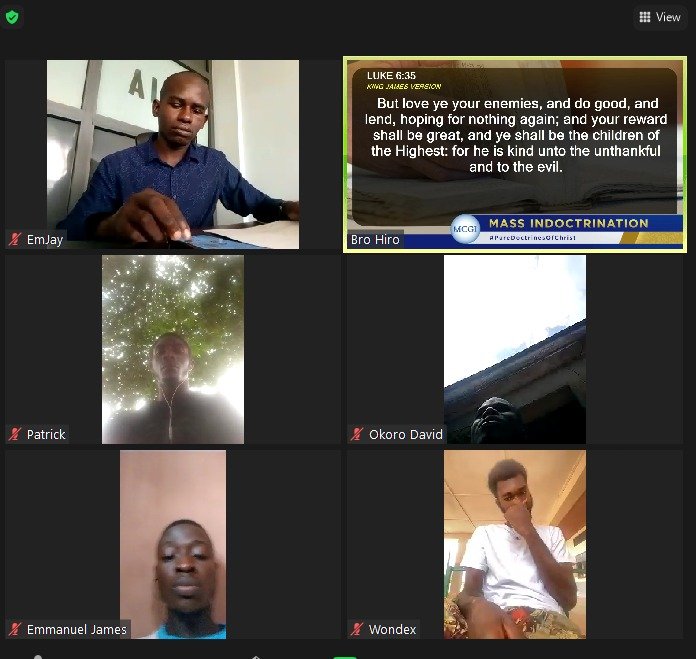 further screenshot of the zoom meeting
Conclusion
We have to do good to all men according to our capacity we should also pray for divine blessings so that we can always have something to help others with.
We have to support the government by praying for them to do the right thing since they are institutions ordained and recognized by God.
Christians are not to go to law court against their fellow believer but rather we are to settle our disputes among ourselves in the Church.
Finally, we have to try as much bad we could to lead a peaceful Life.
God bless MCGI for their incredible work unto humanity and God bless the sponsors of this wonderful program. You can check through the link below to join the community as you stand to lose nothing by listening to the word of God but AI generated content are vehemently in disdain within the ambience of the community.
---
---