Mass Indoctrination program with Pastor Eli// Day 13, and my contribution.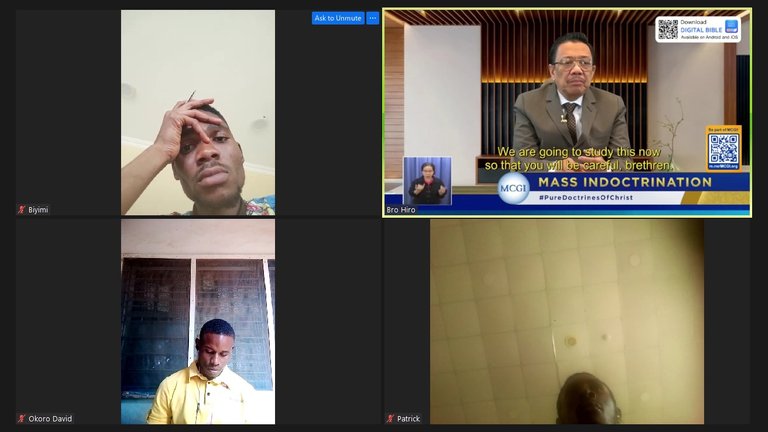 screenshot from the zoom meeting
Greetings Brethren, I was fortunate to join in the Mass Indoctrination program although I couldn't make it to the finish as my phone ran down as a result of poor electricity supply in my area lately. Hence, as Pastor Eli taught, touching different areas of importance to believers. Nonetheless, he expounded his teaching through the following scriptures which is not limited to:
2 Cor 5:17, Rom 6:4, 1 John 5:16, Titus 3:10, Rom 1:32, Rom 2:19-22, 1 Cor 5:13, mark 3:29, Matt 12:32, Act 15:29-29, psalm 115:4-5, Isaiah 44:14-18, 1 Pet 4:3, Rom 1:25, 1 Cor 8:7, Rev 22:9, Act 1:9, Gal 4:8, Psalm 2:7, John 1:18, John 2:1-3, Heb 2:5, Rev 19:13, John 17:5,24, Heb 10:5, 1 Cor 8:7, Act 10:14, Ezek 4:14, Act 15:28-29, Lev 17:13, 1 Cor 6:16-19, Rev 17:52.
2 Corinthians 5:17 Therefore if any man be in Christ, he is a new creature: old things have passed away; behold, all things have become new.- KJV
From my understanding of this scripture as Pastor Eli taught, is that there is no old man or personality in God. When we receive Christ, we receive the newness of life as the Old life of sin has no more effect any longer on us.
Pastor Eli emphasized that there is nothing like re-baptism in the Bible. Therefore, there is no believer that is baptized who probably falls back to sin that will be baptized again because what he needs is sobriety to repent of his sins and follow after righteousness.
Mark 3:29 but whoever blasphemes against the Holy Spirit will never be forgiven; they are guilty of an eternal sin."
We are cautioned through this scripture not to sin against the Holy spirit of God that is in us. blasphemy is known to be the absence of reverence for God. When believers and unbelievers do not fear the holy spirit of God, that is blasphemy and it is a Sin that is unpardonable. when we disrespect God.
Matthew 12:32 And whosoever speaketh a word against the Son of man, it shall be forgiven him: but whosoever speaketh against the Holy Ghost, it shall not be forgiven him, neither in this world, neither in the world to come.- KJV
Pastor Eli also referenced this scripture to reinforce the malignant effect of sinning against the holy spirit. We know that Jesus is God but he is no longer in the world; rather, it is His spirit that is in the world. When people sin against the holy spirit, those sins are unpardonable.
For instance there was this real life story of a Brother and a sister who unfortunately fell into the sin of fornication, in the course of what they were doing inside the room, they heard another brother banging on the door, and immediately the two who were inside started speaking in unknown tongues but they were vehemently repelled by the spirit and were struck dead by God as they died instantly at that spot. This is also a wilful sin against the holy spirit.
We were also exhorted through the book of Acts 15:19-20 Wherefore my sentence is, that we trouble not them, which from among the Gentiles are turned to God:
But that we write unto them, that they abstain from pollutions of idols, and from fornication, and from things strangled, and from blood.- KJV
We are advised as believers who have accepted the person of Christ Jesus not to pollute ourselves with the worshiping of idols because it is an abomination for us to worship what we carved by ourselves.
Next, we were also advised in the teaching even as referenced from the scripture above not to pollute ourselves with strangled animals because they still have some conservation of blood in them and blood signifies life.
In this regard, Pastor Eli further cited the book of Leviticus 17:13 which spoke about covering the blood of any animal that we wasted with sand of the Earth
Further, he also spoke about certain religious people who eat blood as against the instruction from the scriptures on avoiding the consumption of blood as Christians.
Pastor Eli also advised on the course of his teaching and in line with the scriptures not to pollute ourselves with fornication because one that is committing fornication is sinning against his own body.
He also cited the book of Revelation 17:5 And upon her forehead was a name written, MYSTERY, BABYLON THE GREAT, THE MOTHER OF HARLOTS AND ABOMINATIONS OF THE EARTH.- KJV
Pastor Eli also talked about this woman who rode on the beast with 7 heads and 10 horns. We were told according to the scriptures in verse 9-12 to Revelation chapter 17 that the 7 heads are seven kings, of which 5 of them are gone and one is still ruling but the final king according to the significance of the horn is yet to rule.
The 10 horns on the other hand are also 10 kings who have received an hour power with the beast.
We know that the book of revelation is full of mysteries, I believe I have to join Pastor to stop where the scriptures stopped although my phone ran off at this point in his teaching, notwithstanding at this point, I also wish to draw the curtain but we are advised to eschew fornication which defiles our body being the temple of the Holy Ghost.
Thank you for going through my article concerning Pastor concerning the Mass Indoctrination program with Pastor Eli Soriano.
God bless MCGI, and may he also bless His servants for the consistency in bringing the word to our edification and empowerment thank you and 💗
---
---