MCGI Mass Indoctrination program// Day 10.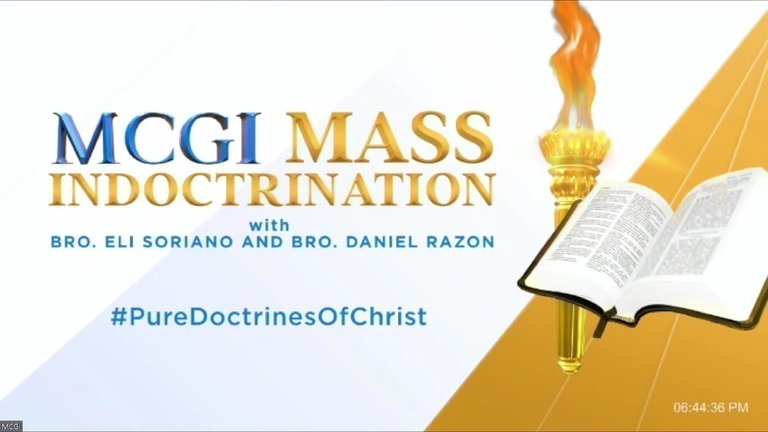 Screenshot from the zoom meeting
Hello friends, I believe that we all are good. Today, I wish to tender the lessons I learnt on the course of my engagement in the mass indoctrination program of the MCGI and I believe you'll like reading.
Pastor Eli Soriano threw light on different aspects of human endeavor, from using deodorants to using creams, body adornment and our manner of dressings.
Although I joined the meeting after some minutes on the course of my engagement in the school where I'm serving my father land as a corps member.
In the sermon today, Pastor Eli cited some scriptures which includes but not limited to:
Jer 4:30, Rom 9:20-21, 1 Pet 3:3-4, Matt 19:18, Isaiah 3:16-24, John 6:63, 1 Tim 2:9-10, 2 Pet 2:14, Deut 22:5, Matt 5:18,
I learnt that we have to look simple according to 1 Timothy 2:9-10 In like manner also, that women adorn themselves in modest apparel, with shamefacedness and sobriety; not with broided hair, or gold, or pearls, or costly array;
But (which becometh women professing godliness) with good works.(KJV)
Pastor Eli stressed on the need for us to look simple, especially those who love to adorn their body with ornaments of different types like gold, diamond etc.
According to this scripture, even as expressed by pastor Eli, women are to clothe themselves with modest clothes and not indecent dresses that could put their fellow counterparts in temptation. Indecent dressing is very rampant in our time where many people are almost going down the streets half naked which is not proper.
Here in Nigeria, the issue of human hair and Brazilian hair has been rampant even among women in the Church. Well, I believe that there are some things that should be taught with boldness in the Church disregarding who ever that should be provoked on the course, since it's the word of God that's been preached and I must appreciate Pastor Eli in this regard for his boldness in preaching the word with all boldness.
I believe that people should try as much as they could to look simple against external aberration from individuals who are ready to do anything to snatch away people's substances from them.
Pastor Eli made mention of a woman he once witnessed who was crying on the course of her earlobe that was bleeding because she was ripped off of her ear ring by force from a radical fellow.
We need to appear simple as this is not just to the women but also to the men. There are people who would buy diamonds to fix in their teeth and other parts of their body. I have seen that God is too wise for him to speak rashly. God foresaw the evil in the world and then gave all these instructions so that those that wish to listen would be safe from the consequences of these body decorations that can lead to the death of whoever is involved.
We also have to control our use of certain creams because of their malignant effect on the human body. For instance, Pastor referenced the late president John Kennedy's wife who died of cancer. I believe that the chemicals that our body absorbs could be harmful to the body if it is not regulated because these chemicals sometimes go into our bloodstream and disrupt the effectiveness of the blood cells in fighting antibodies.
Pastor Eli also talked about coloring of the heir probably to look good. It could also lead to cancer according to findings. So we have to avoid all these abnormalities we call fashion so as to live a healthy and peaceful life.
For us to be able to serve God, our health should be kept. - Pastor Eli Soriano
1 Peter 3:3-4 Whose adorning let it not be that outward adorning of plaiting the hair, and of wearing of gold, or of putting on of apparel;
But let it be the hidden man of the heart, in that which is not corruptible, even the ornament of a meek and quiet spirit, which is in the sight of God of great price.(KJV)
I don't really understand why the scripture is emphasizing more on women concerning their appearance but I may say because of their vulnerable nature to externalities, there is the need for them to look simple. For instance in rape cases, it is women who are always going half necked that falls victim of rape. The issue of the person whose earlobe was bleeding according to pastor Eli was also a woman so women are highly vulnerable to external attack.
From the bible reference in 1 Peter 3:3-4, we can see the instruction on how women should behave especially if they are married to unbelievers. There is no sane husband that is not impressed and appeased by a solf, gentle, cultured wife.
I have observed that a lovely outward appearance of an unmarried lady without good character can attract the attention of a spinster but this is not the case in marriage. No matter how beautiful a woman may look without good character, her husband wouldn't always come in consensus with her but there's nothing that men loves in marriage like good character from their spouse, so women has to learn from this very part of the scripture especially women whose homes are in shamble probably as a result of their character.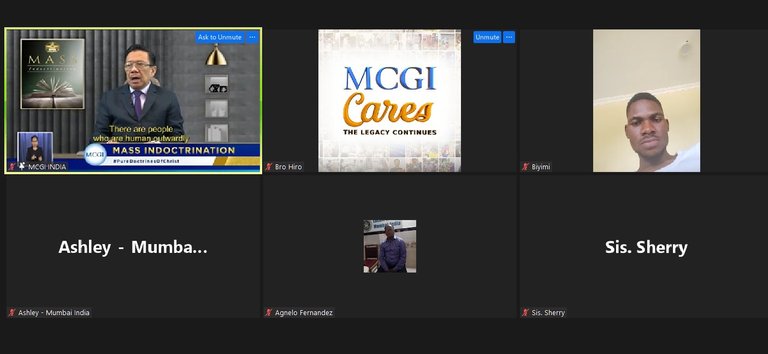 further Screenshot from the zoom meeting
Isaiah 3:16 Moreover the LORD saith, Because the daughters of Zion are haughty, and walk with stretched forth necks and wanton eyes, walking and mincing as they go, and making a tinkling with their feet:(KJV)
Also in this scriptural reference according to Isaiah although I only copied verse 16 but we would observe that even our physical appearances could lead to a blatant pride.
This was also the case of the daughters of Israel. God said that they are haughty and their manner of decorating their bodies actually led to this and God said that he would take away all these forms of haughtiness from them and bring them to sit upon the ground.
So the way and manner of our dressing should be controlled in a way we don't intimidate or cause stir with it. There was this my uncle's wife who slapped a fellow woman in the Church only because the woman was admiring her clothes and this is very bad asy sister who once lived with them told me about the incident. So our manner of dressings can plunge us into pride which is exactly what God fursaw and instructed us on being and looking simple.
When we look simple, we can be approached by anyone but when we are so haughtily decorated even our friends who cannot match with such standards will be scared away from us.
God is wiser than all and he wants us to lead a simple, healthy and peaceful life by conforming to his standards in holiness and life pattern and by doing so, we will be blessed by Him.
Thank you for going through God bless his servants and God bless MCGI. It will be in my humble pleasure to entertain your question regarding my engagement in the meeting, bye and 💗
You're cordially invited to subscribe to the community as to share in the word of God daily through the link below.
---
---