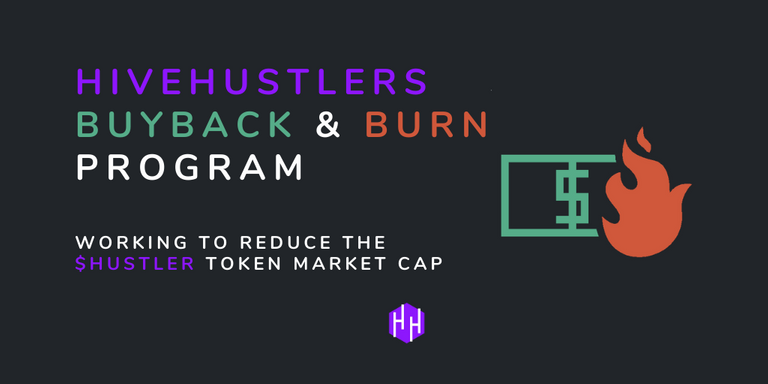 Now, we are extremely pleased to announce our latest token move - a $HUSTLER token buyback + burn program!
Everyone in the HiveHustlers community has been patiently waiting for news of what we were going to do with our $HUSTLER tokens once launched. They've been alive for a bit now, and we've created various ways for our members to earn them!
We've also gone through a few iterations in terms of how they're earned and at what rate, as well as how they're paid out - we now pay out a lot more (1500% more, to be exact) for delegating HP to our account, and all tokens are now STAKED upon distribution, vs liquid form.
This has helped soften up the market a bit, instead of flooding it with huge amounts of tokens daily.
With the launch of HiveBit.io right around the corner (within the next 1 week!), we will finally have our very first LIVE use-case for $HUSTLER tokens - hooray!
There will be a free version of the site (which will generate revenue through advertisements/BAT token donations, as it is BAT enabled), and also a premium/paid version of the site (which will be paid with $HUSTLER tokens).
BAT tokens can be earned for free by using the Brave browser - if you aren't already using this browser, we highly suggest you give it a try - it's fast, safe(r) than many alternatives, and very web3 friendly. (yes, we earn a few extra BAT if you use our link - which will go towards our burn program!)
The following HiveHustlers affiliated profiles all accept BAT tokens as tips/as a monthly donation, and will all be used for the Buyback * Burn program:
https://hivehustlers.io/
https://hiveswag.io/
https://twitter.com/@nulledgh0st
https://reddit.com/u/hiveswag
All tokens paid for the premium version WILL BE BURNED - meaning, they'll be removed from the overall token supply forever.
Also, we intend on using any excess ad-revenue/BAT token donations beyond our server hosting costs (only $7 a month) + any dev upkeep (should be little/none) and use that revenue to buy $HUSTLER tokens from the market. Those will ALSO be burned!
We will be posting monthly buyback + burn reports for total transparency.
With the implementation of the Buyback & Burn, we hope to accomplish a few things:
Decrease overall supply, therefore increasing the value of remaining tokens in the system
Add use-case(s) to our tokens, therefore building out our ecosystem and interest in joining it
Building our community - growth and long-term sustainability are very important to us, and adding in new ways to show our community that we're working hard to build creates trust and interest.
Help Us Grow, So We Can Help YOU Grow
We are really looking for more people to delegate HP to the community account so that we have much larger votes to pass out to members that are active. We believe that the Delegation Bot distribution change will have a great impact on this.
Please consider delegating Hive Power to the official @HiveHustlers account - you'll now also earn a LOT more rewards for doing so!
$HUSTLERM miner tokens - https://hive-engine.com/?p=market&t=HUSTLERM
$HUSTLER tokens - https://hive-engine.com/?p=market&t=HUSTLER