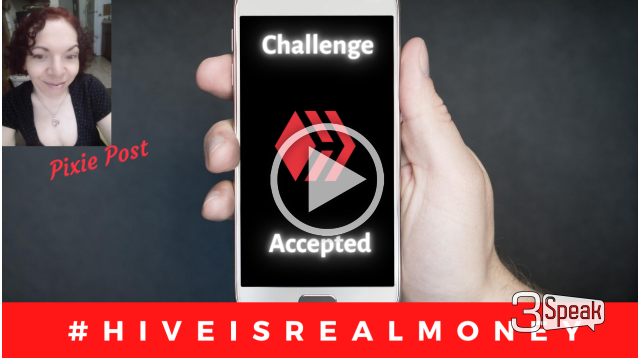 ---
#PixiePost #Vlogs #HiveIsRealMoney
The beginning of the month is always crazy busy for me & today was no exception. Catching up on curating & completing my entry for the #HivePUD initiative, I have been on fire…
So, I thought I would jump into the #HiveIsRealMoney challenge speared by @sergiomendes. This is a great way to share real life HIVE currency use & experiences in our communities as well as get us motivated to make new goals to use HIVE in different ways in the future.
The video tells about my own small experience & I invite you to jump in as well. What has the currency done for you? :)
Also, a big shout out to @hiveswag for having great merch & their proactive presence on the blockchain :) https://hiveswag.io/
─── ・ 。゚☆: .☽ . :☆゚. ───
Sergio's original vlog post about the #HiveIsRealMoney challenge
https://peakd.com/hive-174578/@sergiomendes/ebtmfvxx
Two crypto currency platforms I use to swap HIVE or HBD for other crypto:
Ionomy https://ionomy.com/en/aff/5d94a51b35c0eccba3af1e2732154b32
Simple Swap https://simpleswap.io/?ref=283630dbb9e3
HIVE social blockchain where community matters https://myhive.li/rkuj7
Feeling stuck in your life's endeavors & not sure how to reboot?
Get unstuck with this 30 Day plan & e-book https://plus1success.com/pixiepost
Coffee, Cards & Pixie Dust podcast https://anchor.fm/pixiepost
Give this a like if you enjoy this kind of content. It lets me know what videos give YOU value. Don't forget to subscribe & hit the notification bell so you don't miss the next video.
💜 To know thyself is to know thy truth. 💜
─── ・ 。゚☆: .☽ . :☆゚. ───
Music:
It's Da Money - Pro Reese
Get a 30 Day Free Trial of Epidemic Sound https://www.epidemicsound.com/referral/cgrnmi/
A Must Have Tool To Grow Your Channel
https://www.tubebuddy.com/pixiepost
💜 This video is not sponsored - affiliate links above are products I fully believe in and use 💜
─── ・ 。゚☆: .☽ . :☆゚. ───
Connect with me on the following social media sites:
Instagram: @pixie_post_dreams (Jenn Nieto)
@timmytheangelkitty (Timmy)
Twitter: https://twitter.com/ThePixiePost
TikTok: https://www.tiktok.com/@pixiepost
My NEW Store: https://www.zazzle.com/store/pixie_po...
My Patreon Page: https://patreon.com/pixiepost
The Pixie Post - http://www.trker.com/go/96848
Pixie Post Facebook Page: http://fb.me/pixiepostwithjennnieto
Hive: https://hive.blog/@pixiepost
PeakD: https://beta.peakd.com/@pixiepost
─── ・ 。゚☆: .☽ . :☆゚. ───
---
▶️ 3Speak