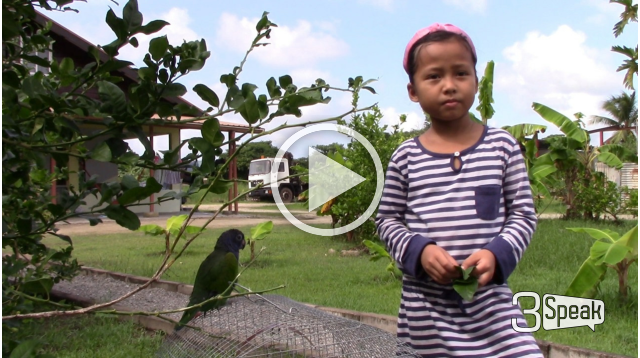 ---
We recently moved out of our windowless studio apartment here in Paramaribo, Suriname, to a more spacious two bedroom mini apartment, and the @KidSisters haven't been happier in this country than they are now.
Still stranded abroad nearly 2 years now, and still unable to return to Cambodia or immigrate to the USA as a family, but this new apartment has been a source of joy for us, although it's well above what we can afford in the long-term.
We now have a big field where the girls can play, and the landlord's parrot has captivated our little Monkey-B. Also, we recently saved enough to buy a bicycle, and this allows to get things from the market with much less physical effort.
No place is Shangri-La o course, but we are much happier overall with our new living circumstances. We've stopped thinking about when and where we may be able to go for the moment, and are focused on making the most of each day.
Srey-Yuu is happy to be riding a bike again, although she definitely needs a more appropriately sized one of her own. We hope to make that happen now that she has a safe space to ride around.

🙏 THANKS FOR READING/WATCHING 🙏
If you enjoyed this post, please upvote and reblog.


---
▶️ 3Speak