My Reggae Memories 🌞 Reggae Month

As @dmilliz mentioned in his post, the Reggae month has already started. So to celebrate the coming days online, let's get a bit nostalgic and bring some irie vibes into the Hive. Especially since we can't be having concerts at the moment, it's nice to hear some tunes from when I was growing up. Heck, I'm still growing up 😅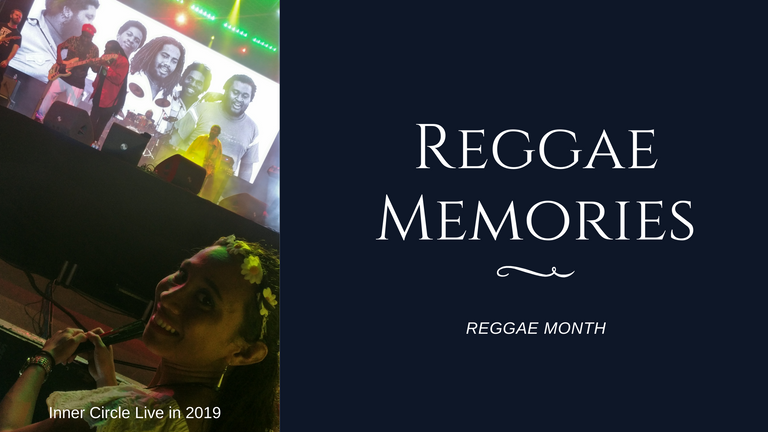 ---
My first walk down memory lane is with the song Whine Up from Kat DeLuna featuring Elephant Man. This song is so energetic and hypnotic that every time that I hear it, I need to whine up and bust some moves. It even got to the point that I danced on a ladder when we were painting our home. Let's blame dj @rarej for that, because he knew it was one of my jahms 🙈
🌴🌴🌴🌴🌴🌴🌴🌴🌴🌴🌴🌴🌴🌴🌴🌴🌴🌴🌴🌴🌴🌴🌴🌴🌴🌴🌴🌴🌴🌴🌴🌴🌴🌴🌴
My second entry doesn't need an introduction as the band is amongst the legends: Inner Circle with their song Bad Boys. I wasn't even born yet when this song came out, but I have good memories of this song when singing it aloud with classmates. I used to be a nerd, but this song spoke to everyone; it didn't matter what color your skin or which social class you were from or from which neighborhood and not even if you were popular or not; everyone busted out those rhymes in unison. In 2019 I had the opportunity to see them live in concert and what a treat that was.
🌴🌴🌴🌴🌴🌴🌴🌴🌴🌴🌴🌴🌴🌴🌴🌴🌴🌴🌴🌴🌴🌴🌴🌴🌴🌴🌴🌴🌴🌴🌴🌴🌴🌴🌴
With my third choice you'll notice that I've again gone for a dance number, which is the dancehall tune Action from Terror Fabulous featuring Nadine Sutherland. I don't remember how old I was when hearing this song for the first time; it was definitely an age where I didn't understand what the song was about; but I do remember that I used to dance to this. So this melody is definitely a classic for me. Now that I understand the lyrics, it helps make a woman feel sensual but strong and not in a degrading way. I appreciate that a woman can say what she wants in a song, without being made out to be a slut.
🌴🌴🌴🌴🌴🌴🌴🌴🌴🌴🌴🌴🌴🌴🌴🌴🌴🌴🌴🌴🌴🌴🌴🌴🌴🌴🌴🌴🌴🌴🌴🌴🌴🌴🌴
So those were three of my reggae memories. Now that I look back I see my nostalgia going into overdrive with every song entry 😅.
What are your reggae memories? Let us know by following these steps:
1. Choose 3 Reggae ( some hip-hop is ok) songs that have some good memories behind it for you.
2. Talk about the memory.
3. Post a link to the songs.
4. Make a cool cover photo (don't know how to make one? Just use Canva app!)
Make a post about it and share it with the community 😊
---
Chasse into the backstage! 💃
---
---