hive.pizza | Witness Updates, Reward & Bot changes, and more!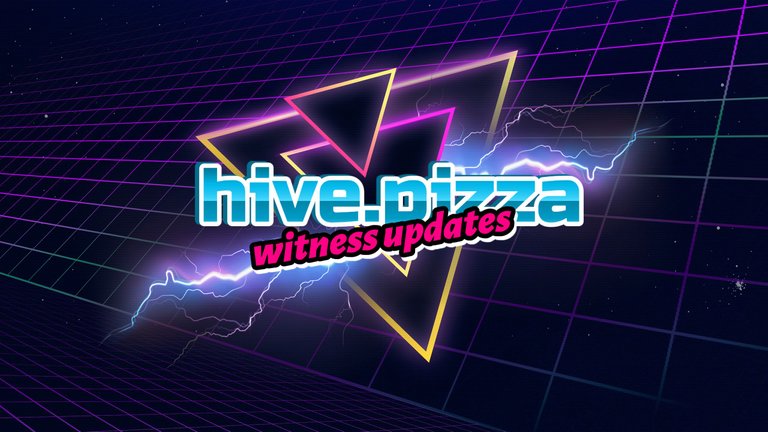 Hey PIZZA squad!
Boy it has been quite the busy week. We hope those who celebrate Thanksgiving had a wonderful holiday and those who braved the Black Friday madness survived okay! This week was also packed with some incredibly exciting news for HIVE as the price climbed far past $3.00 on some exchanges! For those who we brought to HIVE, this is one of those "told ya so" moments, and we truly believe that HIVE has yet to see its potential as a thriving blockchain. Wait until more people find out about us!
We have quite the update today and want to make sure everyone reads through it, especially our top 10 holders as some of the changes will impact them. Let's jump right into things and go over some of the recent happenings and upcoming changes.
Witness Update
Rank 70/64
We're getting closer and closer to the top 50 goal we have before the end of the year. If you know anyone who might be interested in supporting active projects on HIVE that are actively bringing new users to the chain, please tell them about us! We could use their vote!

First On-Chain PIZZA Game Development
Our community has been up in arms in the PIZZA Discord server on whether or not we've started development of our first blockchain game or not.
Consider the mention of this at all a teaser. That is all. ;)
Diesel Pools
If you missed it, we recently launched a new liquidity pool with the awesome folks over at ONEUP. You can now enjoy upwards to 300% APR for providing liquidity in our pools! Our team wrote a post that covers what the pools are, how to participate, and a few notes around common questions. You can check that post out here.
Delegation Rewards Increase
We've adjusted our daily delegations rewards after the recent price fluctuations and delegations are back to receive between 18-20% APR in the form of liquid PIZZA for delegating your HP to our @hive.pizza curation account!
PIZZA Guild Incentives
We're working on some cool incentives for active and competitive members of our Splinterlands guilds. Keep an eye out!
Join Our Community
Our HivePizza community continues to grow and as such, the amount of active users and pending rewards has continued to grow! We want to invite all of you to join our community where we curate amazing posts about gaming, art, music, and other creative contents.
Join here
Re-Defining Rewards
We mentioned in our weekly project post last week that today would be the last day of the top 10 rewards as you knew them.
We've been assessing the structure of our rewards system over the past few weeks and have come to the conclusion that the top 10 reward structure is not in the best interest of our mission and our project long-term and will negatively impact both price and the ability to achieve some of our goals. As many of you know, the PIZZA project has evolved into something huge. What started out as a way for us to learn more about HIVE blockchain development (and originally started as an engagement token) has shifted to a level where we're now building paid features, services, and products that are built on top of PIZZA token with many more releases ahead of us. In order to protect those services and to continue building sustained and organic value, we need to make a few adjustments. I'm hoping that this is an over explanation and that holders will understand the need for change and improvement. This mostly impacts the top 10 holders and those who were possibly working towards top 10.
Looking at this past weeks inflation report alone, we minted over 28,000 PIZZA tokens just for those top 10 holders. That's closing in on 100,000 minted tokens a month for the top 10 and will only continue to grow. I want to be clear that this is not intended to sound or come across as malicious or angry. We feel that this program helped us achieve the amazing results we've seen already so far. We very much value our top 10 holders who found PIZZA early and bought tokens and we actually want to help see the value of your individual PIZZA tokens grow to new heights, rather than all time lows. You've earned quite a hefty stack in rewards and we ask that you also just consider that. As we're looking to push to those new heights, we have to make sure our tokenomics are in-check and that we're not minting more free tokens than we have demand and that our paid services, products, or games will not suffer due to over inflation of free tokens.
We expect that due to these changes, supply will begin to dry up as there will simply be far less inflation and a growing demand for PIZZA as we release more products, games, and continue to ramp up our community into the many thousands! We believe that the price will begin to head back towards the level it was at in previous days as those who were mainly in the project to farm will not have access to nearly the amount of tokens they did before. This will also make the burn buy-backs we have been executing far more effective on price stimulation for those who care about that sort of thing!
For those eager to obtain a higher staking position in PIZZA and for our growing community of diamond handed holders, we expect that not everyone will agree with this decision and you may be able to catch some sales, so keep an eye out for weak hands! Premium PIZZA only goes on sale for so long :P
What's next?
We hate making changes but we are a progressive project and we believe sometimes change is necessary to grow. Our team will continue to work hard to build value in our project and create more use-case for your tasty tokens.
As such, we are already preparing new ways for our token stakers (such as some of the cool things coming for the Baron rank) to earn rewards for being a part of something that will continue to grow and dominate the social sphere both on and off-chain as we bring more users to HIVE and PIZZA.
Some of these upcoming changes will include:
the long awaited staking rewards for everyone
utility NFTs (we're creating some awesome NFTs)
rank rewards both on-chain and in Discord
airdrops
Over the next 4 weeks we will be finalizing the details for the new staking program for all holders of the PIZZA token as well as releasing some details for some of the other mentioned items.
We're looking to start 2022 with a real bang and we believe that some people are really going to miss out!
PizzaBot Changes
Pizzabot has quickly proven itself as one of the most used comment-based bots on the HIVE blockchain. Each action on the chain costs RC (resource credits) and both usage and the price of HIVE has grown, the cost to operate the bot has grown as well. The cost of this operation comes out of our curation account as we are still covering server costs for our games and witness nodes out of pocket or from block rewards.
We've made efforts on our side to reduce the amount of RC required to maintain the bot in an effort to keep the experience seamless, but we feel with the recent price spike and the new cost of RC (along with an increase in farming/abuse accounts) now is a great time to re-evaluate usage requirements for the bot.
To combat what we mentioned above, and because the PIZZA token has real value that should be protected, we'll be rolling out a new tiered system and adjusting the usage scale starting today that we'll continue to stagger out over the next 4 weeks.
The adjustments are as follows and will fully apply in 4 weeks:
20 (Delivery Driver Lv 1) - 5 uses
200 (Delivery Driver Lv 2) - 10 uses
500 (Senior Driver) - 15 uses
5000 (Champions Club) - 20 uses
The first adjustment has been made today with 20 staked tokens being reduced to 9 calls per day and 200 staked tokens being reduced to 18 calls per day. Next week, 20 staked will be reduced to 8 calls per days with 200 staked being reduced to 16 calls per day.
The new ranks are planned to go out in 4 weeks. If things are going well, we will go ahead and roll out the new ranks early. We understand this is quite the change and may impact some of you, but we feel this move will aid in increasing the overall value per slice while helping to reduce operational costs and farming (without a cost).
Weekly Raffles
Our weekly raffles will continue! Beginning next week, we'll be absorbing the top 10 into the 500+ raffle tier so they'll now be eligible for weekly raffles. We recommend the pools consider this as you will have less of a chance under a single account.

REWARDS
Discord Photo Engagement
1st @higherlow | 2nd @cooperclub | 3rd @szmobacsi


| 1st - 10 Za | 2nd - 7 Za | 3rd - 5 Za |
| --- | --- | --- |
| | | |
Discord Giveaways for Stakers
Congratulations to the following stakers who won giveaways in our Discord server this week.
Top 10 Staked Leaderboards
Note: Please read above. This will be the last week of the top 10 rewards.


Date: 11/28/2021
Token: #PIZZA
This weeks bonus: 8%


You can buy $PIZZA on LeoDex, TribalDex, or Hive Engine!


@pizzaconnection @cooperclub @stickupboys @dadspardan @dibblers.dabs @pizzapool @shauner @hykss @pockettrader @brofundholdings
Lucky 5 Weekly $PIZZA Holders
(randomly chosen weekly from all holders with >= 1 $PIZZA in their wallet)
These lucky winners have won 3% of their staked $PIZZA holdings value back!
@happyme @awakenedalien @irisworld @shortsegments @nathanmars.leo
BONUS 5 Weekly 500 $PIZZA Holders
These 5 bonus winners are drawn from holders with >= 500 $PIZZA
Congratulations and thank you for locking up your tasty za! Enjoy your bonus rewards of 3%!
@kachinhenry @carn @theacks @shmoogleosukami @dajokawild
Daily Winners
Congratulations! You have won an instant 4% APR of your staked $PIZZA holdings back in additional $PIZZA!
@alexvan @qwerrie @vlemon @zaku @mizuosemla @efastromberg94 @kqaosphreak

DELEGATE TO PIZZA
You can also delegate your HP to our @hive.pizza curation account and farm your share of the daily $PIZZA rewards pool! Current APR is between 18-20% paid in liquid PIZZA to your wallet every day!



You can also check out the HIVE.PIZZA website here.
Buy $PIZZA
Leodex
Tribadex
Hive-Engine

Join the Discord and $PIZZA NATION

Join our curation trail here
Vote for us as Hive-Engine witness here
Vote for us as HIVE WITNESS HERE
---
---