Freebitcoin and Funfair? That's FUN!

Holding FunFair FUN tokens can get you Premium account perks at Freebitcoin, and early access to the Q2 windfall! March 15th start date.
---
(Is this thing on? I can't h... wait-- oh, that might be i... no. Ah! Here we go: testing, testing. 1, 2-- 1, 2. Let me crank the volume up and get cracking.)
Have You Heard the FREEBITCO.IN NEWS?
Or maybe I should first ask if you're even a FREEBITCO.IN user-- the hourly faucet, high-interest savings wallet and betting site that's been around SINCE 2013? Word has it there are over 40 million registered users… so I'm just gonna go ahead and assume many of you are already on the team.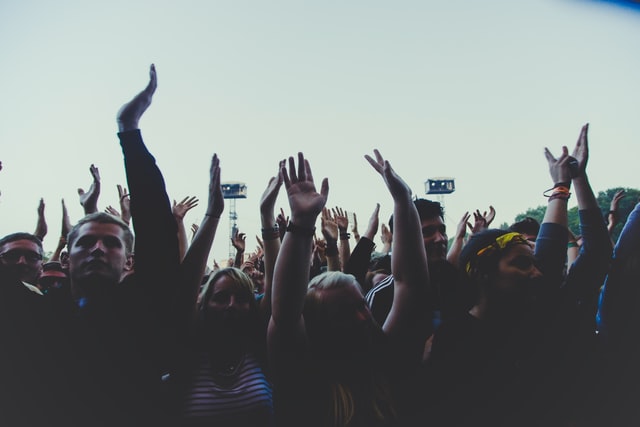 But now is the time for everyone-- newcomers and veterans alike-- to pay closer attention to this silent stalwart! Anytime this website does something new, actually, is well worth noting because it very rarely happens... so a development as big as this one deserves some air time.
Bringing #FunFair Into the Mix!
Freebitco.in has always ONLY been about Bitcoin: you get it for free every hour, you earn a competitive interest rate of 4.08% on your wallet balance (paid out daily), you can try to multiply it with a roll game or you can place any wager on sports, popular events or crypto prices... and you're rewarded for any and all activity on the site!
It really is a great place, I can attest... but it's been all Bitcoin.
Until now, that is. They've just announced that FREEBITCO.IN AND FUNFAIR are going to be, like, a thing! For current users, it's a really big thing… better interest rates, BTC paid back on rolls and wagers and free daily "Wheel of Fortune" spins. I wouldn't be surprised if a few other FUN-integrated elements popped up on the site in the near future too. Time will tell.
And this premium account doesn't really cost you anything, but only requires you to buy and hold FUN tokens in your #Freebitcoin wallet. There are a handful of partner exchanges you can use to buy your FUN tokens if you'd rather do it that way. Read more about it HERE.
Your level of premium benefits will be determined by the number of #FUN tokens you're holding, and how long you hold them. If you hold them for at least twelve months, you'll then have risen through the four graduated tiers and will be earning the maximum perks. So, umm... GO LONG!
Both the Wheel of Fortune rolls and the BTC back on wagers are benefits for lower token thresholds as well, but the additional daily interest on your BTC balance is only available beginning at the 12,500 token level. Check it out: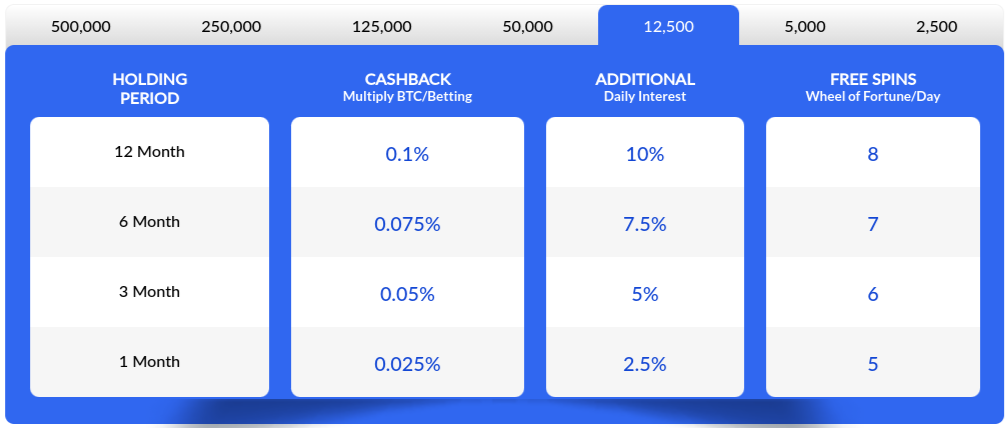 Once you get up into the higher echelons, the premium perks really do get much better! It's not a tiny investment (even 12,500 FUN tokens cost around $500 USD right now) but the rewards for your participation are handsome.
I won't show you every tier, but here's what holding 125,000 tokens gets you: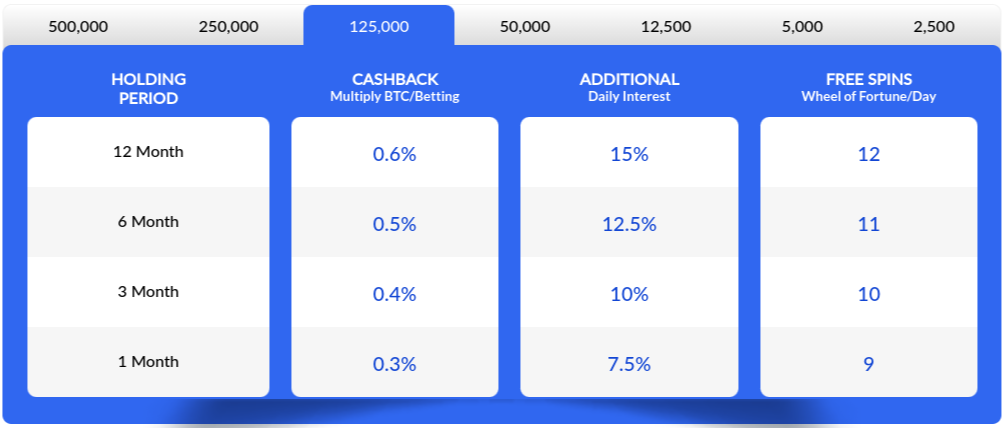 So it's worth your consideration... that's all I'm saying! Even if you inevitably take a pass for now, it begs your thoughtful pause. Hmm...
Maybe... Freebitco.in?
Spoiler: the answer is "yes, please!"
Not convinced? More of the shrewd, discerning type? I respect that. There's a more investor-focused INFO PAGE too that talks about the reasons why this partnership makes good financial sense. As I mentioned near the beginning of this post, Freebitcoin has around 40 million users and a 75% retention rate. They run a proprietary stack and take security seriously.
That being said, check out the image below.

No, you don't need to check your eyeglass prescription or take a nap. That's right: only 85k users have purchased Funfair tokens so far... out of 40 million! And even that small fraction of the user base still amounts to 83 million tokens worth 77 BTC (or over 6 million US dollars)!
That number also doesn't include ME... I plan to jump in at the 12,500 token level, but I'm just waiting for a few particular alt-coins to finish their explosive upticks so I can comfortably shift them to BTC. Hopefully next week.
Freebitcoin May Actually Free Funfair!
Remember: this promotion doesn't actually start until March 15th, and they are giving current users an inside track (which we can then surreptitiously pay forward to our friends and connections). So I expect to see a very healthy Q2 price increase as the market catches up with the wave of new investors.
Could I be wrong? Sure... I don't have a crystal ball. But it's unlikely that we'll see much downward pressure with this level of buy and hold volume over the next year. I would be quite surprised (and confounded).
Use any of the links found in this article (including THIS ONE) to get started. If you're already a member, just grab some FUN tokens to be ready for the March 15th lift-off... and if you haven't yet signed up, what the hell are you waiting for?!
Thanks for reading! Peace out for now. :)
---
---