Hoy es el gran día. Hoy es un día doblemente especial. Es día de las madres y para hacerlo más inolvidable aún, es el día de nuestro primer Programa de Curación de Comentarios en vivo.
---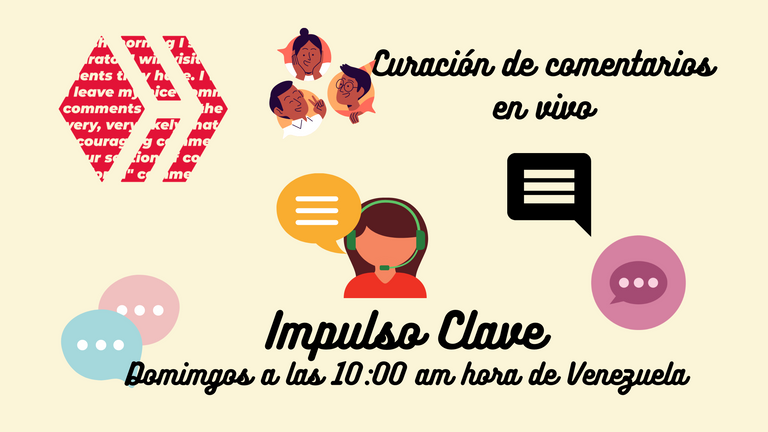 ---
Desde que Hive es Hive, estamos acostumbrados a asistir a programas en vivo para que le den amor a nuestros posts. Llevamos nuestros enlaces y todos en masa los votan y comentan. Huelga decir que la comunidad o proyecto que invita a esa curación de contenido, también vota nuestra publicación. Pero este programa al que te estamos invitando es único y diferente. ¿La razón? Continúa leyendo, abejita.
A nosotros en @elcomentador no nos interesa votar tus posts, honestamente, nos son indiferentes. Lo que nos quita el sueño es votar tu comentario; sí, como leíste, recompensar ese mensaje que le dejas a los usuarios que publican contenido en la cadena de bloques de Hive.
Como podrás ver, son tus comentarios los que vamos a votar y la manera que lleguemos a ellos a es a través del enlace que nos vas a dejar en la sección de comentarios de este post. ¿Cómo obtienes el enlace? Lee esta publicación y sabrás cómo hacerlo.
---
Nuestro primer programa será dirigido y moderado por @actioncats y @tarot911.
---
Queremos expresarte nuestra emoción y satisfacción, ya que este es el primer y único programa donde se recompensan comentarios. Vivirás algo histórico y podrás contarle a tus hijos y nietos que estuviste en un programa de curación de comentarios, ¡algo nunca antes visto!
Trae, pues, tu mejor comentario de la semana y compártelo con nosotros. Ganarás votos de parte de @elcomentador y @theycallmedan, así como de otros usuarios deseosos de leer esas palabras que le dejas a otros hivers.
Además, te daremos tips para que te conviertas en un experto comentando y así logres relacionarte en la colmena con mayor eficacia y a la vez que obtienes maravillosos comentarios en tus publicaciones.
Adicional a todo esto, tendremos una sección especial fija donde se elegirá por sorteo una publicación sin o con pocos comentarios para darle entre todos ese amor que le faltó. Así que, trae contigo esa publicación que elaboraste con tanto empeño, sin importar el tiempo que tenga de publicada (hace 1 día o hace 1 año) y de resultar elegida recibirá los comentarios que en su momento no obtuvo.
La invitación es a acompañamos en el primer programa de "Impulso Clave" los domingos a las 10 de la mañana, con música, sorteos y mucha buena vibra de la que solo existe en #Hive.
Hoy es un día doblemente especial. Es día de las madres y para hacerlo más inolvidable aún, es el día de nuestro primer Programa de Curación de Comentarios en vivo. Trae pues tu mejor gala, disposición y trae a tu mamá también.! ¿Por qué no?
No olvides dejar el enlace a tu comentario aquí abajo. Eso nos permitirá llevar el orden en el proceso de curación, Te esperamos a la hora y fecha acordada en el servidor de Discord del proyecto @elcomentador.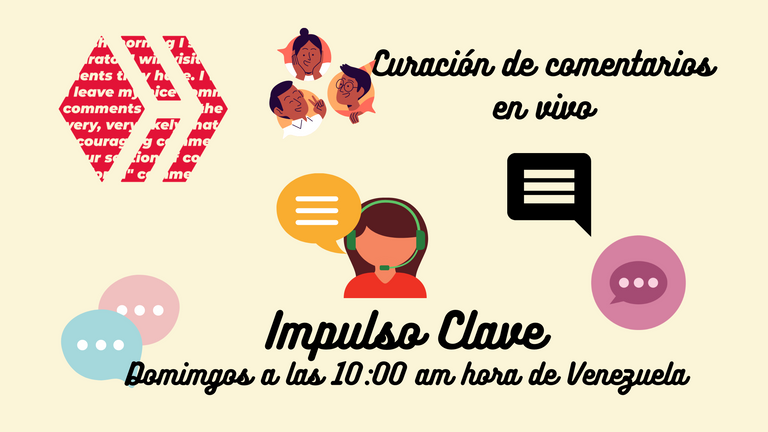 ---
| @josemalavem | @mercmarg | @actioncats | @nanyuris | @tarot911 |
@mariale07 | @tripode | @eddiespino | @garybilbao
---
Imagen de la portada diseñada con Canva / Cover image designed with Canva
---

@aliento initiative by @eddiespino and @grisvisa

Haga clic en el banner para ser redirigido al servidor SMILE, o: https://discord.gg/d47KyHB
---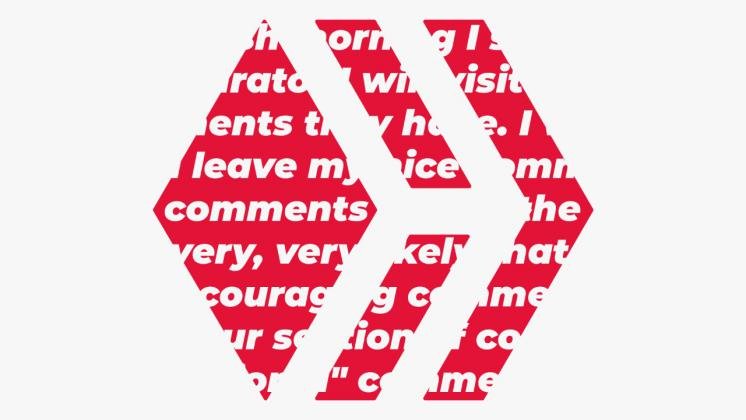 @elcomentador es un Proyecto de Curación de Comentarios. Nuestra finalidad es recompensar aquellos comentarios que aporten valor a las publicaciones y fomentar el hábito de comentar en Hive.
Si quieres saber más sobre nuestra filosofía y cómo optar a un voto por parte de nuestra cuenta, lee nuestro post de introducción y únete a nuestro servidor de Discord donde podrás interactuar con otros comentadores, educarte sobre el arte de comentar, enterarte de iniciativas y mucho más.
¡Te esperamos!