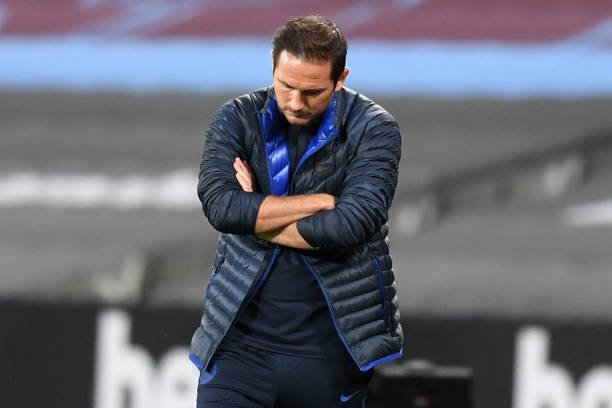 source
Chelsea bounced back from their disappointing defeats against wolves and Everton to produce a master class performance against Westham. The two losses Chelsea suffered has started affecting the confidence building up in the team. The win against Westham sets them back on the right track.
Chelsea might have won the match but it cost them one of their best player in Ben Chilwell. He got injured in the first half barely before 15 minutes of the game. That makes him the second Chelsea defender to get injured in less than a week after Recce James. Although their absence will be felt as they both pose more attacking threats than any other Chelsea defender but their replacement wasn't bad against Westham.
With more games coming in the next few weeks, Lampard might face selection headaches. The problem won't be caused by players out injured but rather by the caliber of players fit and ready to go especially in the attacking third. With Kai being introduced at the tail end and Giroud not seeing any minutes of the Westham game, it's safe to say selection issues might arise.
Due to the number of talents, Chelsea possesses in the final third, players such as Barkley and Lotus cheek has been shipped out of the squad to accommodate others. Hakim ziyech injury has been a major blow for Chelsea because he was having a great run of form before his injury incident. Although Pulisic has filled his space up front and he hasn't been missed much.
Lampard next three fixtures happen to be a tough one as they face;
Arsenal
Aston villa
Manchester city
His side back in the person of Chilwell and James will be sorely missed in this match. Although Cezar and Emerson we're able to slot in against Westham who offers less Attacking threat. The real challenge will be how they will fare against the three teams above who offer a more attacking problem.
Another problem Lampard might face is where to fix kai. He has played in numerous positions since his transfer to Chelsea. He has failed to impress for a large part of the season. Lampard recognizes that getting him to the level he was before his transfer to Chelsea will make Chelsea more dangerous in the league. But so far, he has failed to impress.
The biggest major selection headache will be either to start Abraham or Giroud upfront in the next games. Before the Westham game, Giroud has scored 7 of 10 Chelsea goals as a starter. Him being named on the substitute bench against the Hammers was a shocker due to his form in front of goals lately.
His replacement on the other hand Tammy seized the opportunity of a rare first-team start. He produced two goals very late in the game but his overall contribution is what made him stood out. His hold-up play ain't as sharp as Giroud's but his willingness to track the ball back makes him an extraordinary asset for the team.
As Chelsea fans Arsenal next, let's see the formation he would come up with. Check out my predicted formation;
Goalkeeper
Mendy
Defenders
Thiago silva
Zouma
Cezar
Emerson
Midfielders
Kovacic
Kante
Mount
Forwards
Werner
Giroud
Pulisic