"Brahmanbaria Pathokmela" the meaning of the name is "The fair of readers of Brahmanbaria ". It's a social organisation in our district,which lets us read books free of cost. Actually its like a family where everyone can read books by exchanging among themselves. Moreover the organisation also has an amount of 700+ books for its readers. Every year in the time of " Ekushey Book Fair" it brings huge collections of new and popular books for its readers. There is no age,class or any kind of limitations for joining. Anyone with the thirst of reading books can be a part of the family. The motto of the organisation is to provide books because a person alone can buy how many books? Think of as a student. How much book you can buy in a month. 2? Or 3? Or 5? But where you can take as much book as you can read. It limits in your reading capability,if you can read more and more you may take more books which may be unable for many people to buy continuously. Last of all,a surprising thing it runs by a person who lives abroad and he pays the 99% expense of the organisations. He is very much co-operative person. A good person and a insane book lover. I used the "insane" word because who will do that from his own money in such a way.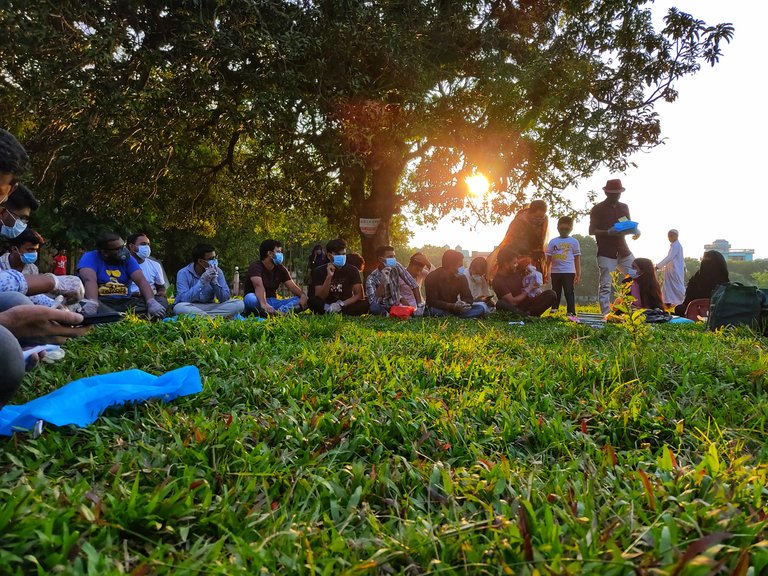 Ok i am done with its basic introduction. Now let me write somethings on my own way. First of all i will start with an amazing story of the organisations which i have seen recently.
Due to lockdown the monthly gatherings of the organisations to exchange books were off for the past few months. So the books were delivered to the readers home. So some days ago they set out for collecting all their books from everyone to start a new. While collecting from one place to another they were travelling by a rickshaw. With a great interest the rickshaw puller asked about its work and showed much interest to the books. When they talked with him they found him a book lover who wants to read book. He immediately filled a membership book of the organisations on his own and even paid 30tk ( they told him not to pay that but he insisted to pay that). That day was very much satisfying for the people on the organisation because these are the true inspiration for moving on. I know that very well because i am also a volunteer in that organisation.
Yesterday we had our 53th adda. With proper protection due to covid. Every single person there used mask and hand gloves. Actually the people comes here are quite aware on this, its not like any random organisation fill with random type of people. Its a family of the book readers and this type of people are not any kind of careless or unaware of the current situation. For this we could do our adda successfully. Few days ago they collected all the books and yesterday we divided again among our most of the new members. Everyone got their books as per their submitted choice list before on the sequence of booking serial. This time there was a lot member because of the lockdown everyone is sitting home and they has a lot of free time to read books and enlighten their knowledge.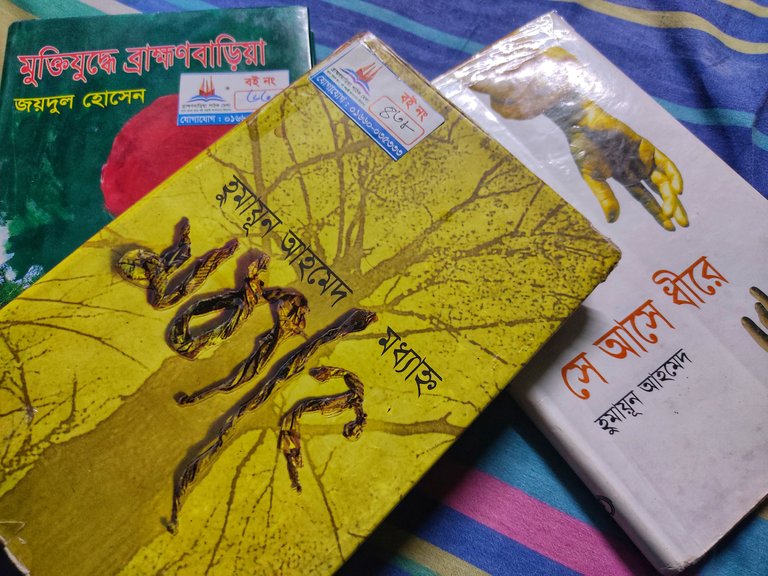 Now come to me. I have also got three books. Yippee! I had booked three books and i got three of them. Because i was the first one to submit choice list so i got whatever i had selected. I have taken two Humayun Ahmed's books and another one is about the history of my own districts liberation war. I think its my first and foremost duty to know about my own place very well. Our contribution, our sacrifices, our freedom fighters,our historical places all should be known to me so i have chosen that. Hope for a good times ahead in reading these.
So guys todays it was not any kind of normal writing post which i usually do it was about a social organisation. I think in every district there should be such an opportunity for the people. What do you think about it? Let me know about your thinking through the comment box. I will be very much happy.