After a long time i have got to see two fisherman catching fishes on the river bank. Actually these days i am not feeling too well.So most of my time i am staying at home,doing time passes things like social media's and so on all day. So in the evening i thought of giving a walk to riverbank.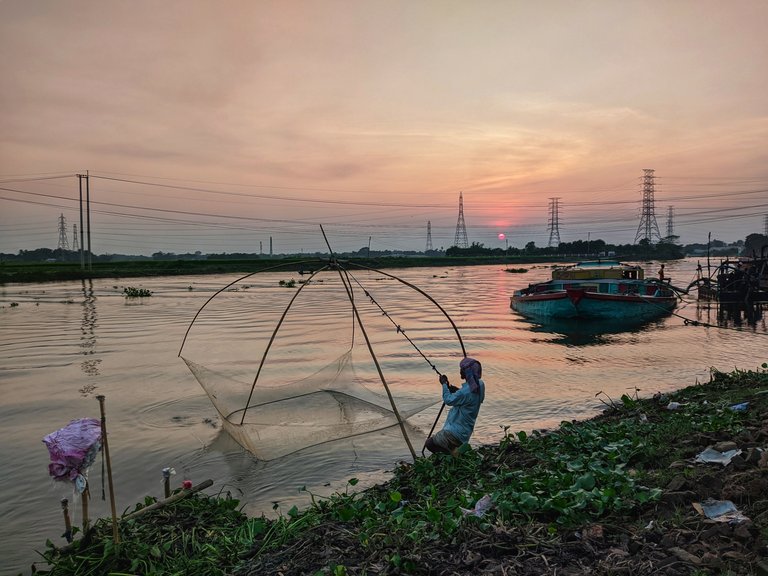 After reaching the place i have got to see two fisherman catching fishes by two way of nets. I was there for one hour and i have seen them throwing and catching fishes. So suddenly i thought of checking the fishes. When i looked at his jar i have seen very tiny bengal fishes and there was very little of them. The quantity was very less as compared to their hard work. Really that was very hard working, i was observing them for a quite long.
After seeing that i have remembered my moms sayings on little fishes. Actually i am little bit of idle, From childhood i have always preferred big fishes compared to the little ones because of the threat of thorn.My mom scolds me a lot for avoiding those little bengal fishes. She says a lot that " these are very high at price, eat them, they are too much beneficial for us." Really they are and today i have also seen the example of why they are so high at price, they really deserves.
Why i am so much indifferent to eat these little fishes has a story behind it.
I was almost 12 or 13 years old. While eating a thorn was stuck into my throat. I was like so much anxious that i couldn't even cry for its pain. My mother tried a lot in usual way to get rid of it but couldn't. After some time it was like gone and i was relieved. But after sometime whenever i would go to eat something i could feel that and started crying again. That was a really troublesome for me and my mom. I was in physical pain and she was in mental pain for the pain i was having. Somehow it was gone. From then i am a little bit unhappy while eating the little fishes. I know how important they are but still i do the foolish thing.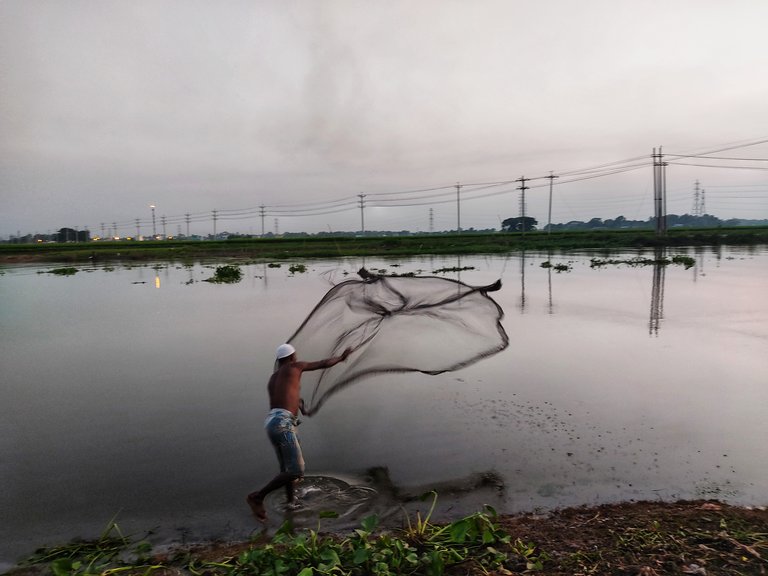 As a riverine country there are a huge number of people who are living on fishing. We the bengali people are called "mache-bhate bengali" It means omething like we are based on fish and rice. Actually somehow its true. We really depends on this agriculture and fishing by economy or food. Economy is really improving in others sector its not like the past. Others sector are also contributing a lot. But the fact is by food habit we are largely dependent on fish and rice. Well i think i am going into describing "Fisherman" paragraph which we used to memorize in school days. Whatever it is the main thing always remains the same that they are also an important part of our society and they should also get some respect which they deserve rather then treating as low class people's who only works for our food supply.
---
Well guys that's it for today, it was a general talkings type blog of mine from enjoying a beautiful evening today. There was some realization on their life which i described a little to you guys. Thank you for your time. Have a good time.