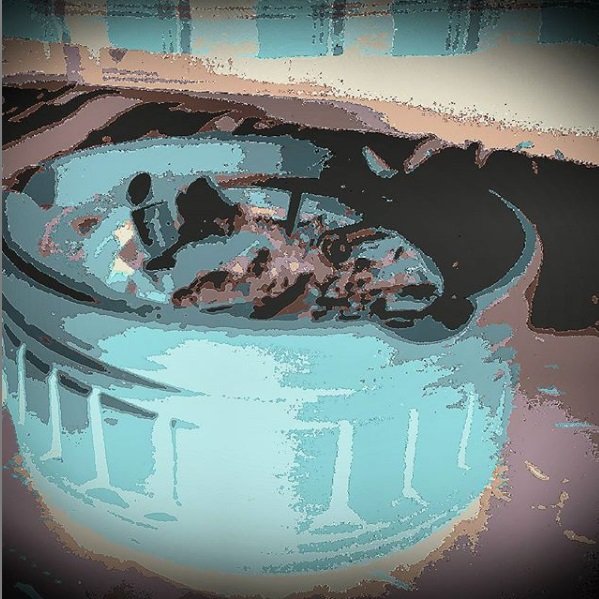 Do you see what I see here?
Maybe, maybe not. It doesn't matter anyway.
When I first saw the image; I thought this is the exhaust pipe of a train― yes, that's what I thought.
Well, I was asked to identify the subject which I thought should be something I might not think of. So, that's why I went that deep through my search console on my brain and marked this as a Train-Exhaust system.
However, I was quite a laughing matter when I said so. But, actually, it is an ashtray.
Maybe, I'm not a photography person, that's why I couldn't see what he sees. In fact, I'm not that creative. Just an average middle-class guy with abstract vision never to be fulfilled.
This clay-made ashtray lived in the room of one of my friends for considerably a long time; around 4-5 years. He is a good mobile photographer and unfortunately, he neither owns a DSLR nor a high-end mobile phone.
Still, he captures outstanding images using his average-quality android phone. One thing that is fascinating about his snaps, he edits them like a pro― on his mobile device which offers the minimal features. But, I don't know how, he manages to bring out the best version of the captured images.
This ashtray was just in front of me all the time, but, couldn't identify because of his editing. And, for my ignorance, I guess.
However, I never saw this tray empty except for his cleaning due to the overflow of the cigarette butts. Almost every day, he had to clean it and every time I encountered the event, he seemed to repent for his chainsmoking activity.
But, I think, there is something else. I think he enjoyed destroying himself gradually out of some frustration; a common scenario for most of us― the unemployed eligibles.
It was his emotion and frustration that burnt with those cigarettes and I hope he enjoyed the moment. Otherwise, it is nothing but a waste of money and time; especially, health.
He is a fan of Humayun Ahmed and I often heard him quoting the famous line―
"আমি কখনো অতিরিক্ত কিছুদিন বাঁচার জন্য সিগারেটের আনন্দ ছাড়ার জন্য প্রস্তুত ছিলাম না।"
I think it was an attempt to escape from reality and avoiding the argument.
However, smoking is hazardous to health and we all should try to avoid this, at any cost.