Good morning/evening Splinterlands family...
---
If you have been keeping an eye on Splinterlands then you should have noticed, the Essence ORB are all sold out. A surprising turn of event! Technically, there were around 4k remaining orbs on the market for some time but the day before yesterday all those ORBS were scooped up almost in a flash. Come to think of it, you need to be fast and cunning to make the right entry at the right time.
---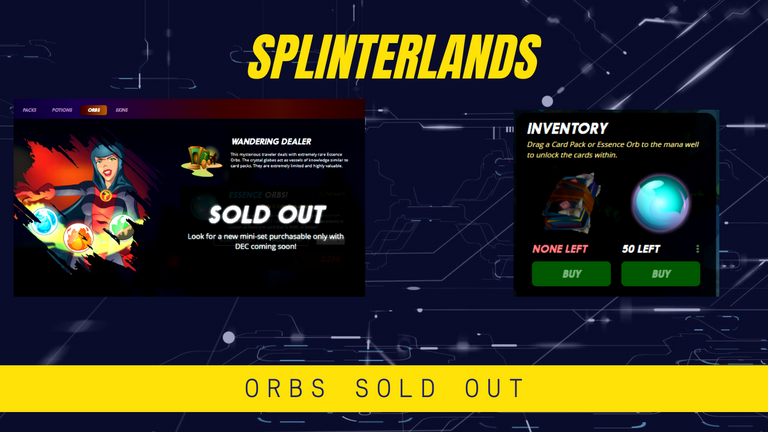 ---
Since I was accumulating small amount of DEC for the last few days, purchasing them via steem on Steem-Engine and converting them to DEC (it was a nice ride). So many things are happening right now and it is hard to keep up with all the activities in HIVE. But in order to make the best out of the situation we need to make it work for ourselves.
---
---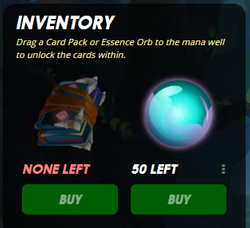 While I was watching the whole scene happening in front of yes, it was hard to resist and not to participate in this showdown. Since I had some DEC in my wallet and the price was low as well, so I went ahead and bought myself 50 ORBS 💼 (along with bonus orbs). As I am in a Guild, for which the orb purchase was a little less. It was worth being in the guild tbh. In order to open them, I would need potions as well. I would need leg potions (36 DEC every charge * 250 =9000 DEC) and Alchemy Potions as well (45 Dec every charge * 250= 11240 DEC). So I am also getting a discount here as well. (Thanks to the guild)
FYI, I am in the GUILD OF NEOXIAN.
---
Since the orbs are sold out, we are going to get UNtamed packs in our quest rewards. Well, I already got one of that and it is not really worth sharing the cards that I opened jk.
---
Let's see how the HIVE-Engine market is doing for ORBS
---
At the current market price, if I have to purchase 50 Orbs it would cost me around 269 Hive (Approx). Well, technically not that bad tbh. So this is the bot that I used to see the market of HE little bit more precisely. It is created by @reazuliqbal and you can use this bot in @bdcommunity discord server. You are cordially invited to check our community.
---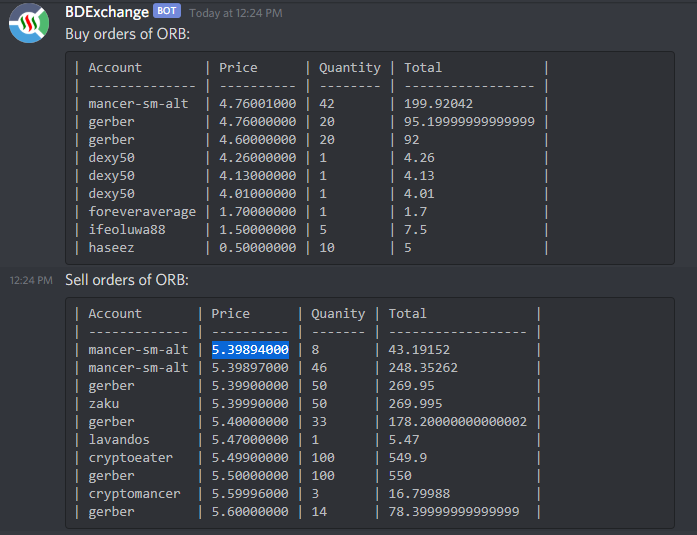 ---
Honestly, I am also excited to see what @splinterlands actually comes up with to replace orbs or what would be the names of that new set or packs/cards. As they so surprise us in different ways possible.
---
Before I end this blog, I just want to keep track of what was the price of DEC was as of today while I am writing this post.The current price of 10000 DEC is 22.9 SWAP.HIVE ($5.045259). So let's see what would be the price of DEC after the season ends, which is suppose to happen just under 20 hours.
---
All the best for all the players and may you get good cards/decs in your season end reward!! Cheers!!
---
---

---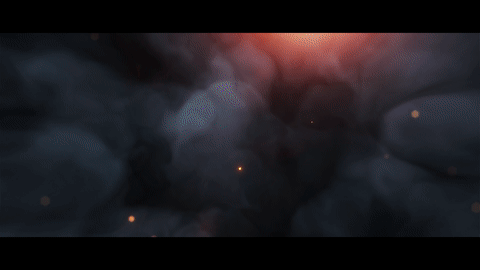 Want to Play in Splinterlands
---
---

---
Be a part of the community, which is not only supporting content creators from Bangladesh but from all across the globe!
---
---
Be a part of my Vlogging journey on DTUBE
---
Watch my Videos on Youtube
---
---
---
Best regards
Rehan
---