In the internet world Centralized social media doing their social work by monetizing the public Data. Such as the #Facebook, #Youtube, #Instagram, #Twitter e.t.c. How long you will deal with such kind of centralized social media platforms? How long you will sell your data privacy free of cost to them? On those platforms do you a part of the very powerful community? If you are, is your community adding any value for you?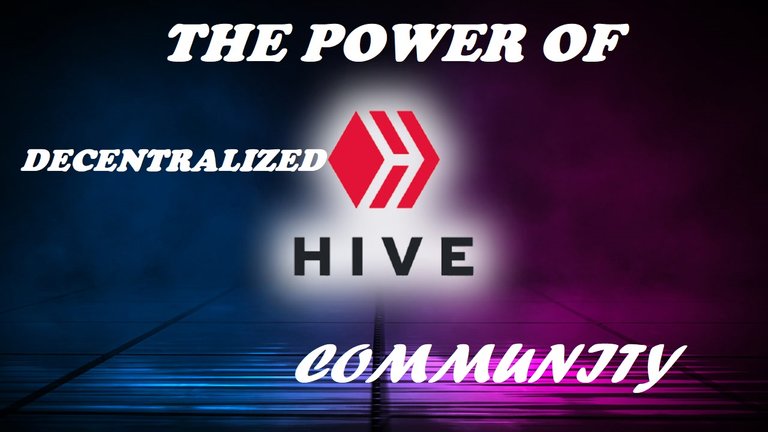 Image Src
Undoubtedly the answer to my last two questions is "No". If the answer is no way you are wasting your valuable time. Centralized social media using us as their marketing tools, without paying a single penny to us they are making billions and billions of money. Now, this is high to say goodbye to such kinds of platforms. This is the proper time to create an account in decentralized social media platforms to secure your privacy as well as earning so extra money with fun.
The #HIVE is the most powerful Blockchain-based decentralized social media platform ever in the world of the internet because it has a very powerful decentralized community. The Hive prove it several times. The born of decentralized social media Hive is also a great example of a powerful community of Hive. The hostile takeover with Steem was the mother of Hive Blockchain. The most powerful community people of Hive prove that there has no other powerful decentralized community like Hive by developing and launching the Hive overnight.
Decentralized Hive Community:
In the world of the internet, Hive knows as a decentralized crypto community. Being a blockchain-based platform the technical sounds of Hive is so rich. The decentralized open-source API makes the Hive Blockchain resourceful with 36 Dapps. The very popular and powerful tokenized gaming application like splinterlands, CryptoBrewmaster, Rabona, Hive-Roller e.t.c. run by Hive blockchain. So, Hive has a very strong gaming community. People are earning very handsome figures by playing games on Hive Blockchain.
Hive also allowing people to use it as a decentralized social media platform. Being a part of various communities & communities-based projects people are creating quality content for blogging via their decentralized blogging account with Hive crypto wallet. Various interface Dapps are giving this opportunity to the end-user of Hive blockchain. PeakD, HiveBlog, Leofinance, Ecency (Mobile Application) many more Dapps helping people to build a very strong creative community inside Hive Blockchain.
Decentralized video platforms like 3speak & Dtube are representing the most powerful tokenized video platforms. Freedom of speech is the basement of those video platforms.
Being censorship-resistant Hive Blockchain always ensuring people data security, become a platform of free speech, become a platform for building strong communities, become the most secure and profitable investing zone. Every day, every second million Hive users creating millions of content on Hive Blockchain. Every second people of the Hive community interacting with each other. Every interaction of Hive users has respect & financial value.
The ultimate respect is the most powerful tool of the powerful Hive community in the world of the internet.
This is high time to join the Hive to feel the power of a Decentralized social community.
You can join Hive by clicking Here.
Feeling very excited participating #Decentralized-internet contest by respected @theycallmedan in #Hackernoons