While most of us look for foreign-made products, homegrown products get less focus and recognition. But I see that the time is changing, people are more inclined towards locally made commodities and they're getting more visibility. Even though many other countries would prefer clothing materials and accessories made from Bangladesh, Bangladeshis would hesitate to buy them as we fear them being cheap and low-quality. So many boutiques and shops are nowadays supplying Deshi products due to customers' preference, from food items to décor, there's so much to offer.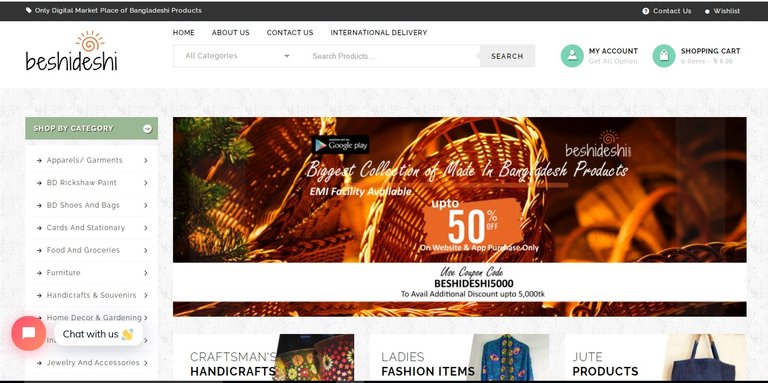 Image
Honestly, I haven't heard of this site before. As I was browsing and scrolling through the news and updates, I came across this article by TheBusiness Standards which covers a feature story about an e-marketplace the provides products Made in Bangladesh. BeshiDeshi offers a wide range of items, from clothing to apparel to food/groceries and even stationaries; yes really a wide range of products. This digital platform started on a small scale in 2018 and since then it has been working tirelessly to achieve a great purpose; that is promoting Bangladeshi aka Deshi products within and outside the country border.
The page of BeshiDeshi looks very festive and detailed. It also has a section where International Delivery can be made, but the most important factor would be the manufacturer of said items; the local artisans. I believe with an initiative like BeshiDeshi the local craftsman will be inspired and have enough earning generated to keep their work ongoing and with their app available in Google Play Store, you don't have to rely just on their web page anymore. The battle would be of the run-of-the-mill with exclusivity. We have a habit of choosing from both sections and often these widely available items win as it's found almost everywhere. Let's not forget about the competitors such as Aarong and Dorjibari and others, many of which also ship items internationally. Affordability is also a factor, everyone budgets differently.
Although the article is supposed to highlight BeshiDeshi, also focuses on a different range of products that to be gaining popularity. BeshiDeshi is doing their best and such e-markets will be more in demand in upcoming years as people want to see a variety in their style. Although Daraz, Aliexpress, and Evaly are very common among all the apps that we use, I firmly believe that if the word gets out about BeshiDeshi then a lot of people will be interested. And I am not talking about just national popularity, but internationally.