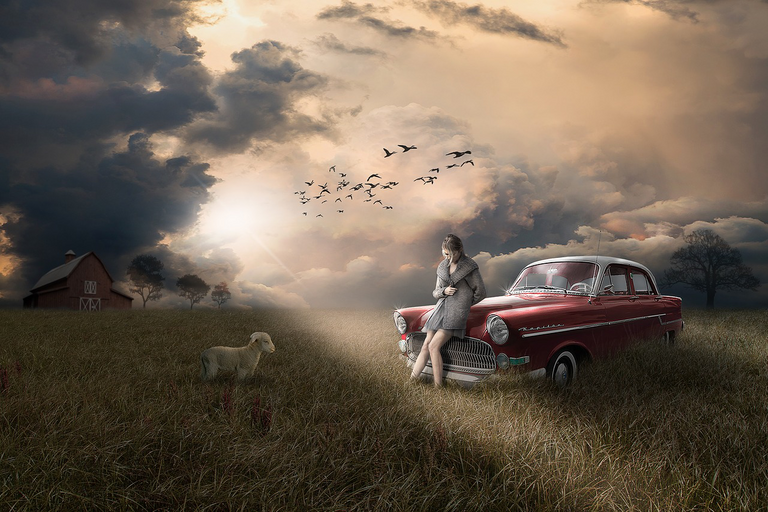 I almost pee my her pant when I heard the horn from a fast-approaching vehicle.
I felt wet after screaming my life out, the next time I opened my eyes, I was inside a large gutter soaked and dirty.
The thunderous sound from the big trunk scares the life out of me that I found myself inside the gutter after a few minutes of the experience.
Don't ask me how I got there cause we never know when our adrenaline decides to act.
What did I do wrong? Why did the so-called crazy driver or drunk driver as per se want to take my life? Why was he driving at a very high speed that he almost didn't spare my life?
Why so careless? Asked the girl with two earpieces fixed on both her ears.
How she even heard the sound of the moving vehicle is what I still cannot really phantom.
Hold on a sec! Don't tell me you thought I was the one?
No! No! No! I can't be so careless with my life.
That the Lord protects and guides us every time does not give us any right to be so careless with our lives.
I mean I don't get it when people have earpieces or headphones fixed on both their ears on a highway with a lot of moving vehicles.
How would you know when someone is calling out to you?
How will you know when a car is blowing a horn or is approaching you?
I don't know how they manage to do it but it's so uncomfortable having both ears blocked when I am on the street.
For crying out loud you aren't at home or in the comfort of your bed.
You can as well enjoy your music all you want when you get to wherever you are going to or when you get back home.
We should learn to do the right thing at the right time and stop risking our lives in a lame and ridiculous way.
Some things should be given priority and your life and safety should come first before you think of any enjoyment or satisfaction at all in life.
After all, what are enjoyment and satisfaction when there is no life?
Your life should be prioritized and you should ensure that you do everything possible to make sure you don't endanger yourself.
Don't call trouble for yourself and later blame it on the witches and wizards of your village and let them take the glory for your carelessness and stupidity.
I will leave you guys with this message;
Please value the life God gave to you and don't make a jest of it.
Safety should always be placed first, be vigilant, alert, and conscious of your environment and surrounding especially when you step out on the streets.
Your life matters a lot so don't live carelessly.
SPANISH
Casi me orino en su pantalón cuando escuché la bocina de un vehículo que se acercaba rápidamente.
Me sentí mojado después de gritar mi vida, la próxima vez que abrí los ojos, estaba dentro de una gran cuneta empapada y sucia.
El sonido atronador del gran baúl me da un susto de vida que me encontré dentro de la cuneta después de unos minutos de la experiencia.
No me preguntes cómo llegué allí porque nunca sabemos cuándo nuestra adrenalina decide actuar.
¿Qué hice mal?
¿Por qué el llamado conductor loco o conductor borracho quería quitarme la vida de por sí?
¿Por qué estaba conduciendo a una velocidad tan alta que casi no me perdonó la vida?
¿Por qué tan descuidado?
Preguntó la chica con dos auriculares fijos en ambas orejas.
Cómo escuchó el sonido del vehículo en movimiento es lo que todavía no puedo imaginar.
¡Espera un segundo!
¿No me digas que pensabas que yo era el indicado?
¡No! ¡No! ¡No!
No puedo ser tan descuidado con mi vida.
Que el Señor nos proteja y nos guíe cada vez no nos da derecho a ser tan descuidados con nuestra vida.
Quiero decir que no entiendo cuando la gente tiene auriculares o audífonos fijos en ambos oídos en una carretera con muchos vehículos en movimiento.
¿Cómo sabrías cuando alguien te está llamando?
¿Cómo sabrá si un automóvil toca la bocina o se acerca a usted?
No sé cómo se las arreglan para hacerlo, pero es muy incómodo tener los dos oídos bloqueados cuando estoy en la calle.
Por llorar en voz alta, no estás en casa o en la comodidad de tu cama.
También puedes disfrutar de tu música todo lo que quieras cuando llegues a donde vayas o cuando vuelvas a casa.
Debemos aprender a hacer lo correcto en el momento adecuado y dejar de arriesgar nuestras vidas de una manera tonta y ridícula.
Algunas cosas deben tener prioridad y su vida y seguridad deben ser lo primero antes de pensar en cualquier disfrute o satisfacción en la vida.
Después de todo, ¿qué son el disfrute y la satisfacción cuando no hay vida?
Su vida debe tener prioridad y debe asegurarse de hacer todo lo posible para asegurarse de no ponerse en peligro.
No busques problemas para ti mismo y luego culpe a los magos y brujas de tu aldea y déjalos llevarse la gloria por tu descuido y estupidez.
Los dejo chicos con este mensaje;
Por favor valora la vida que Dios te dio y no te burles de ella.
La seguridad siempre debe ser lo primero, esté atento, alerta y consciente de su entorno y sus alrededores, especialmente cuando salga a las calles.
Tu vida importa mucho, así que no vivas descuidadamente.