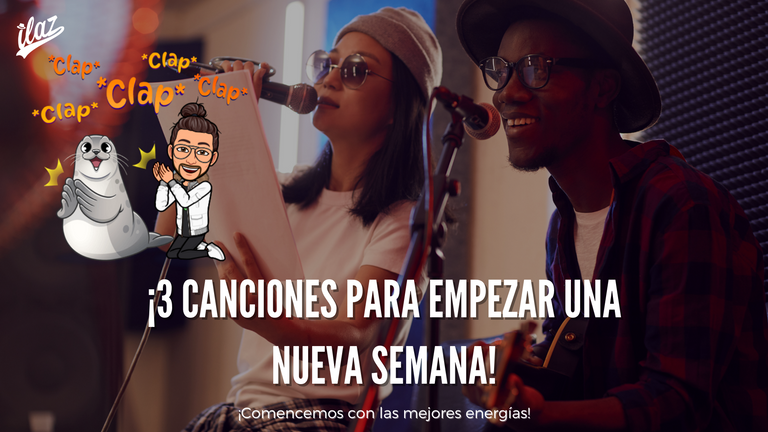 Diseño realizado por mí en Canva | Design made by me on Canva
¡Bienvenidos de nuevo a mi blog, chicos! El día de hoy les traigo mi clásica reseña de todos los inicos de semana con un top 3 (más un bonus) de canciones para empezar una nueva semana con energía, ya tengo aproximadamente unas 7 semanas haciendo este post y me fascina siempre darles estas recomendaciones para ampliar sus listas de reproducción (o que ustedes me amplíen las mías).
Entonces, sin decir más, hoy les traigo un top de colaboraciones entre artistas grandes en inglés ya que en ocasiones pasadas les traje colaboraciones pero de artistas en español.
Así que, comencemos.
Welcome back to my blog, guys! Today I bring you my classic review of every beginning of the week with a top 3 (plus a bonus) of songs to start a new week with energy, I've been doing this post for about 7 weeks now and I always love to give you these recommendations to expand your playlists (or for you to expand mine).

So, without saying more, today I bring you a top of collaborations between great artists in English since in past occasions I brought you collaborations but from artists in Spanish.

So, let's get started.

1.- Billie Eilish ft Khalid - Lovely
Para nadie es un secreto que me fascina demasiado la música de Billie Eilish, pues ella tiene muchísimas cosas en su voz que yo siempre he amado en el talento femenino cuando hablamos de técnica vocal; sus melismas, su registro, su color, tesitura, todo en ella me parece perfecto y su concepto siempre ha sido demasiado místico, en esta canción se deja notar muchísimo.
Para los que no sepan quién es ella, pues es una artista estadounidense nacida en el estado de California, específicamente en la ciudad de Los Angeles, ella junto a su hermano han logrado cosas increíbles con la música y han demostrado que el talento emergente desde casa pueden tener un impacto igual de impresionante que los artistas con enormes disqueras.
Khalid para mí es un artista demasiado completo, su voz tiene algo que te envuelve y te llena de mística con escucharlo en cualquier momento o lugar, además es un artista tan sencillo que una vez leí una noticia de cómo él tras cantar en un concierto se puso a llorar por la cantidad de personas que estaban ahí apoyándolo porque nunca había recibido tanta atención a su trabajo, siento que eso me identifica demasiado y posiblemente me pase de la misma manera.
Ahora, escuchar a estos dos artistas trabajar juntos, fue para mí una locura total, porque no sabía que necesitaba esta canción hasta que la escuché por primera vez.
It's no secret that I love the music of Billie Eilish, because she has many things in her voice that I have always loved in the female talent when we talk about vocal technique; her melismas, her register, her color, tessitura, everything in her seems perfect to me and her concept has always been too mystical, in this song is very noticeable.

For those who do not know who she is, she is an American artist born in the state of California, specifically in the city of Los Angeles, she along with her brother have achieved incredible things with music and have shown that emerging talent from home can have an impact just as impressive as artists with huge record labels.

Khalid for me is an artist too complete, his voice has something that surrounds you and fills you with mysticism with listening to him at any time or place, he is also an artist so simple that once I read a news of how after singing in a concert he started to cry because of the amount of people who were there supporting him because he had never received so much attention to his work, I feel that identifies me too much and possibly it happens to me in the same way.

Now, listening to these two artists working together, was for me a total madness, because I didn't know I needed this song until I heard it for the first time.

2.- Bruno Mars, Anderson .Paak, Silk Sonic - Leave the Door Open
Si hablamos de regresos ÉPICOS, definitivamente Bruno Mars entra en esta categoría con esta canción que siento que todo el mundo disfrutará tanto como yo; el sonido vintage que lo caracteriza se notó demasiado en esta ocasión y jamás en mi vida había escuchado a los artistas que lo acompañan, conocidos como Silk Sonic y Anderson .Paak.
Silk Sonic resultó ser una banda muy talentosa porque su sonido fue épico, pero debo resaltar demasiado a Anderson Paak porque en definitiva creo que ya es suficientemente difícil ser baterista como para poder subdividir aún más tu cerebro y cantar mientras tocas la batería, a mi juicio eso parece una tarea increíble y espectacular.
Esta canción es una joya total y es de esas con las que conecto apenas la escucho y me provoca hacerle cover casi que de inmediato, veremos que traerá el futuro con mi cuenta @ilaz con ese tema.
If we talk about EPIC comebacks, definitely Bruno Mars falls into this category with this song that I feel everyone will enjoy as much as I do; the vintage sound that characterizes him was too noticeable on this occasion and I had never in my life heard the artists that accompany him, known as Silk Sonic and Anderson . Paak.

Silk Sonic turned out to be a very talented band because their sound was epic, but I must highlight Anderson Paak too much because ultimately I think it's hard enough to be a drummer without being able to further subdivide your brain and sing while playing drums, to my mind that seems like an incredible and spectacular task.

This song is a total gem and is one of those that I connect with as soon as I hear it and it makes me cover it almost immediately, we'll see what the future will bring with my @ilaz account with that song.

3.- Christina Aguilera, A Great Big World - Fall On Me
Esta colaboración se inmortalizó hace tiempo con la clásica canción conocida como Say Something, la cual fue versionada de muchas maneras y causó un increíble impacto en la vida de muchas personas y músicos incluyéndome pues yo llegué a hacer un cover de esta canción.
Christina Aguilera siempre ha sido para mí como el tope de la calidad vocal en el canto, siento que podría estudiarla de múltiples maneras para llegar a ese nivel y siento que de llegar a ese nivel ya uno estaría en ese punto donde decimos que ya no tenemos más nada que aprender jajaja.
Por otro lado, A Great Big World siempre me ha gustado a pesar de que no he escuchado toda su música, pero la voz del vocalista es bastante épica y nasal (justo como la mía), entonces el volverlos a escuchar fue increíble y yo no sabía que esta canción ya existía; artistas como Andrea Bocceli la han cantado anteriormente pero esta versión para mí es de las mejores y más impactantes, no tiene pérdida.
This collaboration was immortalized long ago with the classic song known as Say Something, which was covered in many ways and caused an incredible impact on the lives of many people and musicians including me because I got to do a cover of this song.

Christina Aguilera has always been for me as the top of the vocal quality in singing, I feel that I could study her in multiple ways to reach that level and I feel that to reach that level one would already be at that point where we say that we have nothing more to learn hahaha.

On the other hand, A Great Big World I've always liked it even though I haven't listened to all their music, but the vocalist's voice is quite epic and nasal (just like mine), so listening to them again was amazing and I didn't know this song already existed; artists like Andrea Bocceli have sung it before but this version for me is one of the best and most impacting, you can't miss it.

Bonus Track - Justin Bieber ft Ariana Grande - Stuck with U
Como bonus para esta semana les traigo esta canción la cual lamentablemente no ha perdido vigencia pues salió a raíz de los primeros encierros por cuarentena tras la llegada del COVID-19 el año pasado, entonces, en la época en la que estamos tiene más vigencia que nunca en estos momentos.
La saco a relucir no tanto por el trasfondo negativo sino por la calidad de artistas que colaboraron en este temazo, ya que ambos son lo que la gente llamaría los «príncipes» de la música pop del momento ya que su prestigio dentro de este mundo es de los mejores habidos y por haber por su gran calidad como artistas.
Entonces, el haberlos visto colaborar de esta manera fue épica, además, Justin Bieber siempre ha sido un gran compositor pero para mi impresión, Ariana Grande hizo unas historias en su instagram sobre el cómo grabó estas voces porque resulta que ¡ella sabe producir sus propias voces! Eso me hizo admirarla el doble de lo que ya la admiro, porque es una artista aún más completa de lo que pensé.
Esta canción es épica y si la miramos hoy en día, nos puede seguir causando el mismo impacto y nostalgia que antes, así que espero que la disfruten tanto como yo.
As a bonus for this week I bring you this song which unfortunately has not lost its validity because it came out as a result of the first quarantine lockups after the arrival of COVID-19 last year, then, at the time in which we are, it is more relevant than ever at this time.

I bring it up not so much because of the negative background but because of the quality of the artists who collaborated in this great song, since both are what people would call the "princes" of pop music of the moment, since their prestige in this world is one of the best there is and to be because of their great quality as artists.

So, to have seen them collaborate in this way was epic, plus, Justin Bieber has always been a great songwriter but to my impression, Ariana Grande made some stories on her instagram about how she recorded these vocals because it turns out she knows how to produce her own vocals! That made me admire her twice as much as I already admire her, because she's an even more complete artist than I thought.

This song is epic and if we look at it today, it can still give us the same impact and nostalgia as before, so I hope you enjoy it as much as I did.

Palabras Finales | Final Words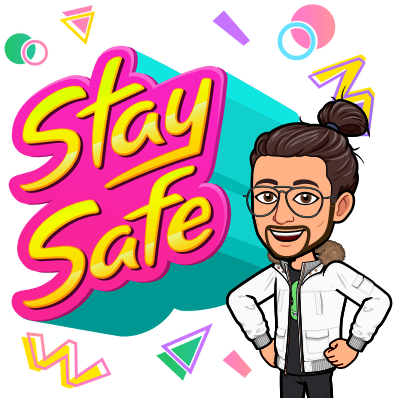 ¡Agradezco demasiado si has llegado hasta este punto del post! Y me siento increíblemente feliz porque siento que hoy más que nunca puedo hacer crecer mi HP en nuestra blockchain y quiero comenzar a incursionar en el gran mundo de formar parte de las tribus que están disponibles para nosotros.
En este caso, comenzaré a postear contenido dentro de la tribu MusicForLife para comenzar a generar VIBES y compartir con otras personas que amen hacer música tanto como yo.
¡Sigamos creciendo! ¡Sigamos amando y compartiendo la música!
I'm too thankful if you've made it this far in the post! And I feel incredibly happy because I feel that today more than ever I can grow my HP on our blockchain and I want to start dabbling in the great world of being part of the tribes that are available to us.

In this case, I'll start posting content within the MusicForLife tribe to start generating VIBES and sharing with other people who love making music as much as I do.

Let's keep growing! Let's keep loving and sharing music!