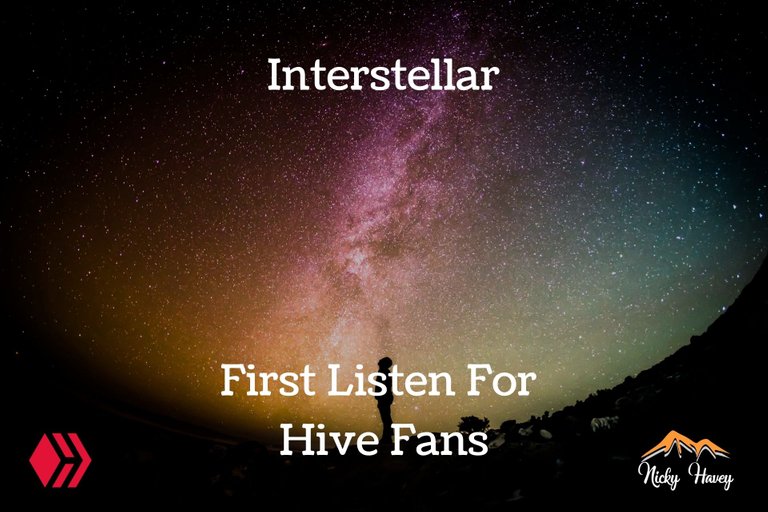 Image Source
I couldn't do a penultimate post of the #hiveblopomo challenge without giving you lovely people on the Hive network a little gift of my own. Remember how I was trying to get my tunes back off my PC before it blue screened on me earlier this month? Well, I managed to resurrect those tunes and am excited to share with you a short taster clip of this tune called Interstellar which couldn't be more fitting given the news I had today. The private Soundcloud link is below:
Space Man
I've always had a strong interest in space science and the universe beyond our own but I never really took the plunge to dive in to a possible career out of it. Always thought I wasn't smart enough having seen how easily some of those space science whizzes can just instantly wrap their heads around it. That may sound odd seeing as I have a PhD in materials science but I wouldn't say I had a choice to do a PhD at the time.
It was September 2008, the credit crunch just happened and jobs for someone with a Sports & Materials Science degree were few and far between. Thankfully some income via the form of this doctorate came about and I got lucky with some funding and, well, you know the rest... Ultimately, couldn't wait to get out but always felt over the last 7 years that I was missing something and apparently, the Universe was trying to tell me to just sort my life out and get on with investigating jobs in this industry.
---
Changing Career
2 years of pissing around working in customer service, realising it isn't quite as sexy as I first thought (ok, I never thought that lol) and finally, I decided to apply to do a course related to Space Science at the Open University. After paying the tuition fee yesterday, I found out today that I got accepted on to the course and it starts in January 2022!
Even better is that I may not have to do the full masters which would take substantially longer (between 3-7 years) and I don't think I can actually handle another 7 years in customer service! I'd still be working along side doing the course in case you were wondering. Apparently, this course gives you all the tools and contacts you need in the space industry to get involved with research jobs... that was music to my ears!
And now you have music to your ears too with this one! In fact, a couple of the other tunes I salvaged from my music PC were space themed so maybe it was a sign to just go for it, life's too short and all that malarkey! Go after things you want!
Hope you enjoy the tune! Not sure on release date yet - watch this space...
Nicky