Good Day Guys
Let me share with you about my day. The night before, my colleague endorsed all the patients to me and I was already thinking of a strategy on how to treat them because there were 9 patients. When I woke up I continued writing and got ready for work. I left our house at around 7:40. I picked up one of my colleagues because her place is along my way. We parked and walked to our workplace, passed through the triage, timed in, and went to our department.
I texted our doctor on who I can treat and she told me to treat one patient first, she'll see the others before I treat them. I then got ready and fixed all the equipment that I needed. I went up to the room of patient one and when I reached the room, I noticed that they don't have things inside anymore. I saw the watcher and they told me that they were going to transfer to the room across. And she also told me to wait for the patient to transfer to the other room while waiting. I was just there outside of their room and I waited for 10 minutes. After that, I decided to treat the patient so my time wouldn't be wasted. My first patient was a stroke patient and I had to make my patient short sit on the bedside chair. While treating her the nurse came in for the transfer and noticed that I was treating so she told me that they'll just transfer her after the treatment, which was really convenient for me. I also saw our doctor doing the rounds during treatment. After the treatment, I was guessing where our doctor would be. I went to one of the hallways where some of our patients are located and she was there. She endorsed to me some of the patients. I forgot to bring one of the pieces of equipment used for standing so I had to call my colleague to bring it up for me and meet me in the room of patient 2.
I went to patient 2 and they just inserted a peg on her the day before so I had to watch out for pain coming from that site. This patient was really lethargic when I treated her, the aide said she didn't get enough sleep because of the pain from the site. When I treated her, there was no pain which was a good thing, so everything went smoothly. Then my colleagues brought the walker to that room. I went to patient 3 and he was bound for standing. I noticed that his mood seems so depressed because he couldn't move his arm and his leg was also weak from the stroke. He was able to walk with the walker but he easily got tired. I then went to the basement from the fourth floor because patient 4 was located there. When I tried entering his room, he soiled himself so I went back to our department and waited for our doctors' rounds. I waited for around 10 minutes and she endorsed all our patients.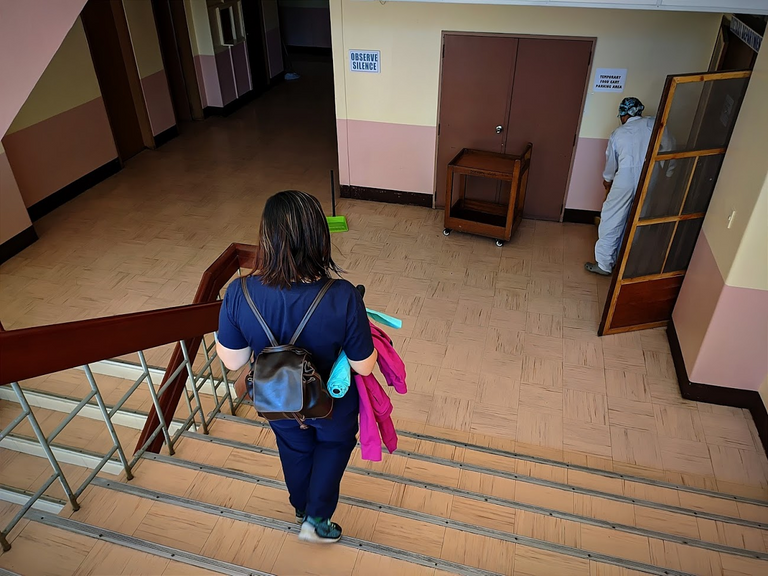 I concentrated on treating the patients in the other building, patient 5 was kinda immobile because of the pain that he feels in his lower back and his knees. This patient is really kind and funny. He's an old person already who's kinda deaf. He's kinda senile already, there came a point during the treatment where he thought that I was a different person. After that, I went to patient 6 but he was going to have his dialysis. I went to patient 7 who was another stroke patient. They were extracting her blood so I had to wait for a while before I started treating her. I had to make her short sit with her legs dangling. There are times where she could do it independently but she would often ask for help to support her. I felt my shoulder burning from supporting her weight.
After treating patient 7 it was already lunchtime, I went back to our department disinfected and before eating lunch I charged the patients that I treated. After lunch, I was writing all my notes and I updated our doctor on some of the patients. I tried going back to patient 4 but when I went to his room, he was eating through his NGT. So I couldn't treat him. I decided to go to the 4th floor and treat the patient in the ICU. When I saw the patient he was having a difficult time breathing. His SPO2 levels were at 82-87%. I then told the nursing aide about it and decided to go down to our department and tell our doctor about it. She called the nurses' station and they said that they will adjust the oxygen of the patient. So I had to climb up again the stairs. I was able to treat him already. This patient suffered from Covid-19 but he wasn't infectious anymore so they were letting us treat him.
I went back downstairs to check on patient 4 and when I got to his room, he soiled himself again. So I went back to our department and continued writing the notes. I waited for around 20 minutes before going there again. When I went there I finally was able to treat him. Though when I treated him he looked so tired. I tried making him short sit but he gave up after a few minutes due to fatigue. I continued doing the other exercises.
I went back to our department and called the other building regarding patient 6 and his dialysis was ongoing so I just deferred him. Then I updated our doctor about it.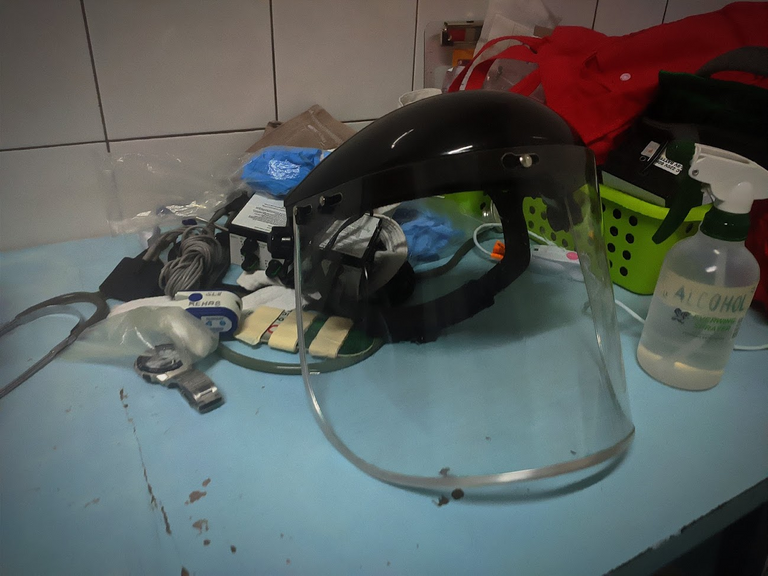 This was really a tiring day, I really hated the heat. Imagine treating the patients wearing PPE and the weather was really hot. One thing that got me tired was going back and forth to all the patients, climbing all the stairs, and going down. I counted it and I had to climb 8 flights of stairs with 10 staircases each. I was really sweaty during and after the treatment.
I was just waiting for it to hit 5 pm and go home.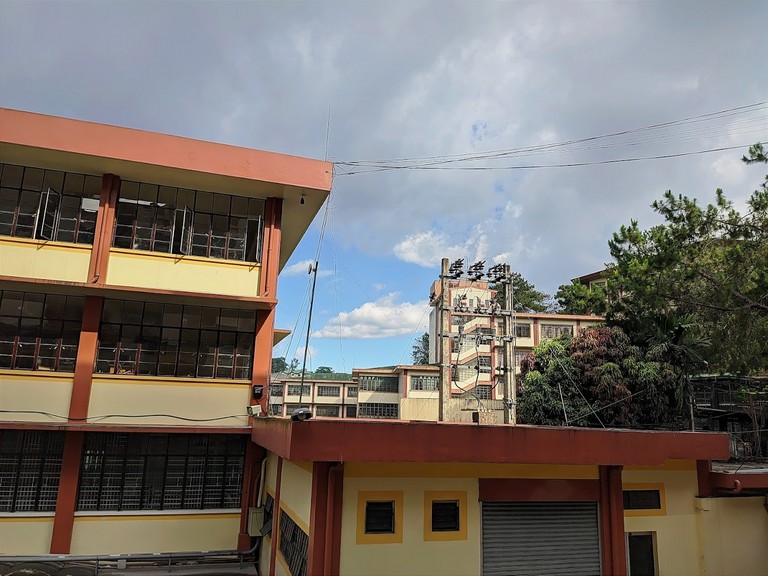 I really felt drained from treating during that day, it really sucks to treat patients alone especially if you have a high patient load. Before going home I had to drop off my colleague. When I got home I disinfected and ate for a while. I also played with some of my pets. They really brought some of my stress down. I hope that you enjoyed your day!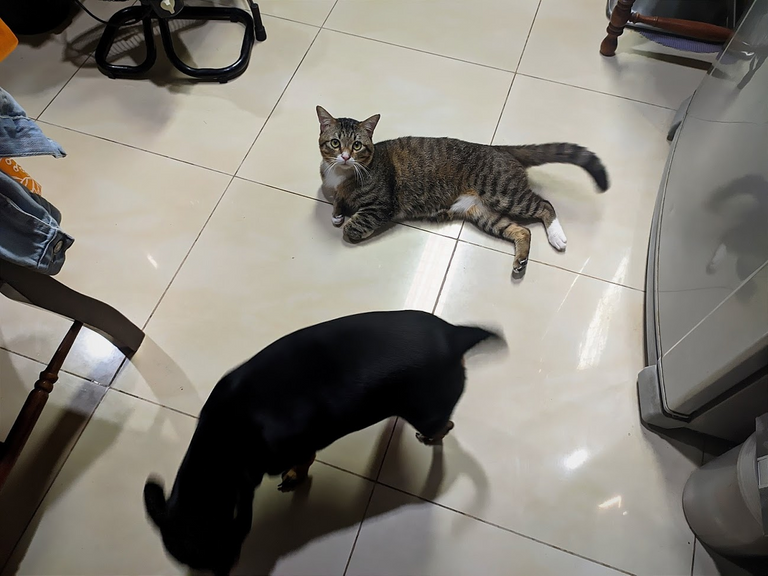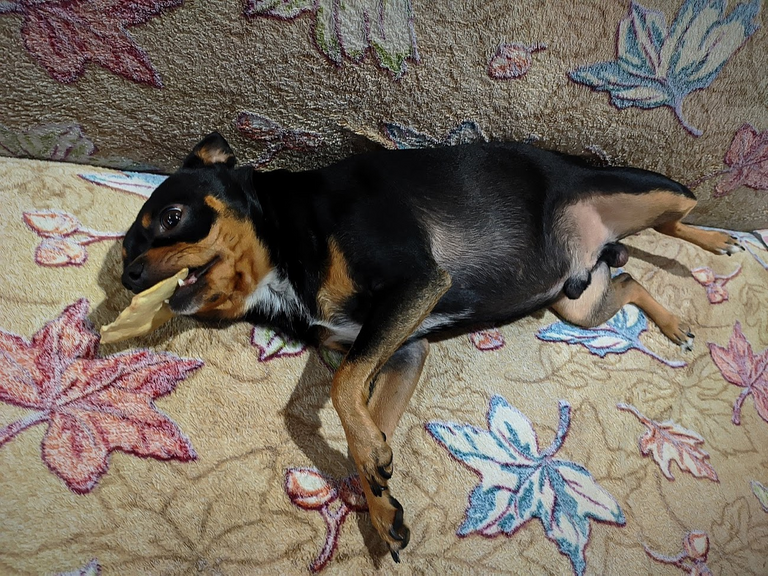 Thanks for reading and Stay safe always!
The photos used in this post are owned by me .

EARN BITCOIN CASH BY CREATING AN ACCOUNT HERE AND POSTING