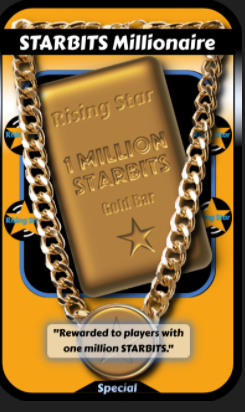 Even though I am still unlocking band members (3 to go) I have decided to work on my long term goal of being a Starbits millionaire. I want to do this as fast as possible with no out of pocket cost.. Here's my strategy:
Earn Starbits doing missions. Pretty self-explanatory here lol
-Use liquid Hive (HBD converted) earned from posts to buy Starbits in addition to earning them in-game. This will speed things up tremendously and since it is being done with earnings no out of pocket costs
-Do the same with VIBES earned. This I likely won't do until I am closer to the goal. I still want to save my VIBES but it is good to know it's another option to speed things up if needed.
While I am focusing on saving up Starbits I may occasionally buy cards or packs when/ if needed but for the most part I will be saving earned Starbits and buying more as mentioned above.
This means I will lose my top 100 ranking temporarily but I am ok with that. I can get back there easily enough especially once I have a million Starbits :)
I'll post updates on my progress. As of the time of writing this I have abut 5000 starbits earned in game. I have quite a ways to go to reach my goal but I gotta start somewhere 🦄