Bethany walks away in my Rising Star career + CARD GIVEAWAY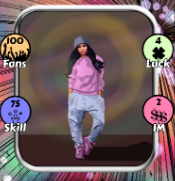 Quadruplets
Four Bethanys (Bethanies? Bethany's!) among my crew. That's potentially more action than I can handle, so one of you gets to become her foster parent... Wait, what? Either way, if you want a chance at adopting her in this giveaway, make sure you leave me a message in the comment section down below. Here are some sexy thematic suggestions:
I have to ask you guys, who do you think is pretty in the Rising Stars crypto game? Is it Bethany herself? Febie? Or maybe you're more fond of girls like Lucy? Ellie surely has some fans hidden somewhere. Among the rares, I'm a personal fan of Jessie, closely followed by Ali. Bonus negative points if you end up mentioning Father Earth!
What about the dudes? Who is the hottest or coolest man represented in a card you've seen? Is it Slippy or Buster? Just kidding, Buster, sorry man! I'm gonna go with Matt and Robbie, as far as rare cards go.
Earning
My earnings have steadily increased ever since I completely let go of Saturday Headline. It's just a really risky mission. Literally everything in the Local Gig circuit is better than whatever mission from Home Town. I'm never again going back to it - good bye, papa, it's time to spread my wings and flyyyyyy awaaaaay from heeere. From ~2k starbits a day to ~4k. Hell, that's not a lot better! Now I can purchase packs a lot more often.
---
---