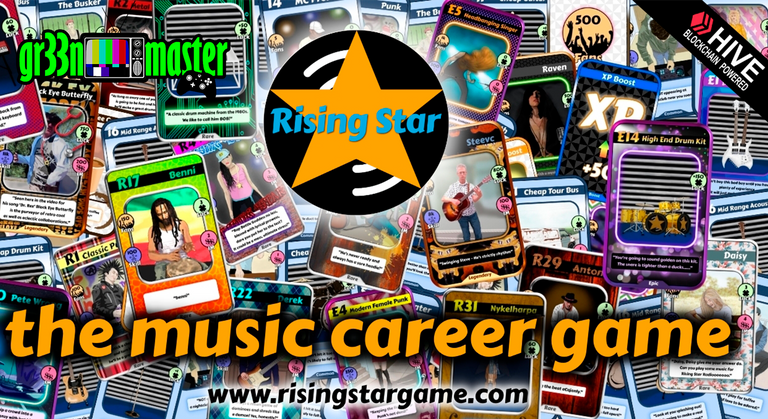 Saludos amigos, hoy me llevé la sorpresa de ver que en el juego ya está en preventa la carta edición especial conmemorativa del primer cumpleaños de
@risingstargame
, se llama "1st brithday cake" está muy padre.
Esta tiene un costo de 25k starbits, que es la manera mas barata de conseguirla, también la puedes comprar con 10 swap-hive o con 10 $hive.
Yo ya compre la mía, llegará después del día 8 de abril y tendrá la función de ser un potenciador de energía como las rebanadas de pizza fría, solo que el pastel se recargará en 12 horas y no 24 como las pizzas.
Corre por tu carta pues están limitadas a 250 ediciones por cada modo de compra.
Greetings friends, today I was surprised to see that the special commemorative edition card for @risingstargame's first birthday is already on presale in the game, it's called "1st brithday cake" it's very cool.
It costs 25k starbits, which is the cheapest way to get it, you can also buy it with 10 swap-hive or 10 $hive.
I already bought mine, it will arrive after April 8th and it will have the function of being an energy booster like the cold pizza slices, only that the cake will be recharged in 12 hours and not 24 hours like the pizzas.
Run for your card as they are limited to 250 editions per purchase mode.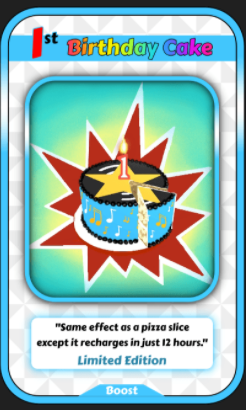 ---
Esa semana solo he podido abrir un paquete de cartas, con mis starbits juntados, porque no me dio tiempo de usar mis $Vibes para comprar paquetes, a continuación les muestro que me salió en mi paquete de cartas.
That week I have only been able to open one pack of cards, with my gathered starbits, because I didn't have time to use my $Vibes to buy packs, below I show you what I got in my pack of cards.

Me salió una R38 Kimberly la cual es una buena carta pues tiene solo 75 fans y 125 de skills es bueno para controlar el ego, igual una i6 mid range acoustic la cual es un requisito para la segunda isla Local gig circuit, seguro pagan bien por ella en el mercado interno y la ultima fue el i20 french horn que la verdad no la tenia, estoy feliz con las cartas que me tocaron pero seguiré intentándolo para ver si no me sale algún vehículo con muchos fans que eso es lo que me hace falta en el juego.
I got a R38 Kimberly which is a good card because it has only 75 fans and 125 skills which is good to control the ego, the same an i6 mid range acoustic which is a requirement for the second island, sure pay well for it in the domestic market and the last was the i20 french horn that the truth was not, I'm happy with the cards that I got but I'll keep trying to see if I get a vehicle with many fans that is what I need in the game.
He bajado en la tabla de posiciones pues en la semana pasada estaba en el puesto 221 y ahora aparezco en el puesto 226 pero me estoy recuperando porque hubo cierto tiempo en la semana que aparecía en el 236 que fatal.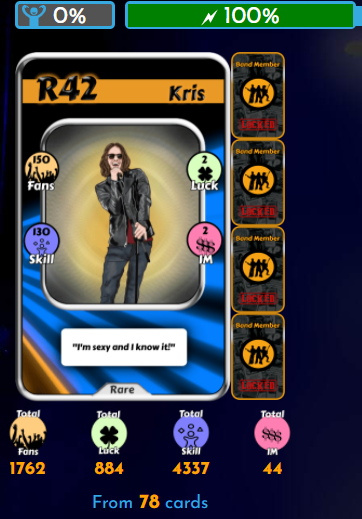 ---
Bueno amigos es todo por el momento en mi reporte de avances de esta semana, espero la próxima poder abrir mas paquetes y mostrárselos aquí gracias por leer, les deseo mucha suerte y éxito y que viva el rock and roll!
Well friends that's all for the moment in my progress report this week, I hope next week I can open more packages and show them here thanks for reading, I wish you good luck and success and long live rock and roll!
Translated to English thanks to DeepL.com
Photos used are screenshots from the game @risingstargame
Traducido al ingles gracias a DeepL.com
Las Fotos utilizadas son capturas del juego @risingstargame