Hello and welcome to all the readers
A good progress since the last post.
Completed 25 Local Festival Acoustic Tent Missions.


Also reached level 50.
I am doing lots of lessons to reduce the Ego percentage. Currently it is on 31%. Still very high.
Way forward:
Keep doing lessons to reduce the Ego
Reach level 55, so i can do the next mission in the local circuit
Buy another pack next week.
I have yet to play the new promoters game. May be next week i will try my luck on it :-)
Updated stats:


Level - 50, starbits - 63448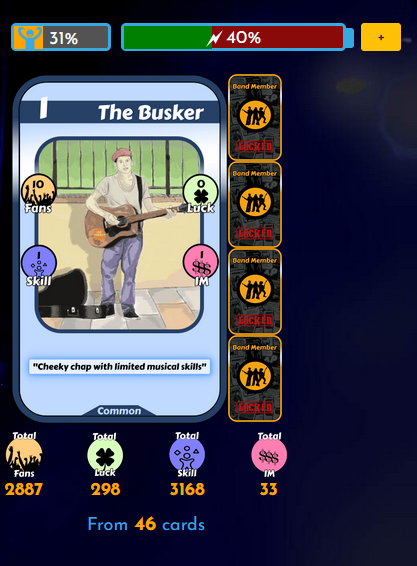 Skill - 595 from cards, 2573 from lessons
Drunks - 2887 from cards, temporary 0
Ego from fans - 2887 (0 temporary drunks)
Ego from missions - 1746 (added 71 since last post)
Total - 4633
Ranking:

Thank you for reading my post.
Have a nice day.
Farhad
[imfarhad]
Previous Rising Star Post - https://peakd.com/hive-195370/@imfarhad/rising-star-on-strict-diet-but-still-went-and-bought-a-card-pack-using-vibes