Hello and welcome to all the readers.
Last post, i mentioned that once i complete my 10th 'record a demo' mission, i will do my first 'acoustic tent' mission.
Yesterday, i did complete the first mission. It was great :-)


Current status:
I am still on level 45 and have added 3000 starbits since my last post two days ago.
Ego is now less than 10%, as drunks got sober and went home :-)
Goal for April:
reach level 55
accumulate 60000 starbits
keep improving the skill, by doing more lessons
Win Big
Info:
Q: Are you participating in the giveaways for risingstar cards and starbits?
Many members are doing their own giveaways of cards and starbits. For more information visit the musicforlife and risingstargame communities.
I am thankful to @mawit07, @playbyhive, @apprentice001, @fabiyamada, @musicuniversity and many more.
I did win starbits and also 2 cards.
Always excited when i win something, irrespective of its value.
Q: Do you attend the sunday RisingStar/AtomCollectorRecords show on youtube?
It has fun-filled music with lots of spin wheel prizes.
RisingStar post winners are also picked up during the show.
Every sunday, the link to the shows is available in risingstar game.
Also join us at AtomCollectorRecords.com on discord to participate.
Discord invite - https://discord.gg/3MgNPdgT
Since i mentioned about giveaways, members of @Liotes on discord also do them regularly.
Discord invite - https://discord.gg/kcgrrJpU
My Stats:

Skill - 345 from cards, 1884 from lessons
Drunks - 1029 from cards, temporary 0
Ego from fans - 1029(0 temporary drunks)
Ego from missions - 1390 (added 39 since last post)
Total - 2419
Rank Update:


Moving up the rankings 👍 [from 333 to 316]
Thank you for reading my post.
Have a nice day.
Farhad
[imfarhad]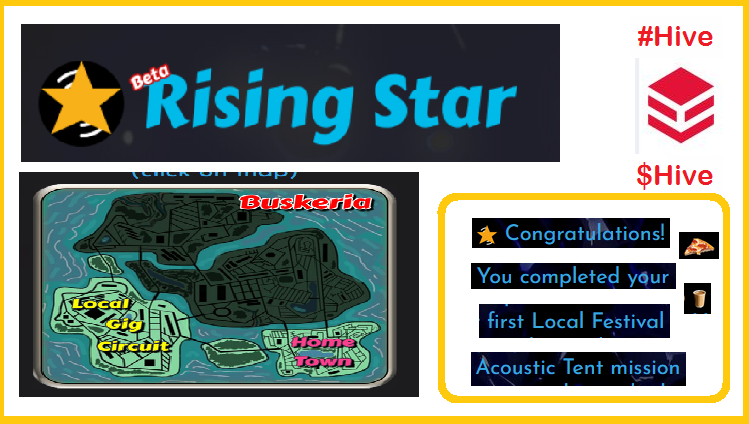 Previous Rising Star Post - https://peakd.com/hive-175836/@imfarhad/rising-star-completed-9-record-a-demo-missions-on-local-gig-circuit-and-also-reached-level-45