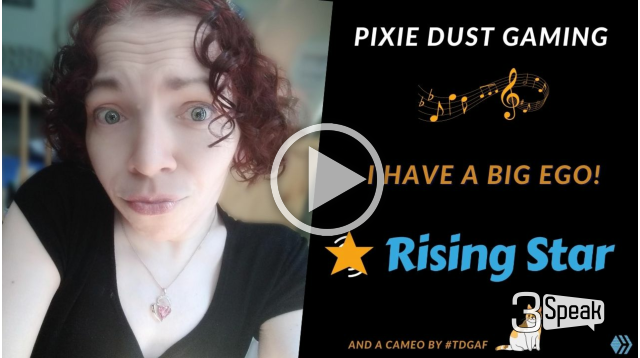 ---
NOTE: 3Speak seems to be having issues again so here is the LBRY link so you all can see this video I worked hard on!!
(Unsupported https://lbry.tv/$/embed/I-Have-A-Big-Ego!---Rising-Star---Pixie-Dust-Gaming-/201d88dc612f1ec6b85a1683aaed6add09b91c29?r=CGgskZUYb3zYNidcx2cmPyf4zc5aYBi1)
#PixiePost #PixieDustGaming #RisingStar
What? No Splinterlands video??
While I love doing them (& will continue to do so in January 2021), I wanted to highlight another awesome game on the Hive blockchain as well as the amazing community of Rising Star...
I was a late bloomer to this game, but now find myself playing this more & more, deeply engaged with it as well as the people behind the whole project....
So, I decided to share a Card Pack I have to open as well as some other things I show through the game....with a few distractions in between 🙄
Never played the game? Have no fear...@risingstargame explains the basics & how to play here
Check out @cryptofiloz's latest RS video & giveaway
+:+:+:+:+:+:+:+:+:+:+:+:+:+:+:+:+:+:+:+:+:+:+:+:+:+:+:+:+:+:+:+:+:+
Today's Music: Tiger Tracks - Lexica
─── ・ 。゚☆: .☽ . :☆゚. ───
Coffee, Cards & Pixie Dust podcast https://anchor.fm/pixiepost
Give this a like or an upvote if you enjoy this kind of content. It lets me know what videos give YOU value. Don't forget to subscribe & hit the notification bell so you don't miss the next video.
💜 To know thyself is to know thy truth. 💜
─── ・ 。゚☆: .☽ . :☆゚. ───
Get a 30 Day Free Trial of Epidemic Sound https://www.epidemicsound.com/referral/cgrnmi/
A Must Have Tool To Grow Your Channel
https://www.tubebuddy.com/pixiepost
💜 This video is not sponsored - affiliate links above are products I fully believe in and use 💜
─── ・ 。゚☆: .☽ . :☆゚. ───
Connect with me on the following social media sites:
LBRY: https://lbry.tv/$/invite/@ThePixiePost:9
Instagram: https://www.instagram.com/pixie_post_dreams/
Timmy 🐾: https://www.instagram.com/timmytheangelkitty
Twitter: https://twitter.com/ThePixiePost
My NEW Store: https://www.zazzle.com/store/pixie_po...
Pixie Post Facebook Page: http://fb.me/pixiepostwithjennnieto
Hive: https://hive.blog/@pixiepost
PeakD: https://peakd.com/@pixiepost
─── ・ 。゚☆: .☽ . :☆゚. ───
---
▶️ 3Speak