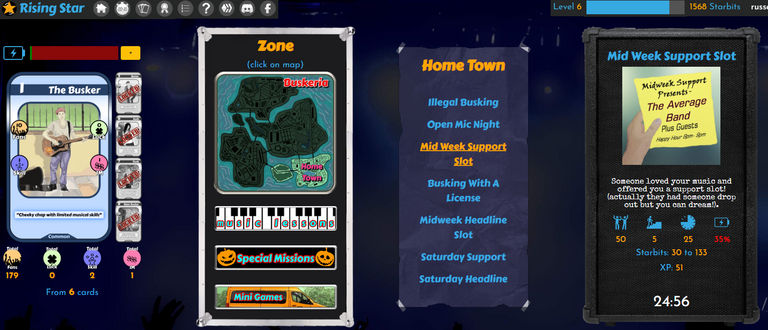 This music industry can be harsh, and takes a bit of time to get there and I guess that is what is so addictive about it.
Even though this is only a game, it is one of the most addictive I have encountered for a while, I am loving watching my 'Busker' work his way up
I have been part of the game for 48 hours now (I know you all rolled your eyes, is he going to do an update everyday??? !!, well maybe for the first week at least) and I want to let people know the progress , especially for those that are wanting to take part
@risingstar which is a great time based card game where you start as a Busker, performing illegally on the streets, trying to get as much play time as possible before the police move you on, surviving on tips from the late night drunks leaving the pub and heading to the kebab and Pizza shops, eating the leftover Pizza that you can find and that gets thrown into your hat, to becoming a mega star.
I can see this is a long road and the way that the @risingstar game is created, it is a step by step process. Each time you perform you accumulate Starbits (The In game currency) as well as Experience points, possibly Drunk Fans as well as random drops of Food and Coffee to keep you going.
Each step requires a greater Fan Base, so those drunks come in handy, and experience.
You can also buy booster cards etc and at higher levels some of those cards are needed, especially band members, instruments, rehearsal spaces and managers etc.
I said in my last post that the Marketplace is a great place to buy some boosters and if you look you can find some great deals, Today I purchased some more Fans, because Fans is what it is all about, no point performing to a non crowd, lol
I managed to get the fans for less than half a HIVE, so you can progress in this game for very little cost if you keep looking.
So where am I after 48 hours?
I have reached level 6, and hope today to reach level 8 – The higher level you get; the longer it takes to get to the next level, yesterday I got 5 levels
I now have 179 Fans, 130 from Cards and 49 Drunks , who will sober up and forget about me
I have accumulated 1568 Star Bits
I have achieved a total of 44 missions – Each mission takes energy and no matter how many all nighters I put in I will collapse at some stage .

I have busked Illegally, Performed at Open Mic Nights and had Mid Week Gigs, my next step at level 8 will be to busk with a licence no fear of the Rozza's moving me on
My next card purchase, I hope, will be an instrument and a band member so that I can progress some more
This is a great game to have running in the background while spending your time writing Blog Posts or whatever else it is you do on the computer.
I have become addicted and I think you will as well
If you haven't started your road to becoming a rising star then what is stopping you, Here is your chance by
Click on The Rising Star Banner to start your journey today


The HIVE Guide:
Do you want to have a FREE comprehensive Tool to navigate your way around HIVE
Click the Banner below and start your training today