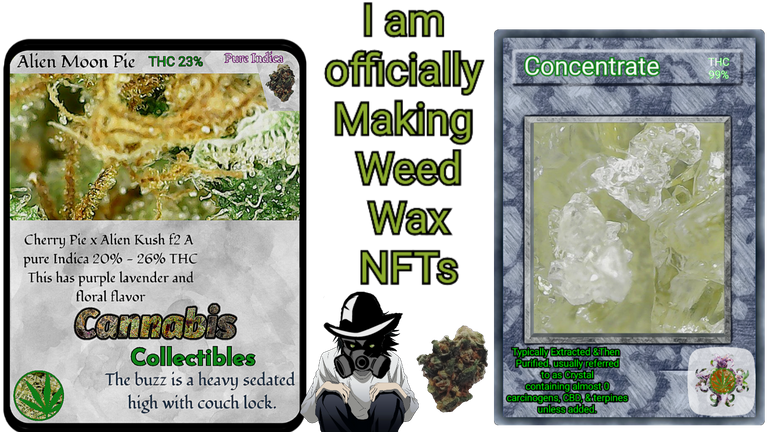 As previously mentioned I have been messing with both NFT design and production, upon examining several services for NFT production. Atomic Hub stood out to me they have the functionality Of the NFTs I'm use to producing in ETH markets like open sea.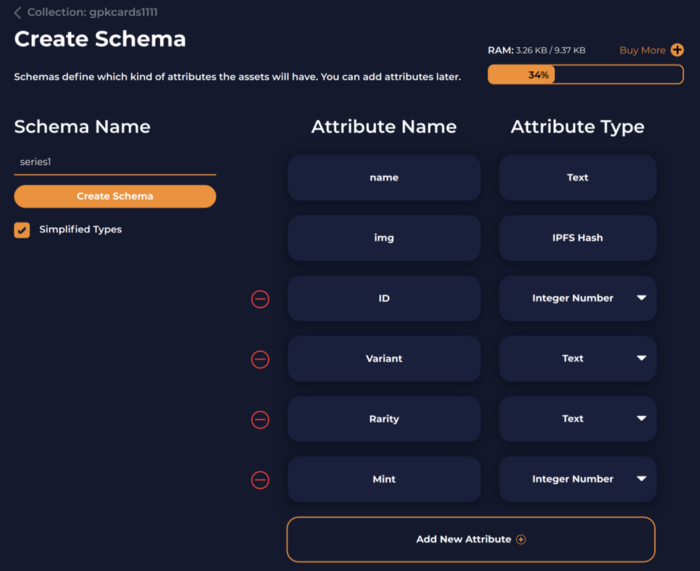 On top of this they are cannabis friendly and I am already allowed to produce NFTs, where as the NFT showroom Hives NFT production service and gallery requires previous art work or a portfolio.



I threw $50 in wax and have been fine tuning usage before I mint an NFT as well as creating a bigger collection then just a few cannabis cards but there is already some users trying something similar to what I did on open sea.
https://wax.atomichub.io/explorer/collection/ccdphotolife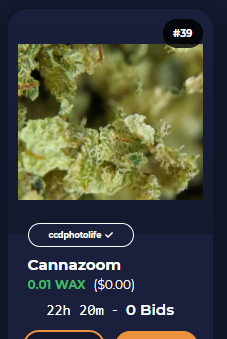 Wile fairly similar to what I did on open sea this will actually probably just sit there but without the gas fees they stand a better chance then I did at selling it. further research is needed but The pepe trading cards, garbage pale kid cards, splinterlands wax NFTs, & Crypto Brew masters NFTs seem to move quickest WO special features like Kogs with their staking. So the card aspect seems like the competition in cannabis NFTs on WAX haven't caught up to yet.
https://wax.simplemarket.io/authors/sistersativa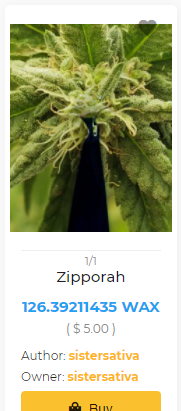 This is a fairly comprehensive guide on Medium that explains the AttomicHub NFT production process https://medium.com/@pinknetwork/guide-using-the-atomichub-nft-creator-7bd2b017224b All their minting takes place on EOSIO utilizing RAM and WAX as resources for production much like you would use ETH in a Rarible minting.
Apparently they do have file type when making a NFT It just takes more RAM or staked assets IE WAX.
Assets can be backed by the respective core token of their network (e.g. EOS/ WAX). Those tokens can only be freed by burning the asset, thus allowing dapps to give their asset a guaranteed intrinsic value.
This is important this will ensure nothing is devalued based on how popular the NFT minting is, but the lowest value is instead based on the market value of the asset used to mint said NFT. Those more technicaly proficiant may want to look into Atomichub on Git hub https://github.com/pinknetworkx/atomicassets-contracts A open source project that loves feedback. https://github.com/pinknetworkx/atomicassets-contracts/wiki already well documented signs like this make me less hesitant open source projects are community driven projects especially in the crypto industry usually the devs are willing to participate in open discussions about their project if they have the time.
for those un aware of what open source the term means-denoting software for which the original source code is made freely available and may be redistributed and modified.
WEEDcash NFT minting
I'm going to do trial runs with my own personal cannabis NFTs before I do any thing for weedcash. This however doesn't mean I wouldn't like to make a weedcash network NFT production but its best to crawl before you walk and until have made another NFT on https://wax.atomichub.io/ this is simply research. I bought & staked wax have RAM available to delegate to the production I'm simply going to get more card designs going.
The first products I produce will probably be given out for free depending on how much it costs me but I'm optimistic judging on listed prices for some NFTs for instance Crypto Brew Master NFTs can be cheap or pricey depending on the minting. Some costing as little as $0.83 10 WAX
Kind of a cannabis NFT ICO or air drop, Even if these are not popular you still probably want a free one even if its crap you can burn them for the assets used to make it.
This is why I like this option, That and the fact that both WEED and WAX have ESIO assets WEED has EOSWEED and WAX while having wrapped ETH versions Is a EOS derived asset with cross chain integration.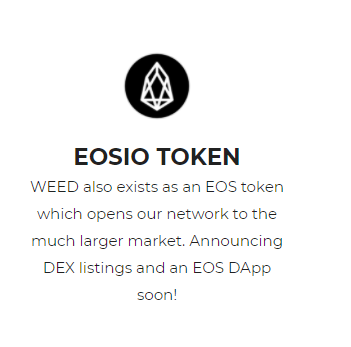 This has excited me since i Seen it originally If WEEDcash has grander ambitions then just NFT minting through an existing DAPP.
https://labs.wax.io/ Is how Kogs WAS made as its own DAPP instead of just the NFT being produced their assets have much more usage due to their staking & the ability to combine assets to produce a rarer minting. I couldn't even attempt to made something this complex but there is an option and for now The typical NFT production will grow the brand off chain.
Just look at splinterlands Which started with stand alone NFTs for the WAX colectors with their IP and brand. Now however they are a market all their own on WAX with the cards being sellable/buyable there and interconnected with the splinterlands users accounts. Crypto Brew Masters is another good example of just WAX nfts but they have similar ambitions.
WEED cash is different from a game but We would be the first non game hive front end with products on WAX. Since the two games have laid the ground work of a interconnected fan base.
This would be a great opportunity if we get there first for the blogs from Hive due to the real world use case worth the store I see potential for cross promotion of assets and Weedcash products from the https://weedcash.store/ like a digital trading gift card for instance. The surface web version of weedcasdh.org is great for just such a market both promoting the brand, & making weedcash store easier to access for the majority of people off Hive.
These are grand ambitions and outside the NFT production I'm out of my depth, I will be the first to admit that. However promotional NFTs are a great first step to cross chain interoperation.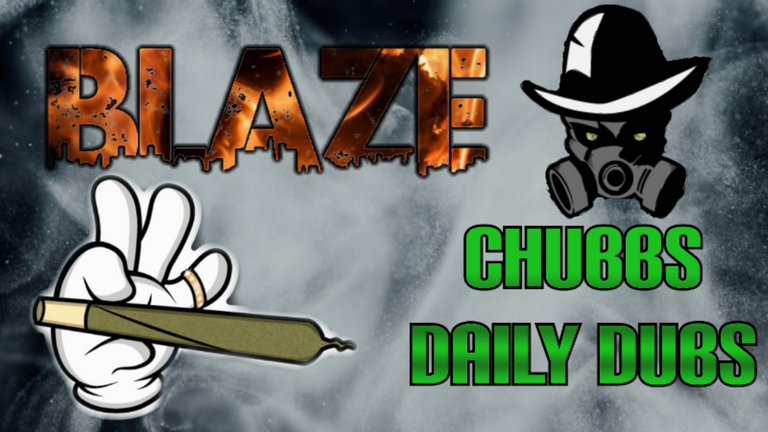 Kratom



Cannabis- Gelato is a slightly indica dominant hybrid (55% indica/45% sativa) THC 23% on average.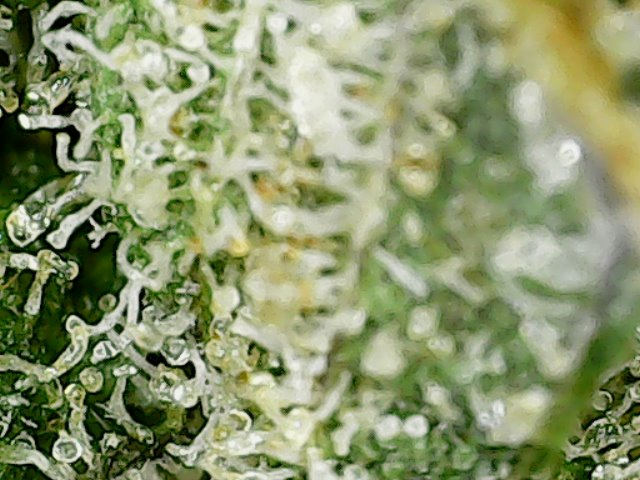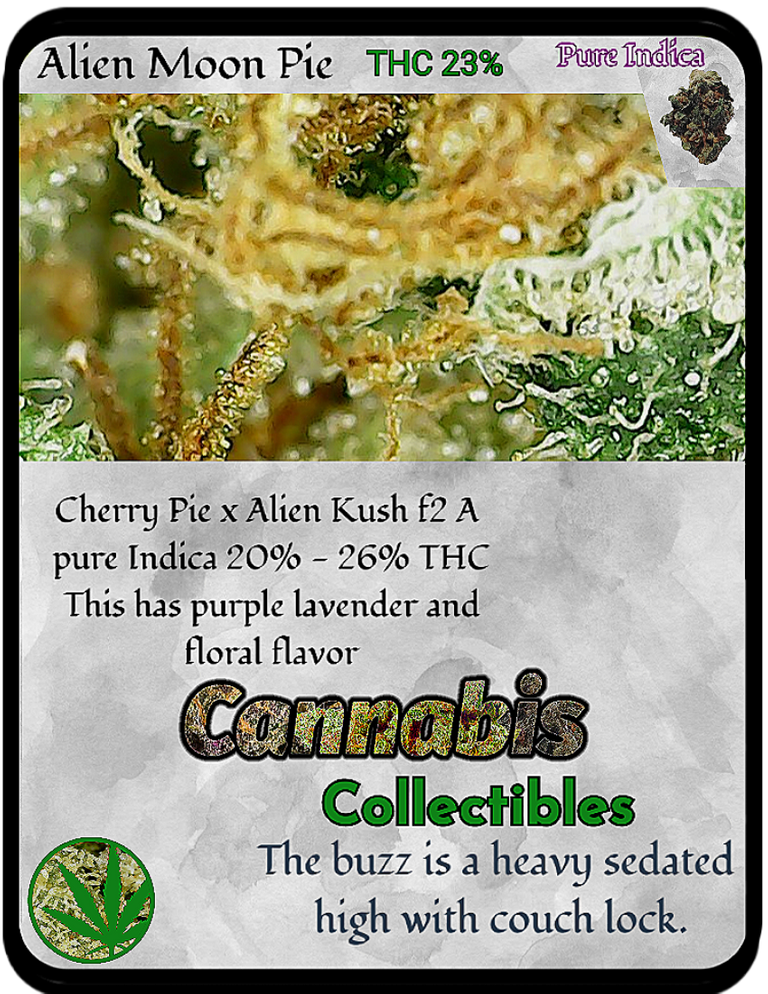 I like this look its from scratch not a stencil kind of making it more unique.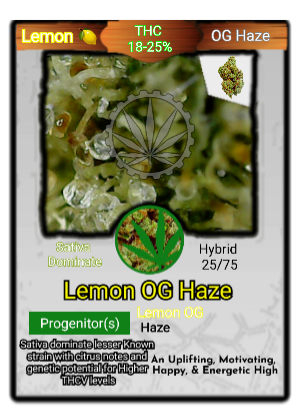 Ill keep messing with this because I want this to look better than my first attempt which was just a picture. I am leaning toward a hybrid of the design above and my design from todays title.
If not on wax wallet its easy to sign up its a web wallet with social media integration so Gmail or twitter works for signing up. Takes minutes at most and Ill be minting these within the next week and as I stated above the first ones (beta) will likely be free for the fellow users of weedcash using something like relogging the announcement and leaving your wax wallet address in the comments.