Takhmao's Open-Air Market - Purchasing for Chinese New Year 🧧 Preparation

Today's post for #MarketFriday, initiated by @dswigle.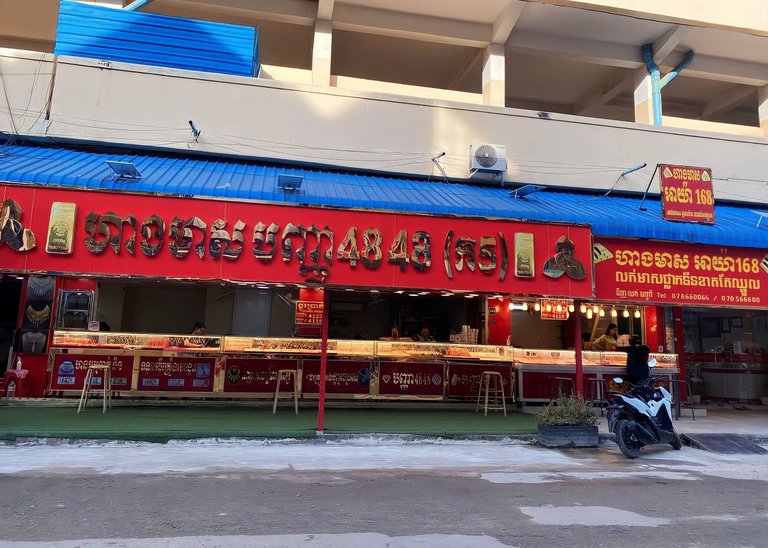 I'm @ahleap. In the morning, I am here in front of Takhmao Open Air Market. I guess everyone knows that tomorrow is going to be a Chinese New Year ceremony, so I'm visiting here because I need to buy some traditional Chinese materials for home decoration, plus some vegetables and meat for food preparation as well.
We are not going to see the whole part of the market, just the site where I go to buy goods following my list and instructions that I wrote in my book yesterday around 4 pm.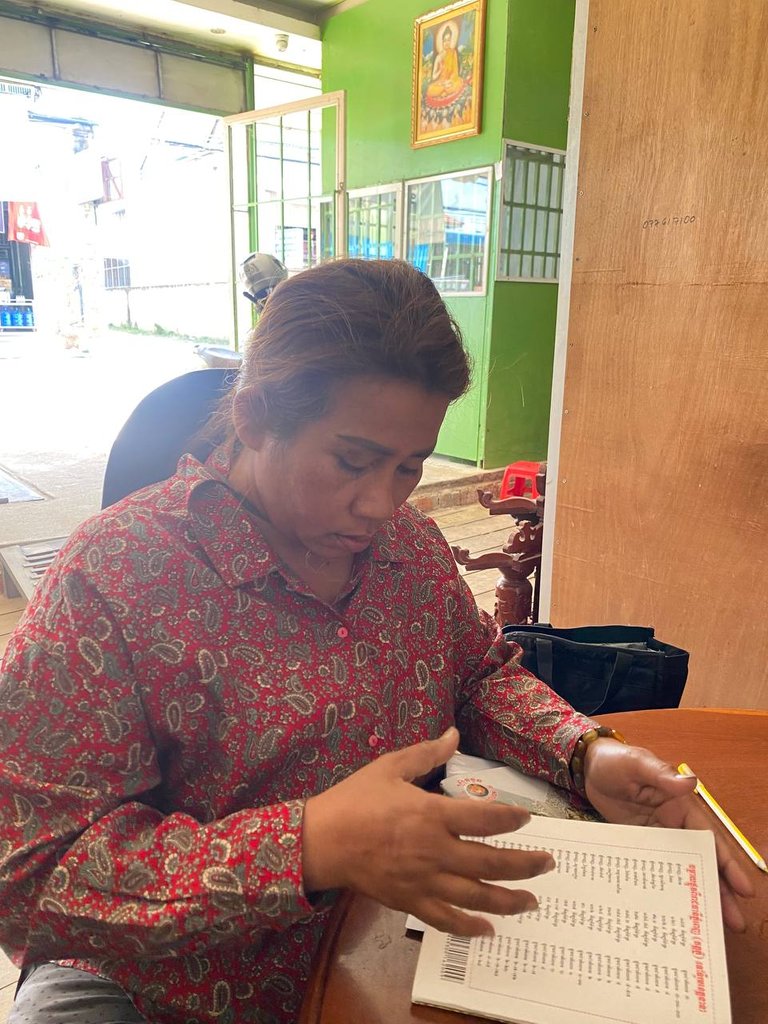 As a person who is likely to forget almost everything, I don't trust myself whenever I go to the market. I always make a list, especially for this important event.
      I need everything to be well prepared. Sometimes I wrote it on my phone using a reminder app, but today I just want to make it easier for me to hold it when I walk into the market.
     You know, I see a lot of pickpockets, which I am afraid of now, so the best choice would be a book with everything on the list. How safe and cool is this idea? Need to thank my neighbor's grandma I got this idea from my neighbor's grandmother.
     She told me everything I needed to know about Chinese decoration because she is older than me, and sometimes I don't know the deep meanings and purposes of how to choose materials that will bring a lot of luck in the next year.
---
Let's Go Guys!👇
---
First Site 🎀🏘️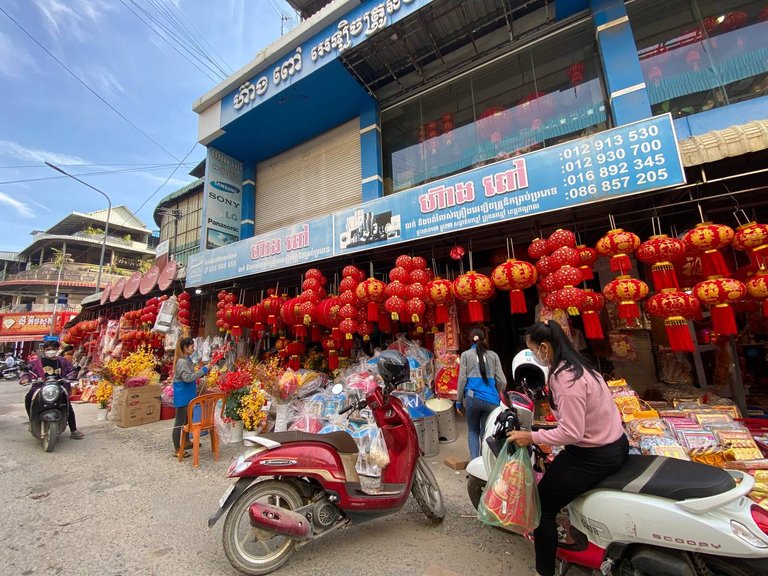 The red costume on the house's roof can be a sign that the Chinese New Year is coming soon. It usually carries on the wall which is could be a sign that something special is about to happen.
     For a long time, this is one of my favorite stores. Also today, it's the first store that I stop at to purchase goods. I am here whenever I needed some affordable material because the seller knew me before as we used to study at secondary school together.
     And now I am a customer of hers, which means she interacts closely with me and always offers a good deal to me.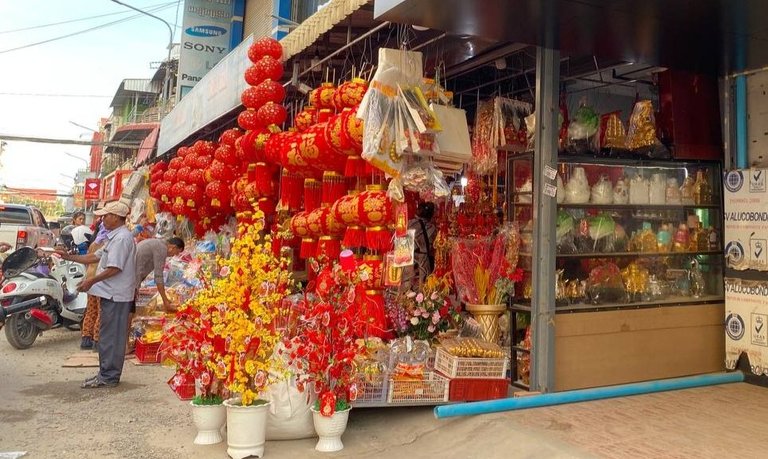 As always, she is going to make sure I'm satisfied with my purchase and that I'm provided with great deals and discounts, mostly and especially during traditional celebration days.
     I remembered a few months ago when I recently purchased her golden tree, which said to bring luck, she gave me a 10% discount, and the laptop was delivered to me within the same day.
     Today, I leave my friend shop with buying a new cup for tomorrow decoration.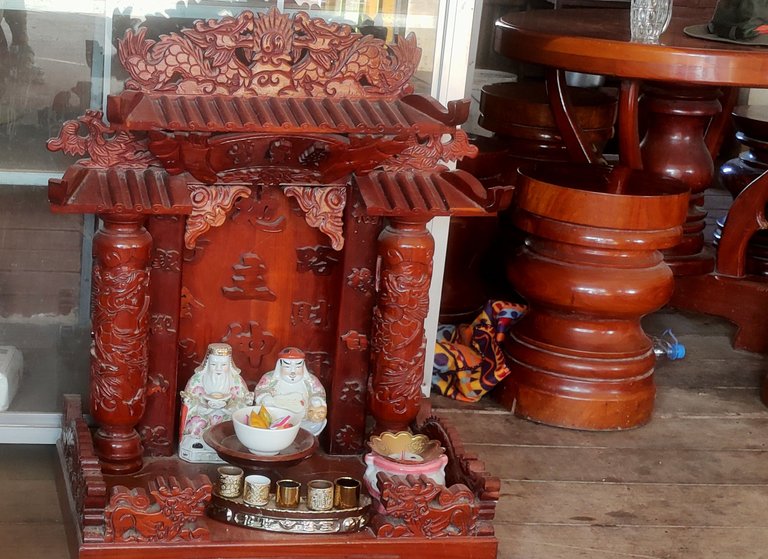 Here, my daughter already prepared the new tea cup putting on the right place before she goes to school.
---
Second Site 🚶👭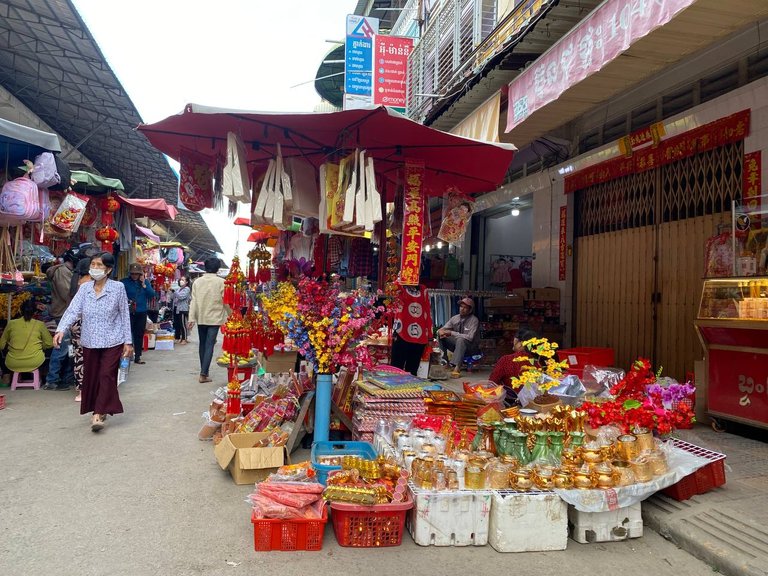 Moving to another site of the open-air market. For most Chinese people, having bright gold colors for decorating reminds them of how much luck they will have in the following year.
     We believed in this. When I go to the market, everything appears to be so powerful that it catches my eye and looks so stunning. Above all the purchases, some goods cost differently than before.
     The majority of people who are Chinese Cambodians used this luck decoration style ensemble to customize their houses and pray for their ancestors.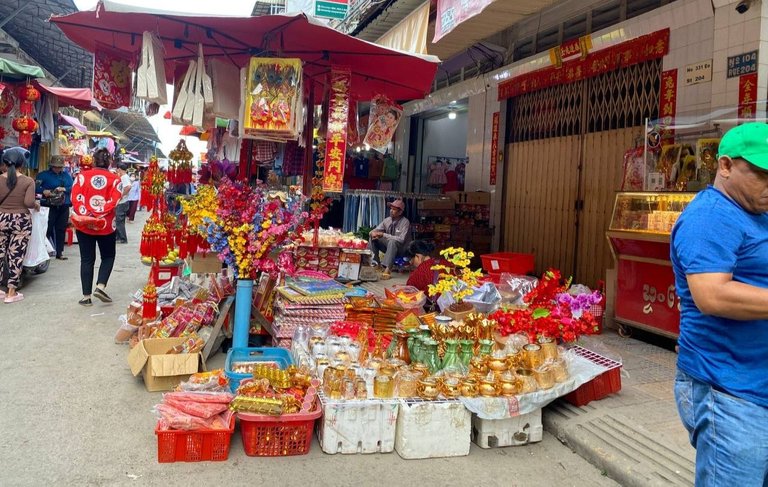 The most important wish is to bring the new year along with happiness and good health. However, not every Cambodian believed in the power of gold to bring luck; only Chinese Cambodians were involved in this agreement.
     Numerous people find it controversial that luck is spoken of with comparison in Cambodia, but we know that luck comes beyond our control and is simply a matter of self-creation.
     However, we can't be serious about going against other beliefs. As a family tradition, my grandma practices this culture every year. Going forward, I will continue to pray for the well-being of all of us and to strengthen prosperity and pleasure in the coming year.
---
Third Site 🍏🌿🍓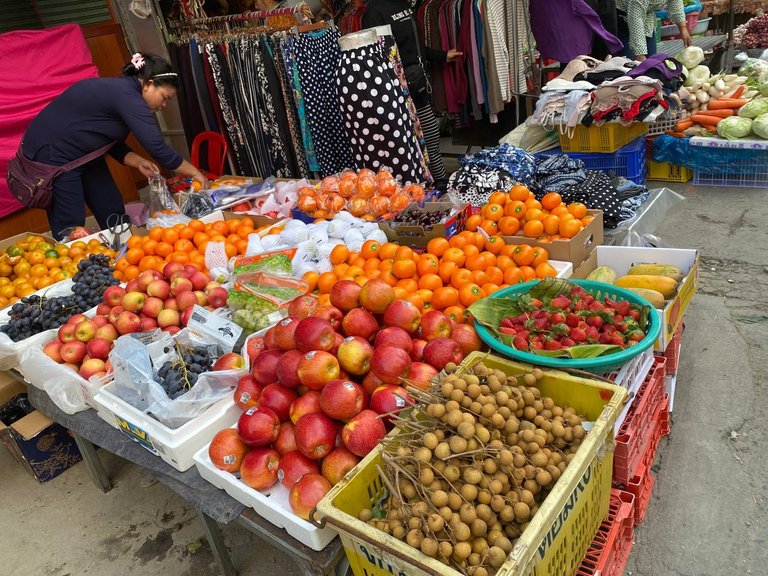 On this site, I am showing you how fruit is traded in Cambodia and how it is not too expensive.
     I can say most of them are affordable for everyone, whether they are workers or students. You can go there without them putting a high price on you like other markets.
     You know, if you are foreign and come to this kind of open-air market, the locals see you as rich, so there might be a few, and even some of them will tell you the price that isn't that worth it to get more profit from you.
     However, Takhmao Market is known as a "fair market," where they sell things without depending on where you come from or what religion you follow. This is the part where I give my respect to Takhmao Market.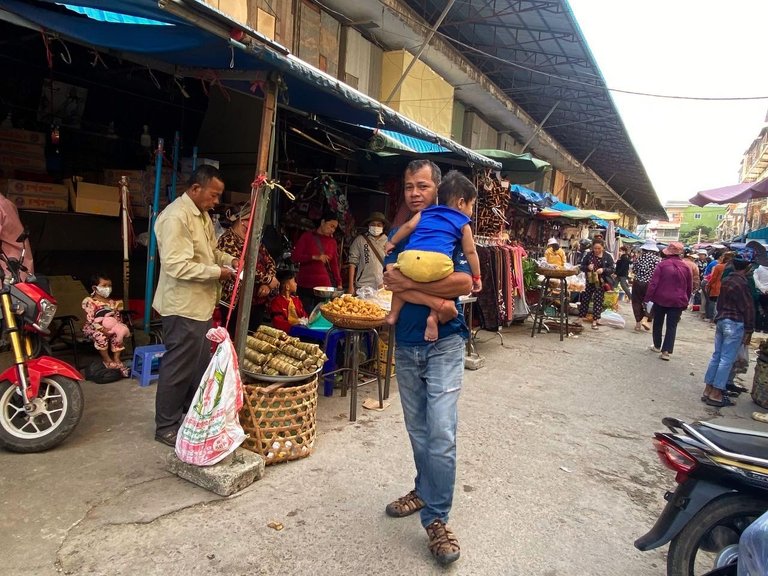 A few minutes before I enter the market, I expect that there will be a crowd; during this festival, many people will be here to purchase things, just like the last year, which was 2022, but it didn't.
     This was the environment in the morning. I only see people as usual, as I did yesterday when I came. There are not too many people, but with this result, we can purchase things easier without waiting or lining up.
---
Fourth Site 🫔🫓
     After about a 30 minute walk, I realize how far I have come. I am now at the north of the market where most people sell dessert.
     Mostly, local people here, and it is a fact that there are many choices for us. Below, I introduce you to the Khmer dessert.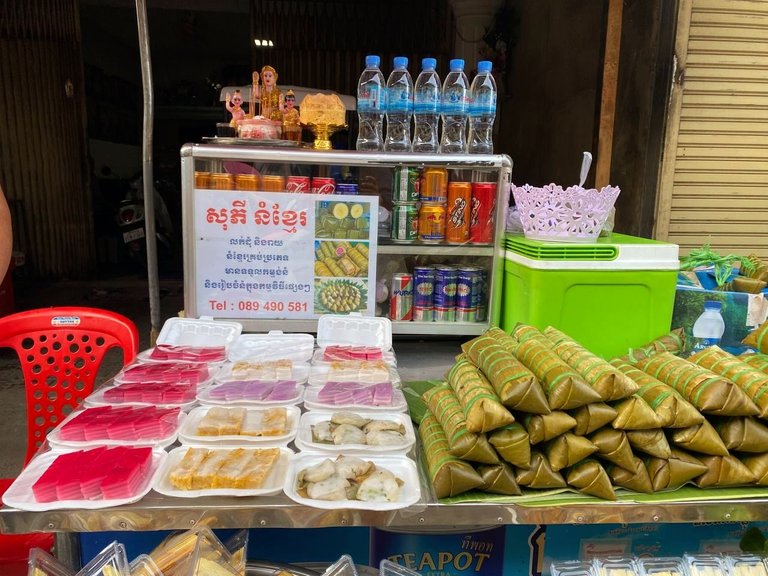 Chak Kachan, the pink one
Banh X, a coconut dough with banana leaf below
Num Lpov, pumpkin coconut cream
Num Ko, the whole part is white with a little peanut on top
Num Ansom
     Amongst these menus, the most popular one is Num Ansom. Traditionally, preparing both Khmer and Chinese New Year ceremony.
     I bought Num Ansom for two which costs 10000 Riel, which is 2.50 dollar.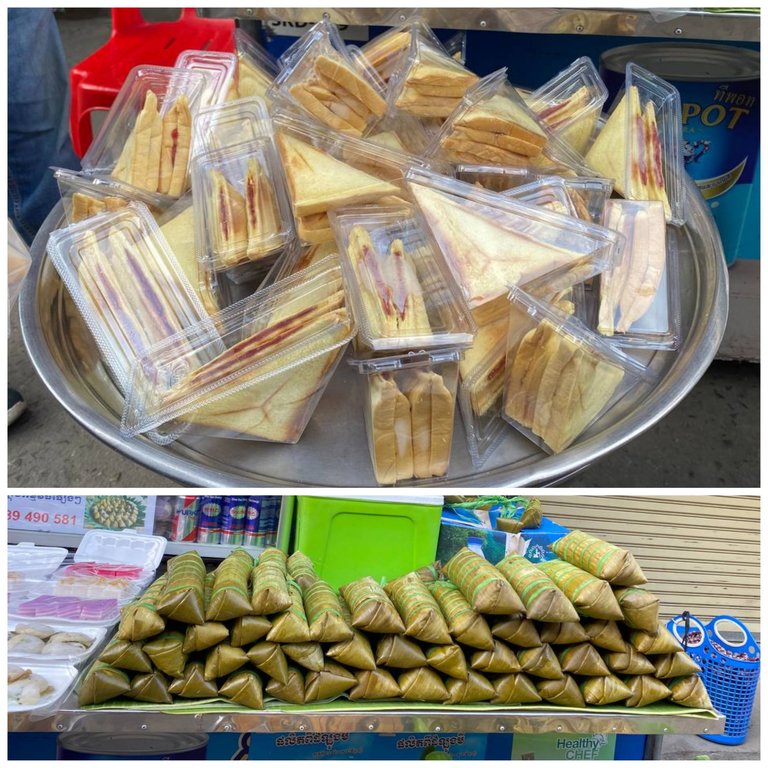 The package of sandwich looks so I nice, it costs 2000 Riel, which is 0.5 dollar.
     The sandwich reminds me of my teenage life in school. I almost always eat that every weekend, especially on Friday when it's going to be a holiday tomorrow, so I bought a lot of sandwiches for me and my cousin at home so that we can eat them together.
     I can't leave without appreciating how organized and well prepared this stall is, ways so beautiful to impress all the visitors.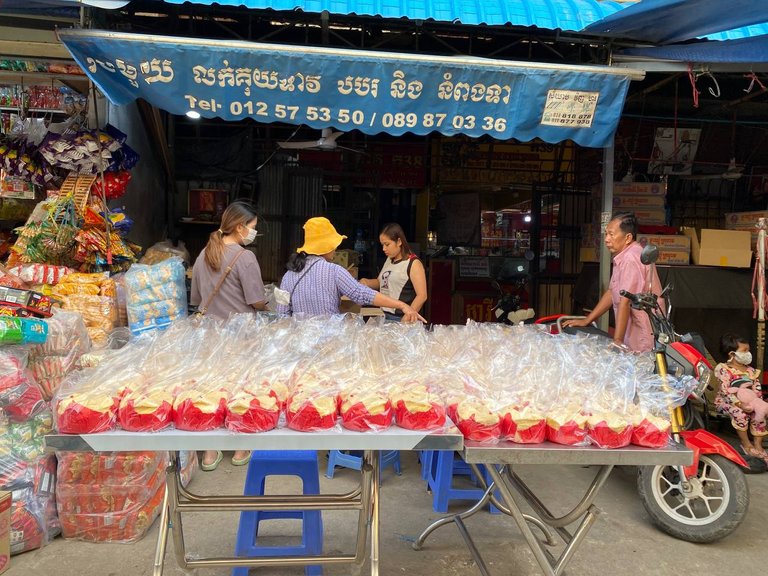 Now it's come to the most important cake, which is Chinese egg cake. The ingredients are just the eggs and the flour, which I am sure are very basic ingredients, but the taste turns out to be so perfectly smooth.
      I also used to make it one time; maybe I don't make it a lot, but if I have to make a lot for a big event, I don't think I can measure the amount of ingredients.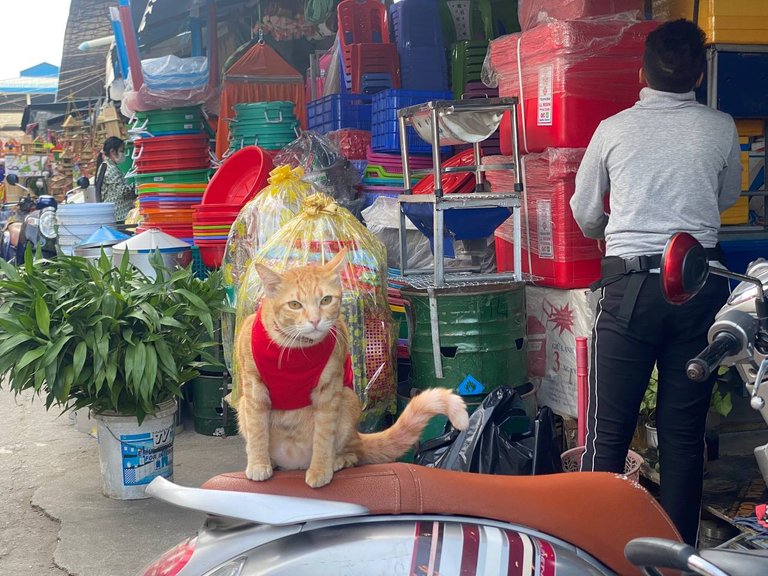 She is so quiet without even saying "Meow meow," it seems like she is waiting for somebody. Right! If I am not wrong, it must be her owners. Seeing her sitting on a motorcycle like this caught my eye.
---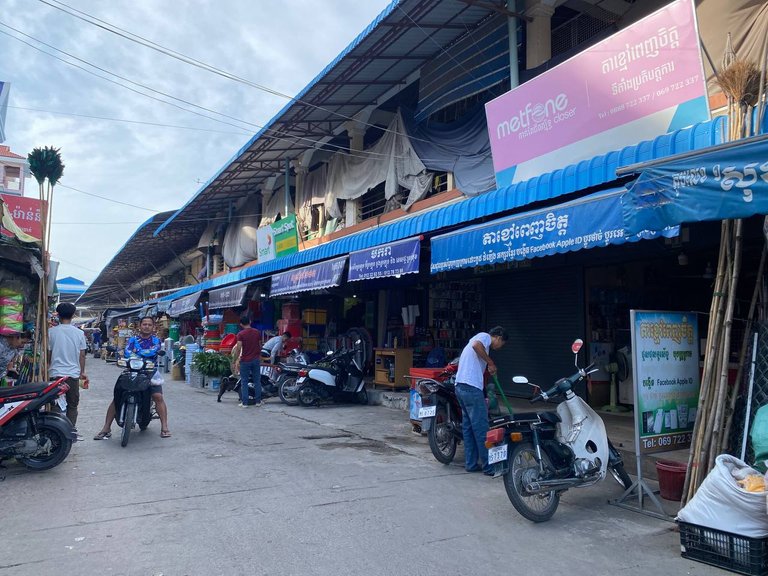 My family and I call it a tradition that two days or one day left before Chinese New Year, everybody needs to clean the house to keep everything clean and hygienic, especially in front of the house, where there should be no trash at all.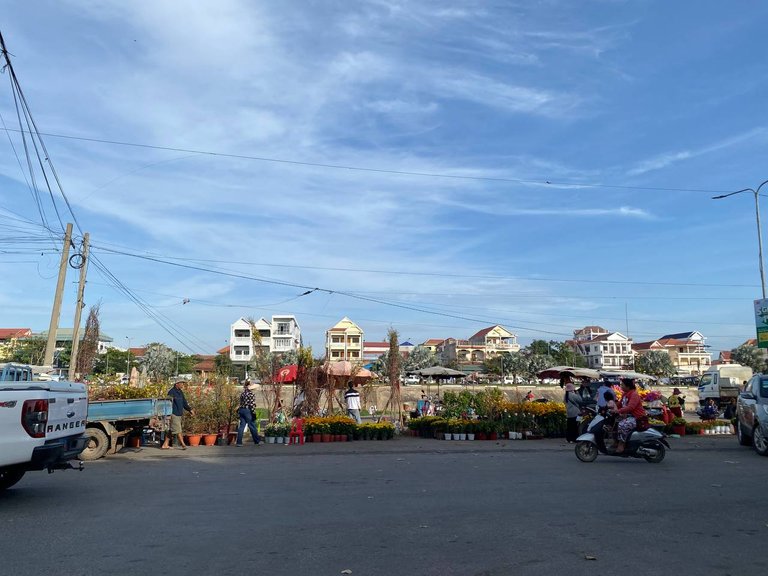 Different types of Flowers are sold here along the street well actually I see only one group of people selling flowers just the same source.
     They transfer it by using a car which has space at the back for consist the pot flowers. Typically, if you come here often you would hear people are saying it flowers come from other Province, some are from Kampot while some growing in Kandal.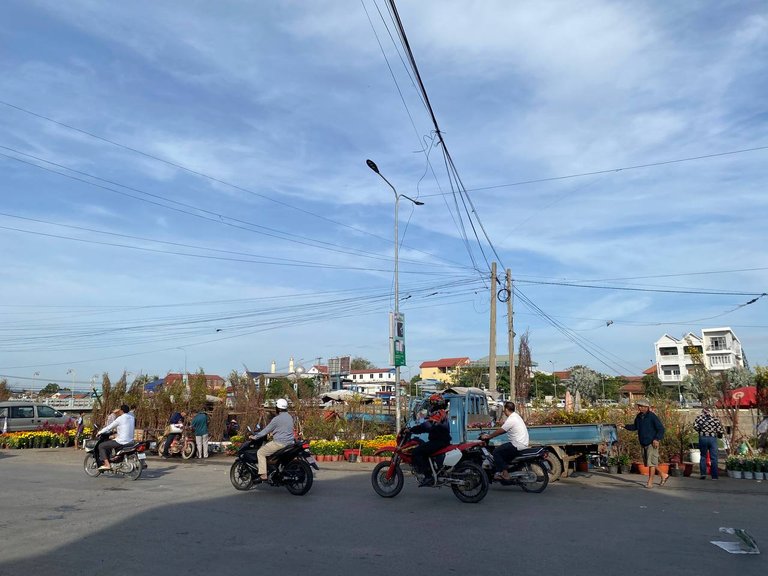 Almost every festival we have has flowers as the main decoration.
---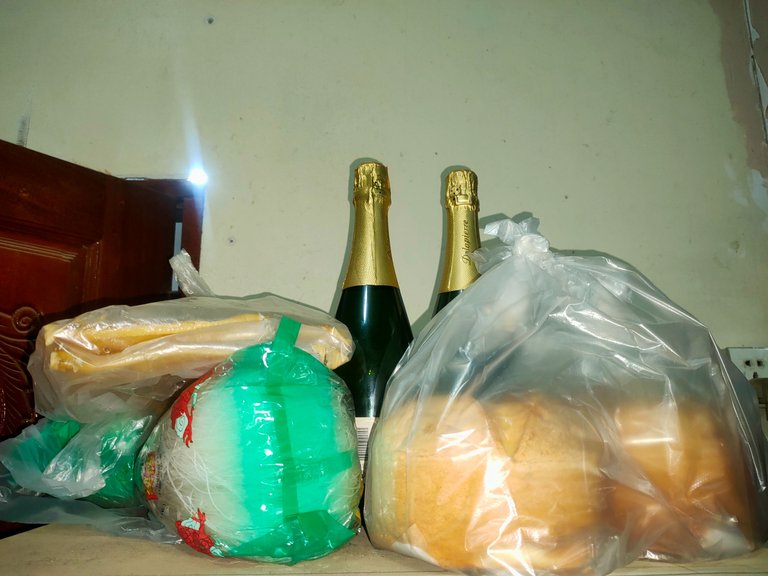 All the material and ingredients that I bought last morning are here for tomorrow! I am serious about this.
     Well, if I don't put the ingredients this high on my refrigerator, the mouse is going to eat those as I used to face this problem before.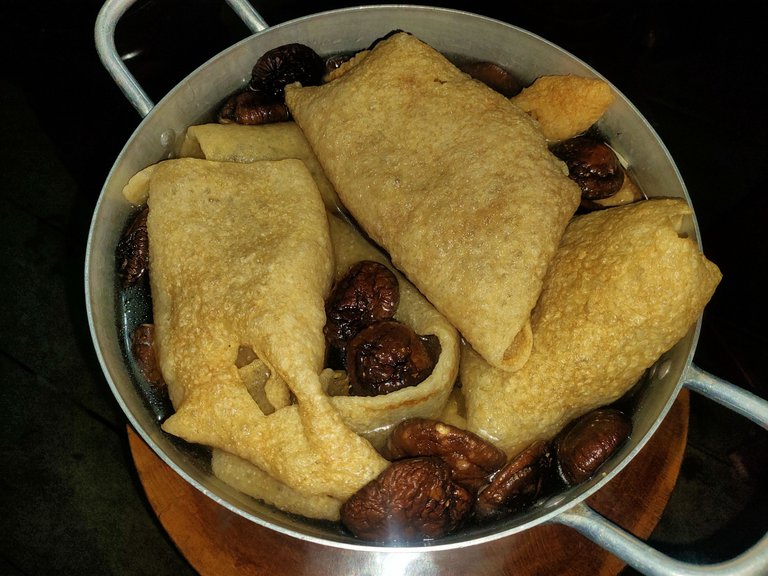 Start soaking the dry ingredients, there are mushroom and dry pork skin. Guess what's the recipe? Well, of course it calls Chan Chay in Cambodia, also known as a mix vegetable soup.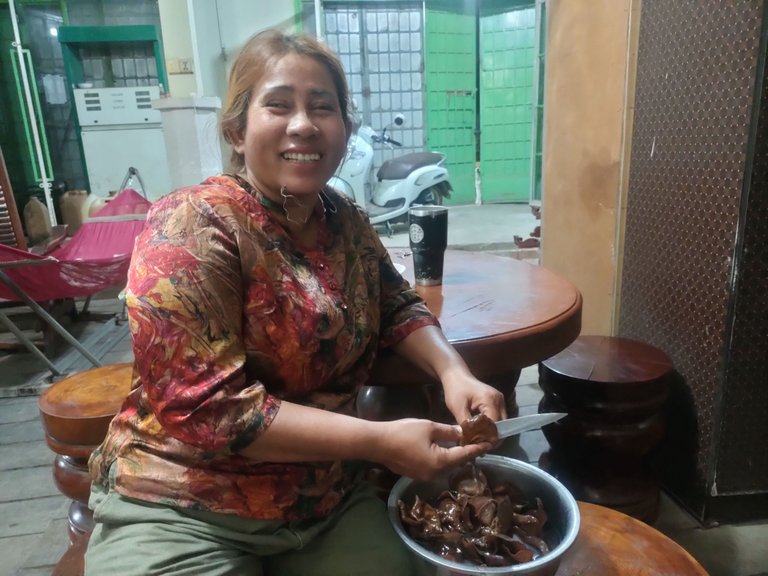 I am very excited to share with you my preparations for the Chinese New Year. It is going to be a busy day and night as there is only one day left, but as soon as tomorrow comes, everything is going to be a pleasure.
---
---