The backup Funds...
We all do things to earn money to survive in the world. It is really tough to survive these days if you don't have money in your hands. You can't even imagine life without money, I am sure those who are reading this post are earning but can't say enough or not but I can say for sure you all are making. If you are able to use the Internet, it is not free I guess (in some places it is though). The majority of the population is working on daily wages (meaning daily for the work they have done ), if they are not working then they are not earning there is no other source of income for them.
Maybe you are working in a government job or in a big private firm, do you think your job is safe? really! I doubt. We all have seen in the past year there are many big companies that are laying off their existing employees. They are not any small companies they all are high against in the markets, I feel bad for the employees. Recently one of my relatives
messaged me that his company has given him one month time period to leave the company even though he is an old employee at Google still (I am sure he will get a good job soon). It is really hard to guess what is gonna happen to you in the future but with a good investment plan you can deal with all the types of situations don't you think?
---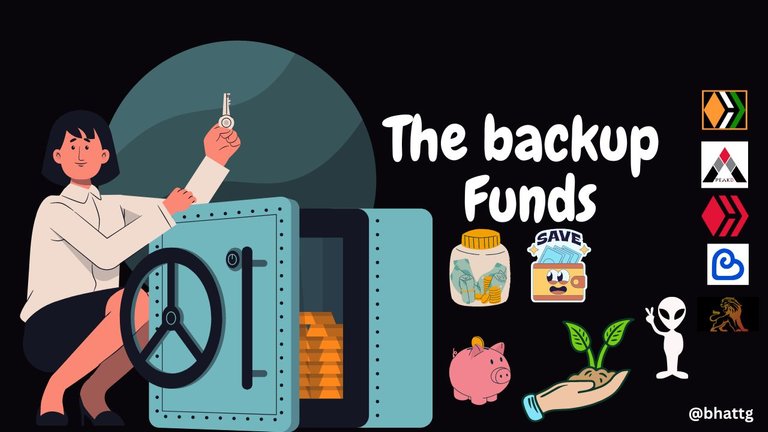 ---
Made Via Canva
Recently I watched a video on youtube, about how to deal with and be ready for this type of situation. I am sure there are so many ways to do that but not all are able to do that. But there s a simple thing you do if you did get in this type of situation. If you are the only person who is earning bread and butter for your family then you should save at least 6 months extra saving with you. Yes, I know that is not an easy task, but still, that is also not an impossible thing to do, with proper planning, you can do that.
If you are the second earning person in the family then you should keep at least months of extra savings with you. There are a few things you can do to manage that. Let's say your salary is x you need to make it 6x and save that as a Fixed deposit so you can't use it easily. How to make x to 6x? It is not that hard you just have to do some simple maths to achive that, yes, of course, you can save all your money for the next 6 months to achieve that (that can't be done). That is only possible if you do have a second source of income 😅.
You have to just start saving a fixed amount of money monthly until you did reach your desired goals. let's say you did make to save y amount of money monthly, save the y amount until you will reach the 6x amount. Try to increase the amount if you did some extra money and try to reach the desired goals as soon as possible. It will sure gonna give you relief that you do have something with you even if you don't have a job. That is gonna work for you as a backup fund, what do you think?
Not sure if I am aging or why I am thinking a lot about these types of things 🙃, did this happen to you too?
see you in the next post, till then keep learning and keep exploring...
---
If you are not playing the splinterlands and Golem Overlord games then feel free to join my referral 😁
My splinterlands referral
My Golem Overlord referral
few posts from my past that might be helpful for you.

10 daily comments ❌
Ecency Boost ❌
Help others ✅
wish me luck 😅
Thanks a lot for staying till the end 😃🙏, let me know what you think.
Never forget one thing you should be grateful for because what you have someone has a dream of that. So learn to be grateful. Be Thankful.🙏😀
Thanks a lot for being here, let me know what you think.


Thanks & Regards
@bhattg
-----Together we will make this a better place-----
---
---