What is #HiveChat? A 2021 Tutorial

On July 21st, 2020, the first official #HiveChat took place on Twitter. But what is #HiveChat exactly? And how can you participate? How did it all get started? And what does it try to achieve? This post will help answer these questions, with a little insight on how it all got started.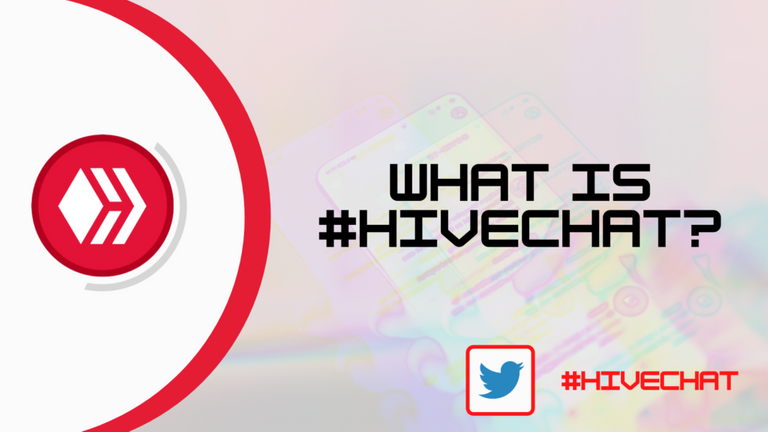 What is #HiveChat?
What is #HiveChat?
#HiveChat is a TwitterChat that takes place every Tuesday on Twitter.

How did #HiveChat get started?
In July of 2020, amidst an already strong promotion of Hive on Twitter, I started looking at an opportunity for the community to actively promote Hive in a fun but also educative and interactive matter. With the importance of Twitter for the crypto world, it seemed only logical to find a way to get started talking about #Hive on Twitter, not just in a promotional way, but also go into depth on Hive-related topics which would interest outsiders to join Hive. Also squeezing everything into one hour would potentially improve our chances of getting Hive trending on Twitter.
The first ever #HiveChat announcement visual (credit: @hivepeople)
So, after a couple of polls, the name #HiveChat and the day of the week (Tuesday) were voted in by a very small group of Hive owners at the time. Luckily, @hivepeople / @stellabelle jumped in as an experienced Hive community member and together we officially founded #HiveChat. @stellabelle took control and did all the work when it came to visuals, announcement posts and host recruitment for the first three months, I took over from there, and half a year in, the almighty @traciyork joined to bring us where we are today. Along the way, we started working with templated visuals (the hosts previously were responsible for their own visuals) and the @hivechat account was born.
So how does a #HiveChat work: Is there a certain format?
There is a general format. Every week, there is a new host. In light of the idea of decentralization, the hosts rotate, meaning every Hive owner can request an opportunity to be the host. Returning Hosts are minimized, but it does occasionally occur, however never the same host in consecutive weeks. The #HiveChat takes place on the Twitter account of the Host, which means the question can be found on their Twitter account. In general, the chat goes on for an hour and usually features 5 questions. Hosts, however, get to decide on the format themselves. We had Twitter live Hivechat sessions, Hivechats with video questions, Hivechats of an hour and even an Hivechat going on over 24 hours. While originally at 12.00h (Noon) GMT/UTC, the Host also gets to decide the time of Hivechat. In some cases, Hosts also give away prizes and tips, but it is not mandatory and only meant for good fun.

How do I participate in a #HiveChat?
As the #HiveChat takes place on Twitter, it is open for anyone with a Twitter account, even non-Hive owners. The easiest way to join is to search #HiveChat on Twitter during the announced time of the chat. Another way is to go to the Twitter account of the Host and answer the questions there.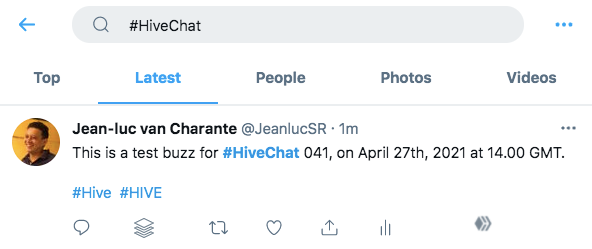 For the experts, there are even some tools like tchat.io, which allows you to view all tweets with the hashtag #Hivechat in real-time.


What does a #HiveChat look like?
To give a general impression of what the #HiveChat looks like, an example of a question by one of the previous hosts.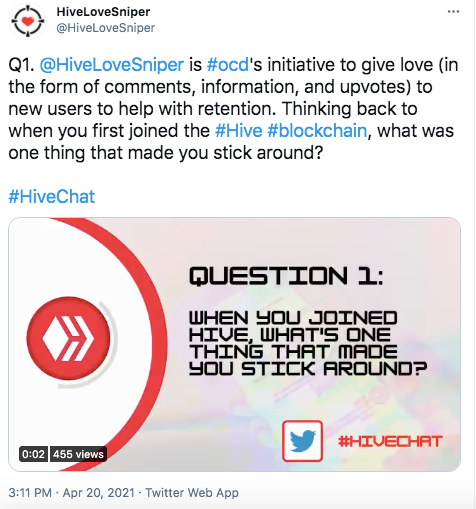 As the above image of @lovesniper displays, Hosts will usually introduce the question and add a Question 1/Q1. at the beginning, allowing participants a numerical view of the #HiveChat question, as in some cases the first question is a build-up question to the next.

The following reply by @plantstoplanks gives a good idea of what a proper #hivechat response could look like. The question (Q1) is being answered by starting with A1 (Answer 1, referring to Q1), answering the question, but also with the hashtag #HiveChat at the end.

Do I have to use the hashtag?
Using the #HiveChat hashtag is recommended due to the following reasons:
- It makes it easier to find your tweet
- If you don't use it, the tweet isn't officially registered as a #HiveChat tweet
- Using the hashtag helps to the visibility of #HiveChat on Twitter grow

Is there only one #HiveChat?
No, there is actually also a #HiveChat in Espanol, which is being run by @victoriabsb and not only has trended on Twitter in Venezuela (multiple times) but is very informational and practical, providing tips on how to use Hive better. The Spanish #HiveChat has been running every week on Thursday for 8 months.

Some usual links and #HiveChat information:
#HiveChat - A Simple How-To for First Timers by @hivelift
#HiveChat Q&A by @hivelift
#HiveChat Documentation: Questions Database First 3 Months by @traciyork
The first (old) #HiveChat tutorial by @jeanlucsr
#HiveChat Recap Post by @traciyork
#HiveChat GIFs
#HiveChat GIFs

HiveChat 041 with @DBuzz
On Tuesday, April 27th, we will be doing a @Dbuzz #HiveChat, meaning that the conversation will not only take place on Twitter but also on Hive itself. D.Buzz is a Hive dApp that allows you to have the Twitter experience on Hive. If you want to learn more, you can check out this video.

So how will it work? The Tweets will originally appear on @Dbuzz and on all Hive platforms that support crossposting in the Hive ecosystem. This means you will be seeing it on Peakd, Ecency, Dapplr and Hive.blog for sure, and maybe on CTPtalk and Leofinance as well (if I don't forget the tags).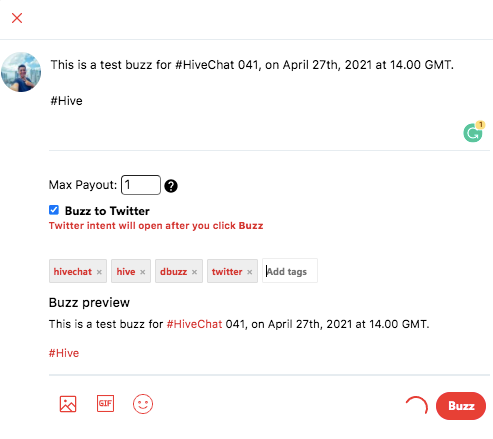 The best part, you can also reply on D.Buzz and as long as you click the 'Buzz to Twitter'. Don't forget the #HiveChat tag, because the buzz will come out as a separate tweet.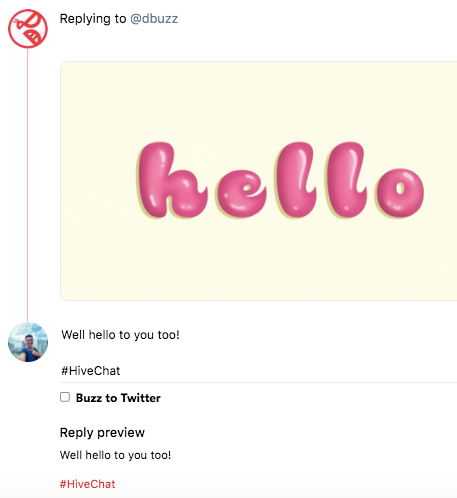 So, why am I toying around with this option? First off, all buzzes are stored on the blockchain, meaning no centralized organization can apply censorship and remove the content posted. Secondly, it brings the #HiveChat home to Hive, where I do feel the discussions about Hive should belong. And last but not least, of course, it allows people to reward great answers with an upvote that is worth a little more than a 'love' on Twitter. As a final tweak, I decided to take @nathanmars his suggestion into consideration and the #HiveChat will only have 3 questions, which allows us to go more in-depth in certain topics.

#lobi
@jeanlucsr
---
---