I have been announcing a DCity giveaway for quite some time now, and it has finally arrived!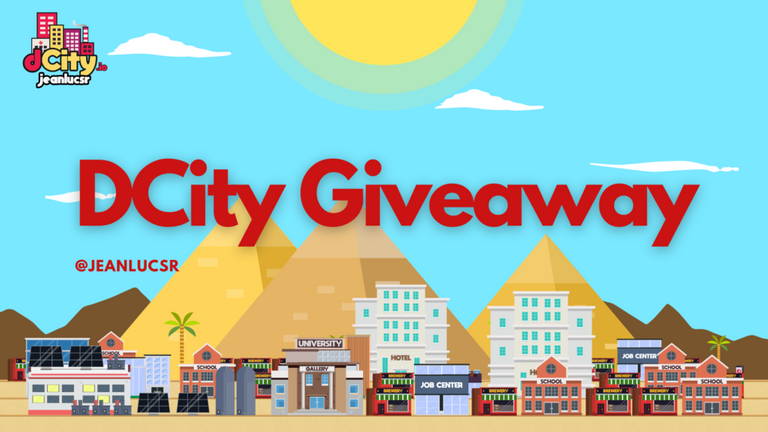 It's time for a DCity Giveaway
What is DCity?
Most people who will be reading this post on Hive will of course know what DCity is. It is a crypto game based on NFT Tokens. For those who are less familiar with Hive and Crypto/NFT Based Games, a little explanation.

The NFT Hype is currently in full swing. More and more people are getting interested in NFTs and a lot of people don't know where to start. Personally, I think Hive and in this case, DCity is a perfect way to start and collect your first NFTs. Aside from crypto art, NBA TopShot recently has recently gotten a lot a media exposure and has over 350.000 active NFT Collectors, including many NBA Players themselves. Spliterlands, a game that runs on Hive was named the cryptogame of the year 2020. But today, we focus on DCity, a blockchain city strategy game that has close to 2000 active Cities playing along.

To give a little more info on DCity, I've added a little informational video explaining some of the basics:
https://3speak.tv/watch?v=jeanlucsr/mdwczuuy
Why a DCity Giveaway?
It is always a good reason to do a giveaway. The main reason is I'd like to give a little back to the community, especially players that just started out. Also, now that my Education of my city is getting close to 1000 (which means my tech discovery is close to maxing out at 25%), I'm getting a lot of automation cards. I could of course sell the unnecessary cards on the market, but giving some to people who really need it sounds like a much better idea.

When will the DCity Giveaway take place?
Well, it starts right now and will run until Friday, April 16th at 23.59 GMT/UTC. The winners will be announced in a post on Saturday, April 17th.
How do I participate?
Participating is quite simple. You can enter the giveaway by commenting on this post. In your comment, you can motivate which of the available giveaway DCity cards you need the most and why. I will allow multiple entries, but only one entry per card per person, and each entry should be in a separate comment. Please motivate clearly.

Example:
"I'd love to win a Police equipment card because it will help get my crime rate to zero. I already have multiple Police Stations, so the extra 1% would really help to get the crime rate to 0"

Please note that this is just an example. Feel free to be as creative as you like.
Only DCity players are eligible for this giveaway. So, if you don't have a DCity yet, head over to DCity.io and get yourself one. If you are not familiar with Hive, you can make a Hive account first by clicking here.

What can I win (the cards)
For this giveaway, I'll be giving away the following 10 cards:
1x Police Equipment
1x Free Internet Connection
1x Fully Automated Brewery
1x GMO Farming
1x Egypt Background
1x Apartment
1x Basic Home
1x Park
1x Job Center
1x Scientist

So, a quick recap:
* Comment below which of the following cards you would like the win during this giveaway
* Everyone gets 1 entry per card. Multiple entries are allowed in separate comments, but not for the same card
* Entries are allowed until Friday, April 16th, 23.49 GMT/UTC
* Winners will be announced on Saturday, April 17th.

Have fun!!!

#lobi

@jeanlucsr