First Hive Power Up Day of 2021 - Get a Hive Power delegation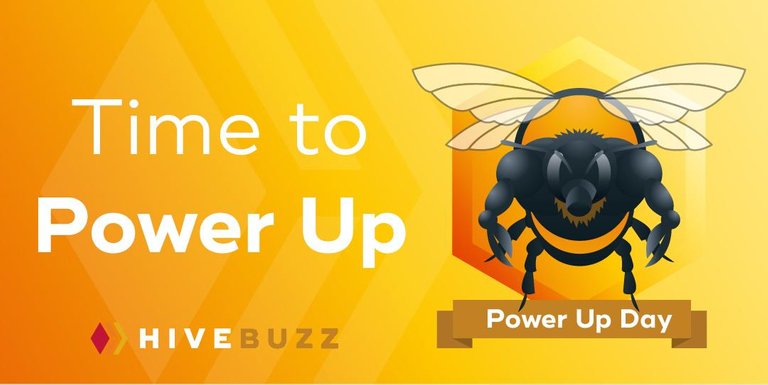 The Hive Power Up Day (PUD) is taking place on the first day of every month and the first one of 2021 will occur in a few days, on January 1st.

Este post está traducido al español - aquí


Une version en français de ce post est disponible - ici
Since August 1st, HiveBuzz supports this initiative which allows you to collect Power-bee badges if you participate in the Hive Power Up Day.
For more information about the next coming PUD, you can read this post from @traciyork.
1. The Power-Bees levels
The more HIVE you power-up on Power Up Day, the bigger your power-bee.

Read the announcement and feedback for more information on this.
2. The Power-Up Helper
The Power-Up Helper badge was introduced in the previous edition and allows you to get one more badge when helping others to power-up.

For more information on this, read the announcement post.
What's new?
As stated from the start of our initiative, we want to reward regular participants and those who have also been generous in helping others. Therefore, to start the year on a high note, we will be offering a 3 weeks Hive Power delegations to those who meet these criteria!
We will not now reveal the calculation formula that we will use to calculate the amount of delegations granted. However, be aware it will be calculated according to the following parameters:
The number of power-ups performed. To be eligible for a delegation, you must have completed at least five successful power-ups, including the one you could do in January 2021. Power-up received from another user is not taken into account.
The number and levels of power-ups you have performed (ex: you made two "level 3" and three "level 5" power-ups).
The number of people you helped to power-up and the amount involved.
The higher all the above-mentioned values, the higher the delegation you will receive.
Based on the power-ups made during previous editions, this would represent a total of approximately 1000 HIVE being delegated to the PUD participants.
As the total number of participants and power-ups performed can only increase, the total of our delegation should also be higher.
How to get your Power Up Day badge?
You will have to power-up HIVE on the 1st day of January.

IMPORTANT:

HiveBuzz will use UTC date and time to validate when your powered-up. Therefore, check your timezone and convert your local time to UTC before powering up! To help you not miss the moment when you can do your power-up, we added a countdown to our website.

Power-up at least 10 HIVE. This will entitle you to the smallest power-bee. The more HIVE you power up, the bigger your power-bee!

You don't have to power them up in one step. All the Hive powered up will be counted together at the end of the day.
Strictly follow these rules and this badge will be on your board!
The badges and delegations will be distributed to all successful participants at the end of the Power Up Day.
Why participate in the Hive PUD
The first reason is to have fun.
Then, in addition to making your vote more valuable and growing your curation rewards (as well as earning interest on your stake), you will also strengthen your influence on the blockchain.
Finally, several amazing members, like @victoriabsb, @traciyork, @cmplxty, @fionasfavourites, @hiveph, @improv, @jeanlucsr, @livinguktaiwan, @naturalmedicine, @r1s2g3, @sgt-dan, @theycallmedan, @eddiespino, @aliento and others, are offering prizes that include delegations, Hive giveaways, and other cool stuff to the Hive PUD participants.
---
Be ready and Power Up!
---
---
---