Hive Power Up Month Challenge - Winners List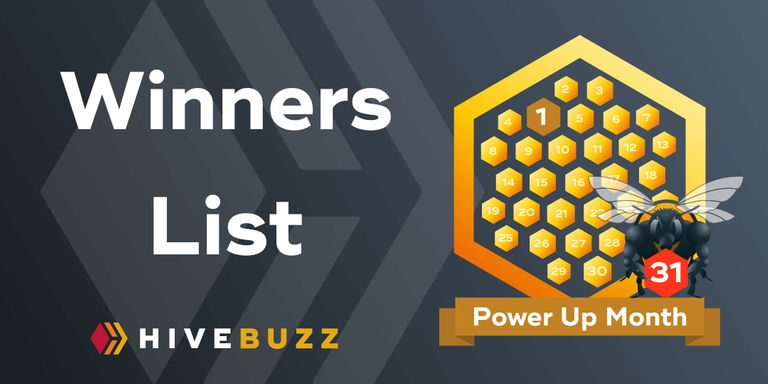 The first edition of the Hive Power Up Month challenge is now over.
When we initiated this challenge, we had not imagined how trying it would be for the participants and how difficult it was to stay committed to such a challenge for a whole month, even with rules as simple as:
a power-up or 100% power-up post every day of the month
no power down
A ruthless skimming
As you can see in the following graph, we have lost a lot of participants along the way, including the very very last day (sorry @nftmart)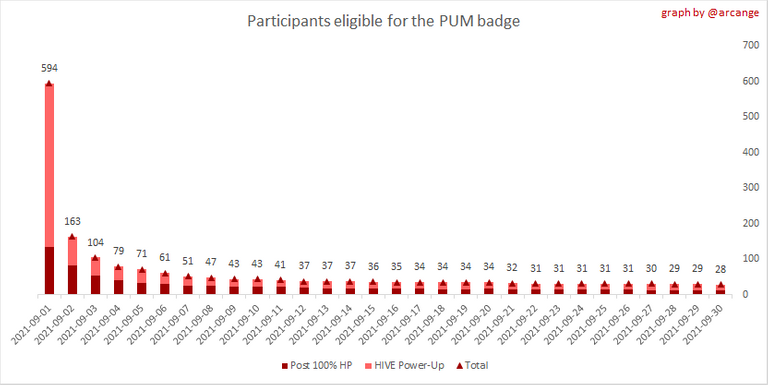 Some made the mistake of not posting or powering up at the right time. Others have published but forgot to activate the 100% HP option. Still, others simply forgot to participate for a day. And each time the sanction was final: "Sorry, see you next time!"
This means that for those who have managed to hold on to the end, the badge they will receive will be even more valuable.
Special mention
However, we would like to give a special mention to the following participants:
@ackza, @chekohler, @davidthompson57, @gloriaolar, @homesteadlt, @idea-make-rich, @joeyarnoldvn, @lxsxl, @malomi, @monica-ene, @nftmart, @rishi556, @risingstargame, @schibasport, @traciyork, @ultratrain and @winelay
All those mentioned above only missed their PUM badge by one day! :'(
Some of them contacted us during the challenge, worrying about no longer appearing in the list of participants eligible for the badge. And despite the fact that we were unfortunately only able to confirm their elimination, several told us that they wanted to continue participating every day until the end, just for fun or to keep the good habit of staying committed.
Congratulations to all of you for demonstrating such a beautiful spirit in addition to having made the effort!
And now, the winners list
They are 28 participants to have held out with metronome regularity.
Among them, 12 chose the publication with a 100% HP payout option. The 16 others preferred to do a power-up instead. Anyway, all of them were successful in increasing their Hive Power every day of the month.
Congratulations to @arcange, @awah, @breelikeatree, @brianoflondon, @cezary-io, @cursephantom, @dbooster, @definethedollar, @engrave, @fedesox, @frugalgamer, @fullcoverbetting, @gtg, @hivebuzz, @holoferncro, @keco, @krakonos, @menzo, @mmckinneyphoto13, @nenio, @nftmart, @podping, @pvmihalache, @qwerrie, @ricestrela, @sagesigma, @savvyplayer, @taskmaster4450 and @v4vapp.
They will soon receive their well deserved "Power Up Month" badge.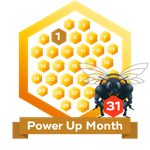 What's next?
Several of you have asked us: "Will the PUM challenge also take place next month [in October]?"
The answer is "No, we are going to take a little break".
Several reasons for this:
We want to do an evaluation of this first edition to see if we can improve it.
We want to add visual feedback to users about their challenge status on our website.
We have some other good ideas for the next edition but want to be able to inform users way before it starts. To be honest, our announcement for the first edition was a bit last minute and a number of you were taken a bit by surprise.
In addition, HiveFest will take place in November. Like every year, this will generate more work for us to prepare the event with @roelandp.
Therefore, get ready for November for the next Power Up Month Challenge.
See you next month!
---
HiveBuzz is a project created by @arcange
---
---