Hive Power Up Month - Feedback from Day 7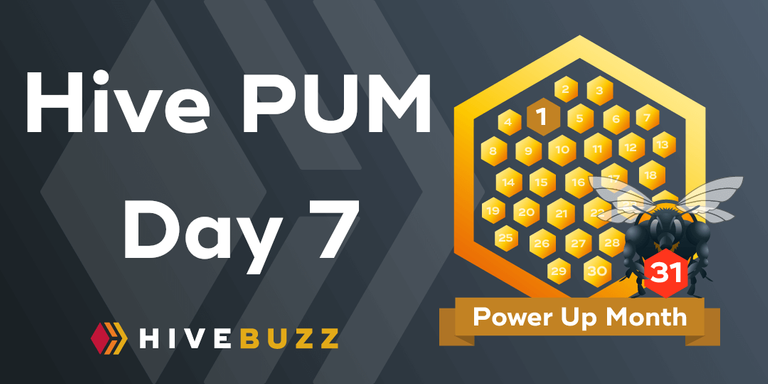 The Hive Power Up Month has now been running for 7 days. Let's see how things have been going so far. We have lost participants along the way, but many are hanging on to get their PUM badges.
For those who missed it, you can read the challenge announcement here.
Harder and harder to stay committed
After an excellent start on HPUD day, it has become more and more difficult for many of you to stay commited to the challenge.
Let's see how things have been going so far with an updated graph: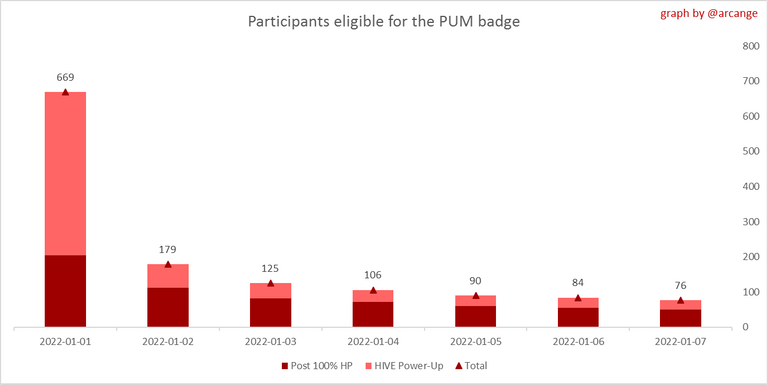 While having list a hundred participants along the way, this is pretty cool. We have more participants still eligible for the PUM badge compared to the previous editions. That's good news!
List of eligible ones
Since there are now fewer people on this list, we can mention all of them without risk of tag spamming ;)
Congratulations to @aay.life, @ahmadmanga, @ahmadmangazap, @alexvan, @ansoe, @arcange, @awah, @axel-mccornstack, @bashadow, @blitzzzz, @borjan, @brianhuang, @bulldog-joy, @cezary-io, @chapelle, @charsdesign, @circlebubble, @coquicoin, @cursephantom, @darrenfj, @davdiprossimo, @definethedollar, @forykw, @fotostef, @georgia11, @gone-hive, @herbacianymag, @hivebuzz, @hykss, @ifarmgirl, @ihavethedream, @jang, @jbtc19warrior, @joeyarnoldvn, @jomancub, @jychbetter, @keco, @kolbjorn, @kush-hyg, @litalfrog, @manorvillemike, @manuvert, @marcinxyz, @mightpossibly, @mmckinneyphoto13, @news-bot, @onepercentbetter, @peaq, @photosnap, @pogier, @poliwalt10, @princekham, @pvmihalache, @reversehitler88, @ricestrela, @sagesigma, @savvyplayer, @sebbi87, @serhotest, @sketchygamerguy, @stayoutoftherz, @steemmillionaire, @steevc, @taskmaster4450, @tdctunes, @tengolotodo, @tferris, @traciyork, @trezzahn, @ultratrain, @vanje, @vickoly, @winly, @xels, @xgerard and @ynwa.andree
Up to now, you are the few ones who will get the first PUM badge of the year.
Good luck to everyone who is still in the race!
Support our proposal for 2022
Many of you have supported us for the last few days and we are extremely grateful to you. However, we still miss votes to get past the bar of the return proposal.
Our Proposal for 2022 is close to being funded. Currently, we are at 93% of the amount of the votes required and need only a bit more (approximatively 2 million HP as of writing).
If you have not yet done so and if you like our Hive gamification work, please consider casting your vote to it!
---
HiveBuzz is a project created by @arcange
---
---