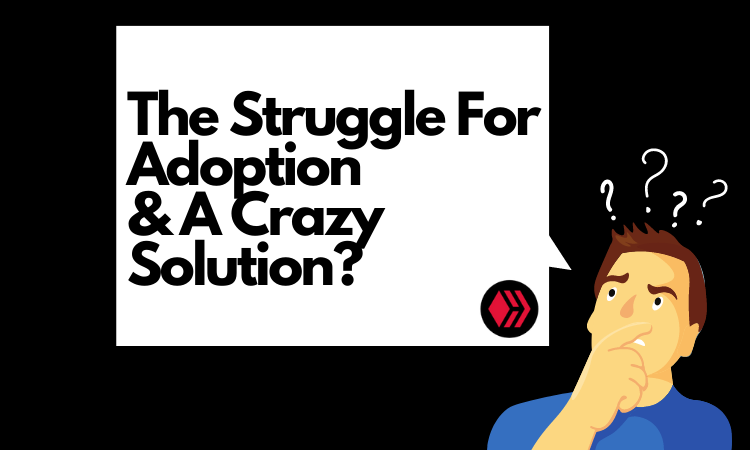 Seems to be the recurring theme huh?
How do we get more people to jump on board the HIVE train?
We've got the coolest community!
The most active dapps on any blockchain.
Technology that is superior to almost any other project out there...And NO FEES!!!
But still...We're ranked around 100 on the crypto rankings and can't seem to bring the masses here...
Why is it?
Lack of leadership? I don't think so...I think we have some amazing people and as a decentralized blockchain, it makes sense to have a lot of voices. Sure, it would be cool to have a 'Gary Vaynerchuk' as our spokesperson, but we still do and build great things together.
No I think it comes down to....Ease of use!
Before I dive into this, let me just give a MASSIVE shout out to @HiveOnboard! This service has been heaven sent and something I think will help onboard so many more people to Hive.
However after that....
The mess begins.
I was working with a newer Hivian (is that we call ourselves yet??) this week and she's not a 'noob' when it comes to technology or social media.
She got her account set up with ease but after that, it was a mess for her...
Hive Power, HBD, powering up, delegation, resource credits, mana, private key, posting key, active key...Oh and don't forget master password!
But wait there's more...Then you have PeakD, LeoFinance, Hive Blog, 3speak, CTPtalk and countless other front end applications...Which require tags...Don't forget the tags :)
This is all how Hive is set up and I get it, it was designed by people who are super smart and see the need for everything. But for regular folk, it's just a mess....
I train people for a living, so for me, I could sense the frustration building within her...I felt like she was about to throw in the towel.
Remember, this is not someone who just started working online a week ago, she had a decade plus of experience in social media and building online businesses....
I wondered to myself, how many people have we lost because...It's just not user friendly enough for the every day person to 'dive right in'?
They give up because there is just way too much information and new terms thrown at them on day one...
Again, I'm very bullish on @HiveOnboard and it's why I included it in all my training on StartEarning.Today and ClickTrackProfit itself.
But wow...We need to dumb it down.
It's not up to the world to adjust to our way of doing things, we need to adjust to make it easier for them to play in our sandbox!
Because wow, we've got a great sandbox :)

I truly believe this is what holds Hive back from being adopted by the masses.
I'm not the sharpest tool in the shed, and I did manage to figure things out (somewhat) since I joined in 2017. But it took me time. And yes, people don't need a PHd in Hive-ology when they first start out...It's a journey and they will learn the tricks of the trade as they progress.
But that original experience....Is SO critical!
So what about solutions....
Maybe we could gamify it a bit when people join...Let people play with certain account features and they 'unlock' new account keys when they start earning some Hive....Learn what a posting key is by using it....And when you have earned enough (say 5 Hive), you 'unlock' your active key...
After you have gotten a certain amount of upvotes you unlock 15 hive power as a delegation and then learn about resource credits.
Make it fun.
Again, not the sharpest tool in the shed so I have no idea if this can even be pulled off, but I know how effective this method of learning can be. Don't flood them with too much information at once. Step by step, small tasks that they can master while learning the ropes...
Once they 'unlock' that feature, it's onto another feature of Hive and so on...
We could attract and retain so many more members to our blockchain.
Just shooting off some ideas at 11:34 pm on a Tuesday night :)
Thoughts? Insane? Go to bed Jongo?
---
Building a business online? Curious about affiliate marketing? Sick of the scams and schemes?