24-09-2022 - most capitalized POW blockchains [EN]-[IT]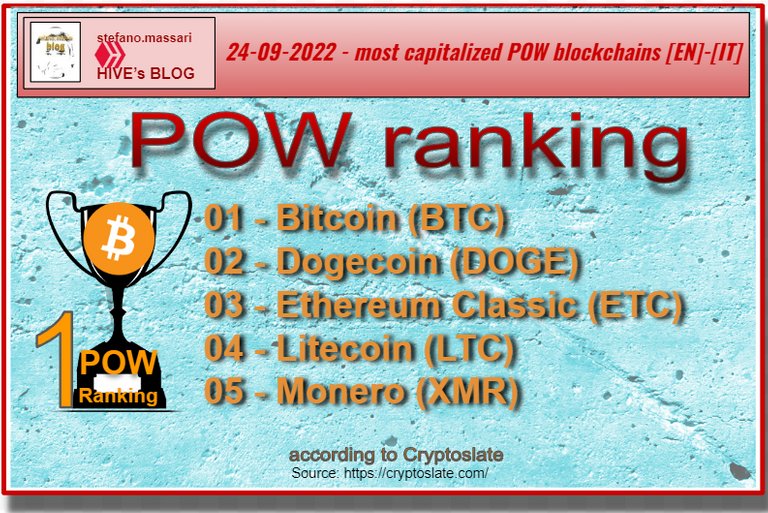 Ranking source: https://cryptoslate.com/cryptos/proof-of-work/
---
~~~ La versione in italiano inizia subito dopo la versione in inglese ~~~
---
ENGLISH
Ranking
The last time I took a look at the ranking of the most capitalized blockchain proof of work was May 15, 2022. Today, Sept. 24, 2022, things have changed, and considering the top 5 positions we usually don't see any major changes, we can say that this time that is not the case. This time things have been different. The last few days have seen the long-awaited transition of Ethereum from proof of work to proof of stake. This has resulted in quite a reshuffling of this ranking.
Link to the site from which I learned the information: https://cryptoslate.com/cryptos/proof-of-work/
Let's see what are the top 5 most capitalized blockchain POWs.
01 - Bitcoin (BTC)
02 - Dogecoin (DOGE)
03 - Ethereum Classic (ETC)
04 - Litecoin (LTC)
05 - Monero (XMR)
Below is the ranking from sixth to tenth place that completes the Top 10 ranking:
06 - Bitcoin Cash (BCH)
07 - Bitcoin SV (BSV)
08 - Zcash (ZEC)
09 - Dash (DASH)
10 - Ravencoin (RVN)
Considerations
On May 15, 2022 they still had Ethereum occupying the second position, today, September 24, 2022, Ethereum is no longer in this ranking because the nature of its blockchain has changed and it cedes the second position to Dogecoin. Bitcoin remains the undisputed King, but now in second place we have precisely Dogecoin and in third place we have what we can consider the original Ethereum, namely Ethereum Classic. Litecoin always remains in fourth place. There is a novelty in the fifth place, which is now occupied by the privacy coin Monero, which takes the place of Bitcoin Cash, which exits the top 5 and drops to 6th position. Seventh place was occupied by Monero itself, while now there is Bitcoin SV (BSV), a fork of BCH. In eighth place we find Zcash, another privacy coin that rises from ninth to eighth place, thus recovering one position. The ninth place vacated by Zcash is now occupied by Dash, while in last place we have a surprise, entering the top 10 is the Ravencoin coin (RVN). If I am not mistaken, I have never seen Ravencoin in the top 10 before.
Conclusions
As of May 2022, there are big changes in the ranking of the most capitalized blockchain proof of work. Bitcoin still remains in first place, but in second place we find a surprising Dogecoin. Another surprise is the leap of ETC, which jumped directly to third place from 6th place. Monero enters the Top 5, so we now have a privacy coin in the top 5. Last news, we have the entry of Ravencoin (RVN) in the top 10.
Question
Who would have thought that Dogecoin would become the second most capitalized Proof Of Work blockchain? Did you guys guess that Dogecoin would reach this important achievement?
Previous Posts
https://hive.blog/hive-146620/@stefano.massari/12-05-2022-most-capitalized
https://hive.blog/hive-146620/@stefano.massari/12-01-2022-most-capitalized-pow-blockchains-en-it
Disclaimer
I am not a financial advisor, so what is written in this post is a personal opinion, not financial advice. If you want to invest, you have to do it consciously and on your own responsibility.
Referral
My HIVE referral link:
https://hiveonboard.com?ref=stefano.massari

ITALIAN
Classifica
L'ultima volta che avevo dato un'occhiata alla classifica delle blockchain proof of work più capitalizzate era il 15 maggio 2022. Oggi, 24 settembre 2022, le cose sono cambiate e considerando le prime 5 posizioni che solitamente non vediamo grossi stravolgimenti, possiamo dire che questa volta non è così. Questa volta le cose sono andate diversamente. In questi ultimi giorni è avvenuto l'atteso passaggio di Ethereum da proof of work a proof of stake. Questo ha comportato un bel rimescolamento di questa classifica.
Link al sito da cui ho appreso le informazioni: https://cryptoslate.com/cryptos/proof-of-work/
Vediamo quali sono le prime 5 blockchain POW più capitalizzate.
01 - Bitcoin (BTC)
02 - Dogecoin (DOGE)
03 - Ethereum Classic (ETC)
04 - Litecoin (LTC)
05 - Monero (XMR)
Qui di seguito la classifica che va dal sesto al decimo posto che completa la classifica della Top 10:
06 - Bitcoin Cash (BCH)
07 - Bitcoin SV (BSV)
08 - Zcash (ZEC)
09 - Dash (DASH)
10 - Ravencoin (RVN)
Considerazioni
Il 15 maggio 2022 avevano ancora Ethereum che occupava la seconda posizione, oggi, 24 settembre 2022, Ethereum non rientra più in questa classifica perché la natura della sua blockchain è cambiata e cede la seconda posizione a Dogecoin. Bitcoin rimane il Re indiscusso, ma ora al secondo posto abbiamo appunto Dogecoin ed al terzo abbiamo quello che possiamo considerare l'Ethereum originale, ovvero Ethereum Classic. Litecoin rimane sempre al quarto posto. C'è una novità al quinto posto, che ora viene occupato dalla privacy coin Monero, che prende il posto di Bitcoin Cash, che esce dalla top 5 e scende in 6sta posizione. Il settimo posto era occupato proprio da Monero, mentre ora c'è Bitcoin SV (BSV), un fork di BCH. All'ottavo posto troviamo Zcash, un'altra privacy coin che sale dal nono all'ottavo posto, quindi recupera una posizione. Il nono posto lasciato libero da Zcash ora è occupato da Dash, mentre all'ultimo posto abbiamo una sorpresa, entra nella top 10 la moneta Ravencoin (RVN). Se non sbaglio non avevo mai visto Ravencoin nella top 10 prima d'ora.
Conclusioni
Da maggio 2022 ci sono grosse novità nella classifica delle blockchain proof of work più capitalizzate. Bitcoin rimane sempre al primo posto, ma al secondo posto troviamo un sorprendente Dogecoin. Altra sorpresa è il balzo di ETC, che dal 6 sto posto è passato direttamente al terzo posto. Monero entra nella Top 5 e quindi abbiamo ora tra le prime 5 una privacy coin. Ultima novità, abbiamo l'ingresso di Ravencoin (RVN) nella top 10.
Domanda
Chi mai avrebbe pensato che Dogecoin sarebbe diventata la seconda blockchain Proof Of Work più capitalizzata? Voi avevate intuito che Dogecoin avrebbe raggiunto questo importante risultato?
Post precedenti
https://hive.blog/hive-146620/@stefano.massari/12-05-2022-most-capitalized
https://hive.blog/hive-146620/@stefano.massari/12-01-2022-most-capitalized-pow-blockchains-en-it
Referral
Il mio referral link di HIVE:
https://hiveonboard.com?ref=stefano.massari
THE END
---
---