Today's featured coin is the 5oz Proof Strike Silver Medallion designed by First Majestic then struck by the Northwest Territorial Mint. This coin is a 5oz Fine Silver proof quality medallion.
If you read my Sneak Peek post written on 5 May 2021: Sneak Peek - Coin Reveal, you will recognise the outer box of this coin as it was mentioned in that previous post.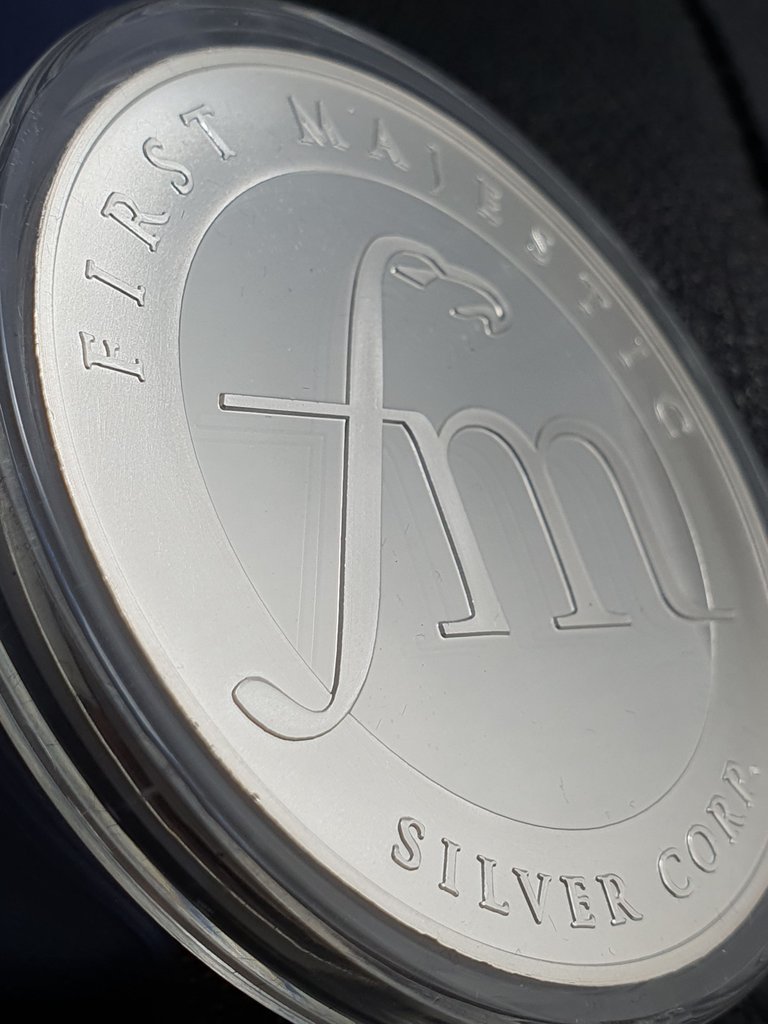 Contents
Each Coin Reveal post as part of my Sneak Peek series features special collector coin that I currently own in my stack or one that I would love to own one day. The focus of today's post is the First Majestic Silver Corp 5oz Proof Strike Silver Medallion.
The contents of each post will follow the same format and cover the five topics listed below.
1. Coin Story
2. Coin Packaging
3. Coin Details
4. Coin Design
6. Coin Protection
1. Coin Story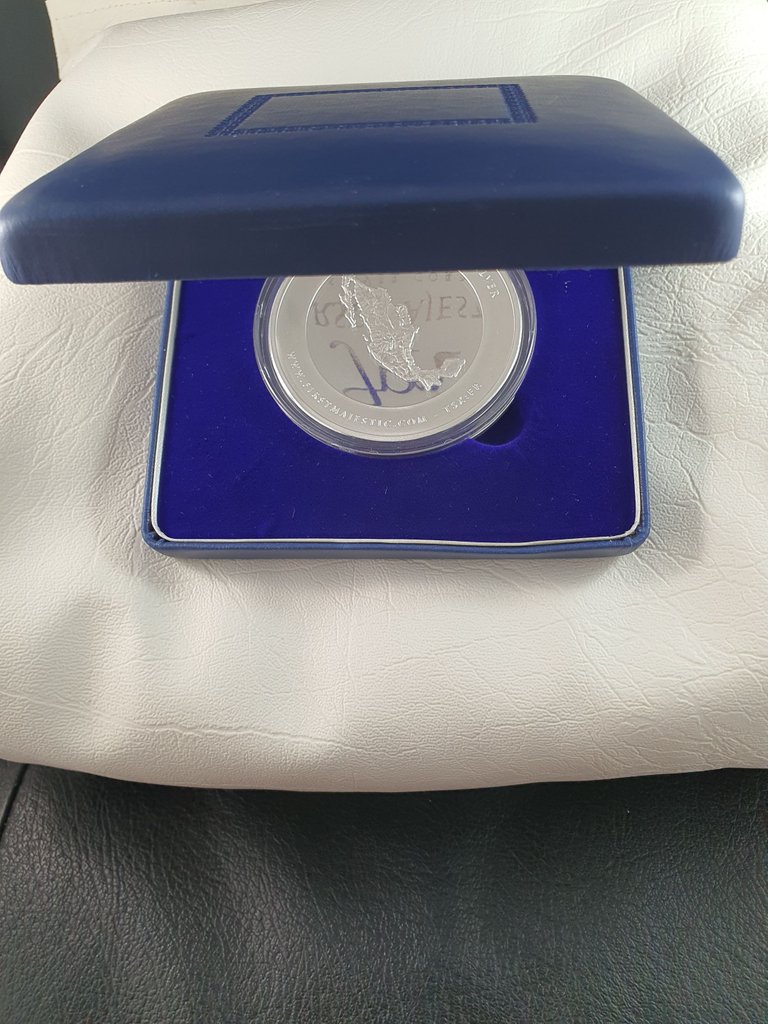 First Majestic Silver Corp is a publicly listed silver mining company, that trades on the NYSE under the ticker symbol AG and on the TSE under the ticker symbol FR. Their website states that they are "proud to be the only mining company offering their own production in the form of silver bullion for sale securely online 24/7. Available for purchase are high quality 0.999-fine silver rounds, ingots, bars and medallion sets at one of the lowest premiums and silver prices per ounce on the internet."
The image below provides a snapshot of some of the silver mines that First Majestic Silver Corp operates. The red dots indicate the mines that are currently producing silver. The yellow dots indicate their current development projects.
As you can see the majority of their mines and projects are located in Mexico and the reverse design of this medallion is the map of Mexico.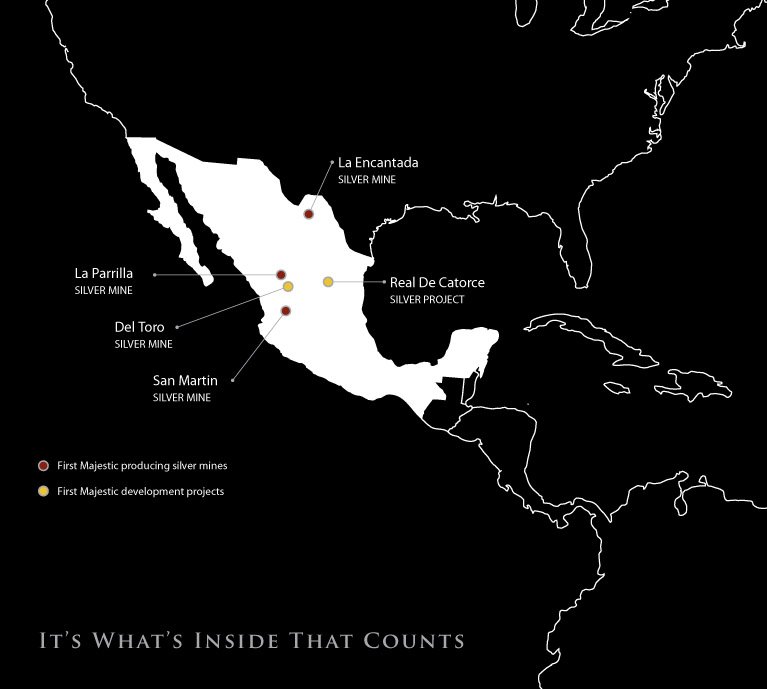 In my previous coin reveal posts, I focused mainly on numismatic coins. Those coins derive much of their value by being collectible. This can be quite subjective, certain factors like condition, vintage, rarity and history all come into consideration when pricing numismatic coins.
This featured medallion and other silver bullion produced by First Majestic Silver Corp are not deemed to be numismatic, as the price of this medallion tends to be directly linked to the market value of silver. The focus for First Majestic is to sell silver bullion coins and bars that are sold strictly for their investment value and weight.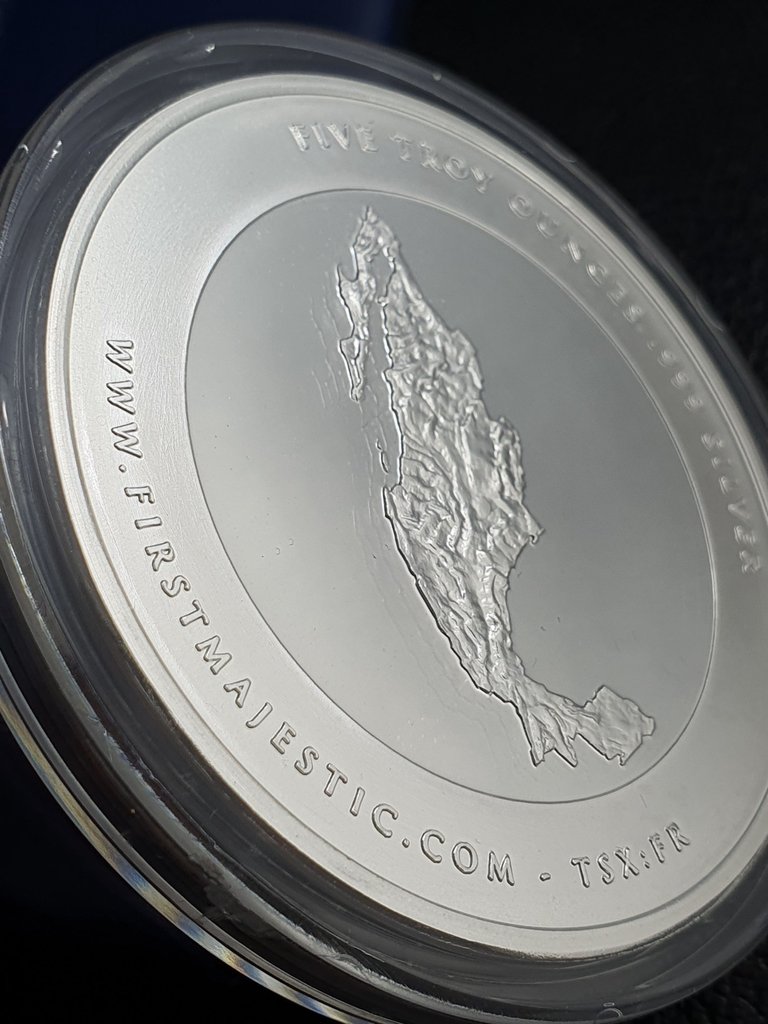 2. Coin Packaging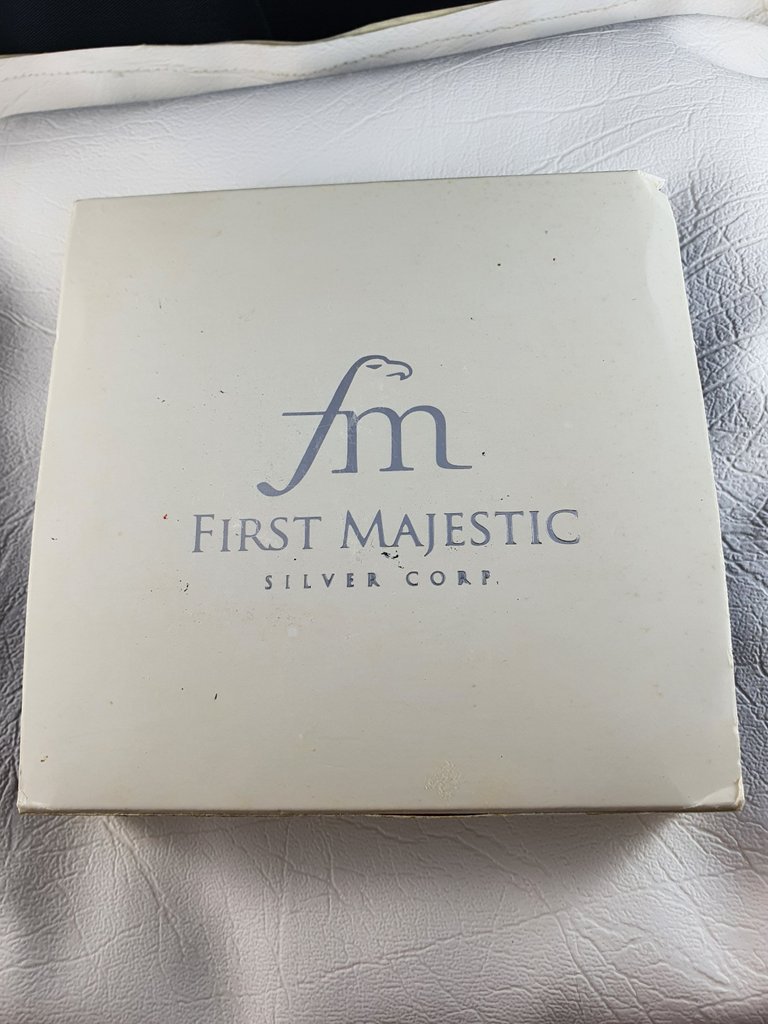 The outer box is a simple white cardboard sleeve with silver text that reads "FIRST MAJESTIC SILVER CORP".
Each 5oz Silver coin comes with an accompanying coin certificate.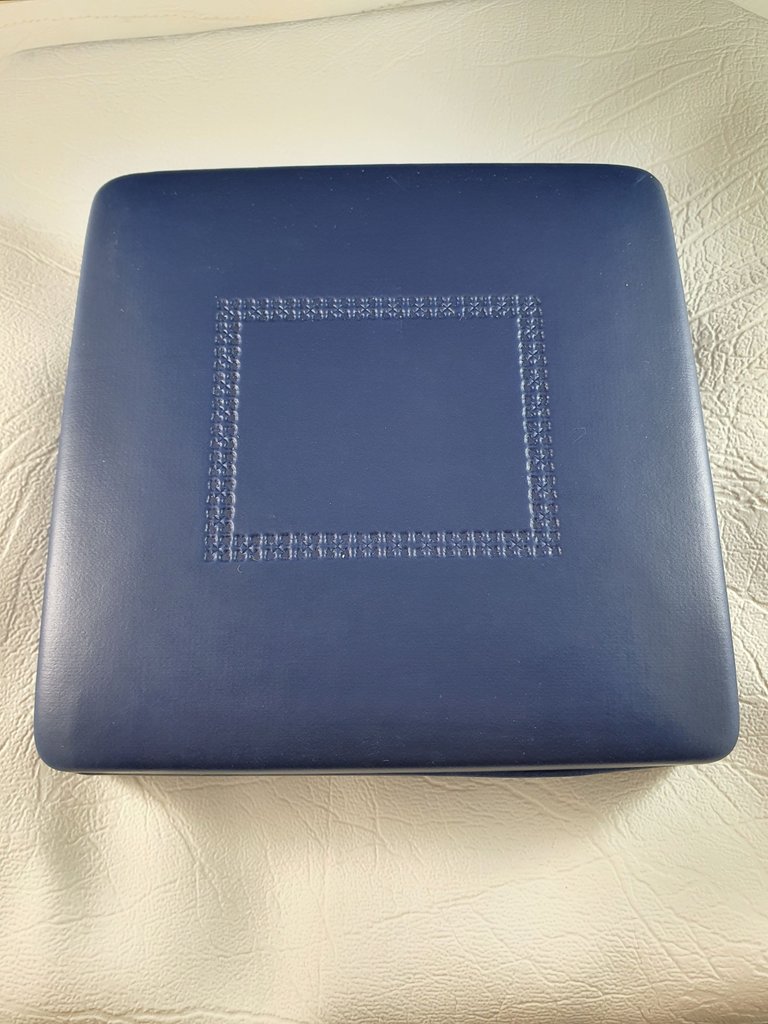 The 5oz Silver proof coin is housed in a navy blue clam shell case. On the lid of the case is an indented square pattern, there is no written text on the case.
3. Coin Details
a. Purity
The medallion has a purity of .999 fine silver.
b. Details
| | |
| --- | --- |
| Mint/Brand: | Northwest Territorial Mint |
| Purity: | .999 Fine Silver |
| Denomination: | Not applicable for a medallion |
| Year of Issue: | No date |
| Edge: | Smooth |
| Weight: | 5oz |
| Diameter: | 63.00mm |
| Maximum Mintage: | No limit |
4. Coin Design
a. Reverse Design
The reverse of the proof coin depicts the map of Mexico.
The design includes an inscription 'FIVE TROY OUNCES', '.999 SILVER' and 'www.firstmajestic.com - TSX:FR'.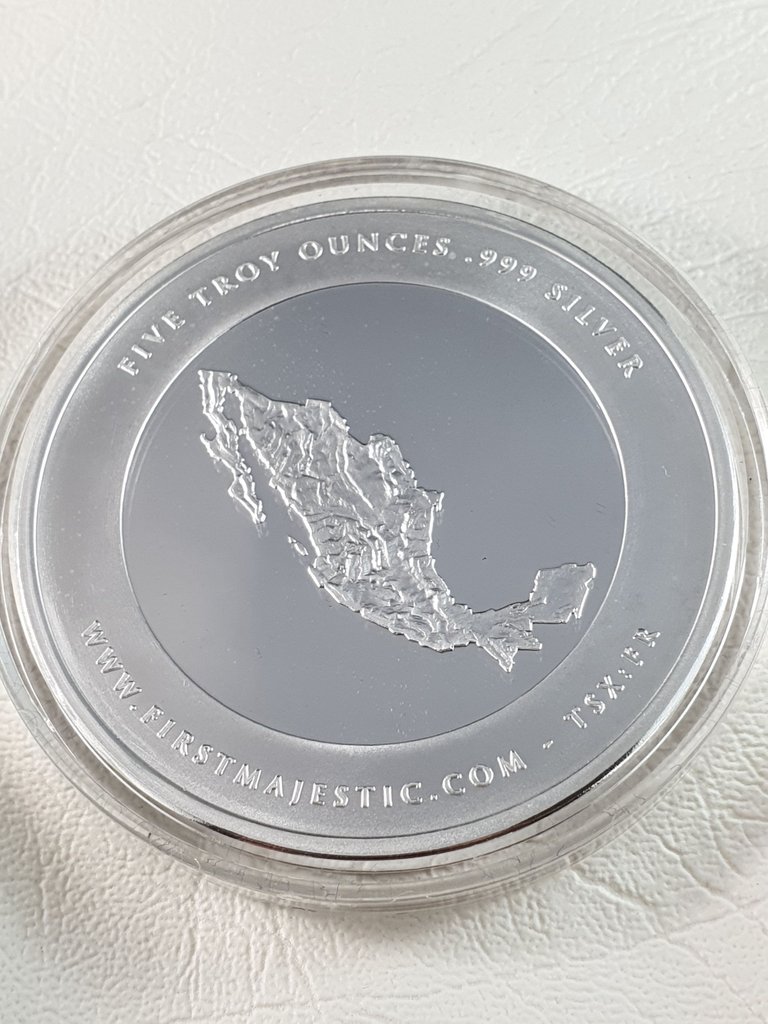 b. Obverse Design
The obverse of the coin portrays the First Majestic Silver Corp logo, the words 'FIRST MAJESTIC' and 'SILVER CORP'.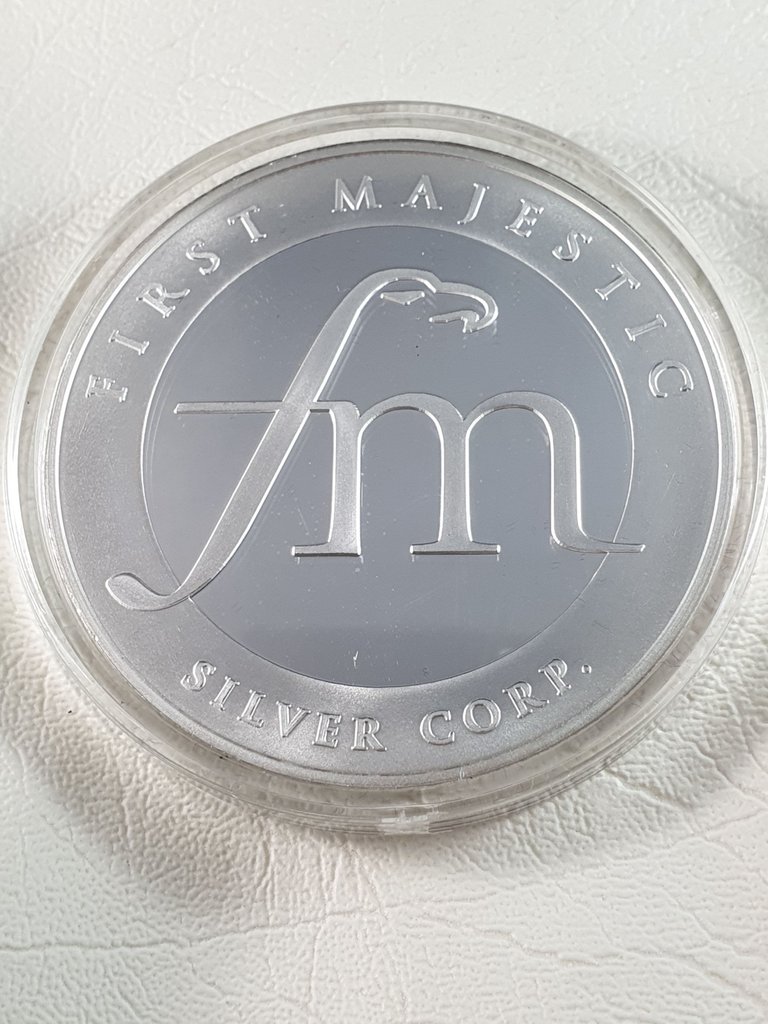 5. Coin Protection
Each 5oz Silver coin is stored in an original mint plastic capsule. It is highly recommended that you keep your silver proof coins in their capsules, to protect them from tarnish, or scratches on the coin that could result from handling the coin.
When handling your silver coin, for extra protection use a pair of cotton gloves. Cotton gloves protect your coins from oils in your fingers that may cause discoloration, damaging the finish of the coin. I have formed the habit to use cotton gloves even when I am handling coins in their plastic capsules.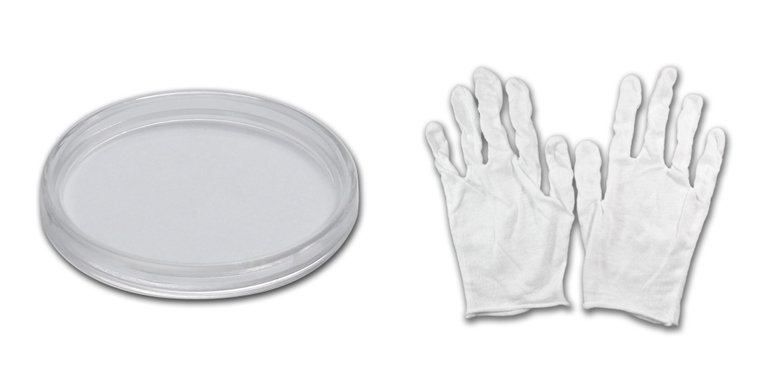 Post authored by @strenue