Today's featured coin is the 2004 Australian Kookaburra 10oz Evolution of Numbers coin struck by The Perth Mint. The Evolution series was a five coin series, the 2004 Evolution of Numbers was the fourth coin in the series.
The other coins released as part of the 10oz Evolution series were:
Abstract and Vivid (2001 Evolution of the Calendar)
Eternity (2002 Evolution of Time)
Literacy (2003 Evolution of the Alphabet)
Enlightenment (2005 Evolution of Knowledge)
For those of you who read my post last night: Sneak Peak - Coin Reveal, may have already guessed this coin design in the comments of that post, if not, then this is the grand reveal.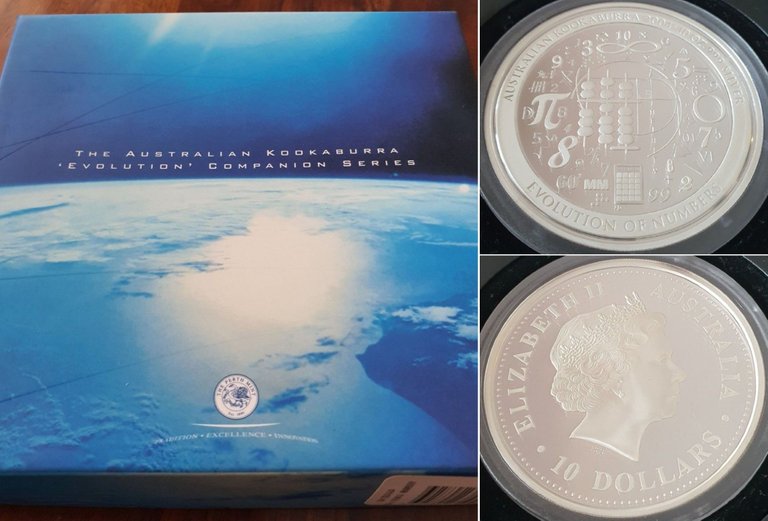 Contents
This post will focus solely on the 2004 Australian Kookaburra 10oz Evolution of Numbers coin. In this series of posts I will write about special collector coins that I own in my stack or that I would love to own. The contents of each post will follow the same format and cover 5 topics, as listed below:
Coin Story
Coin Packaging
Coin Details
Coin Design
Coin Protection
1. Coin Story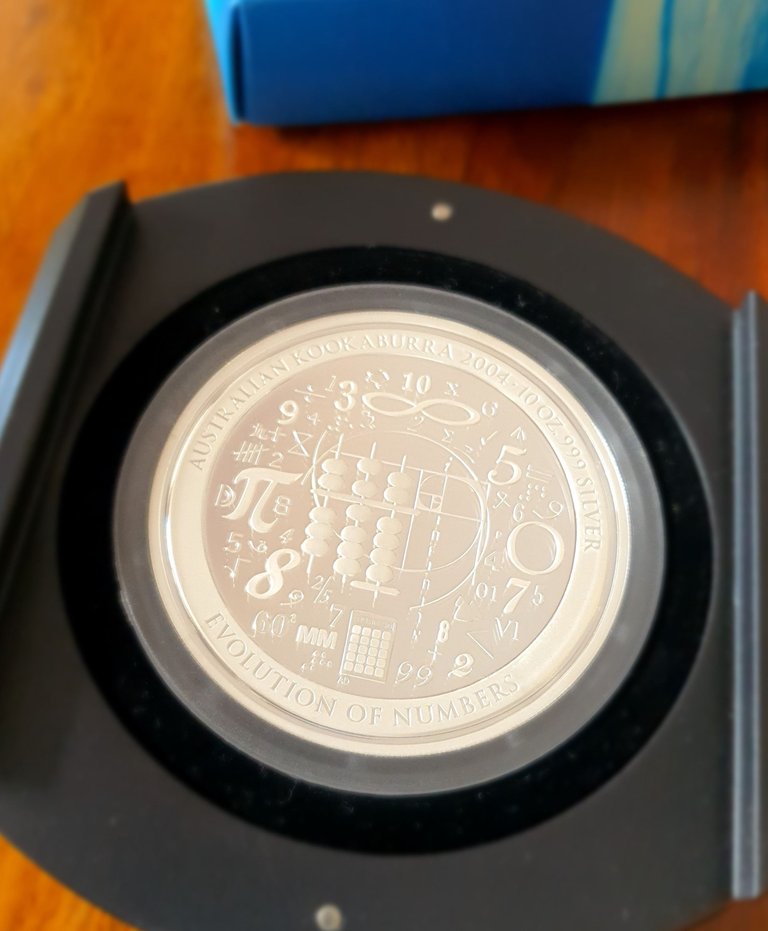 The 10oz Silver Evolution series coins are extremely sort after and attract a very healthy premium on the secondary market. I had a quick browse on ebay.com.au while writing this post to check current prices. I could not find any sold listing for this specific coin, but the other 10oz coins in the series had sold listing for around AU $750.00.
Normally you would have to search high and low to find one of these coins. To be honest they were not even on my search radar as I knew how rare and sort after they are. One day during my lunch break at work, I popped into a coin shop and to my amazement, this coin was sitting in the display window. Then I looked to its right and another 10oz Evolution series design was sitting right next to it.
I had to take a few deep breathes to keep my cool and not give away my excitement. I calmly greeted the coin shop owner and asked him if I could have a look at the coins. He opened the cabinet and handed me both coins. I turned over the tag and looked at the price. The coins had a slight premium over a normal 10oz kookaburra coin, but not by much. Without hesitation I asked him what was the best price he could do if I took both of the coins.
He thought about it for a while, knowing that I was a loyal customer, then he offered me a further discount on the list price if I took both coins. Which I obviously did.
I walked out of the coin shop that day a very happy man. I spent more than I was planning to when I walked into the shop, but it was such an awesome deal, I knew I had to just make it work. Thinking back on that purchase, it still brings a smile to my face.
2. Coin Packaging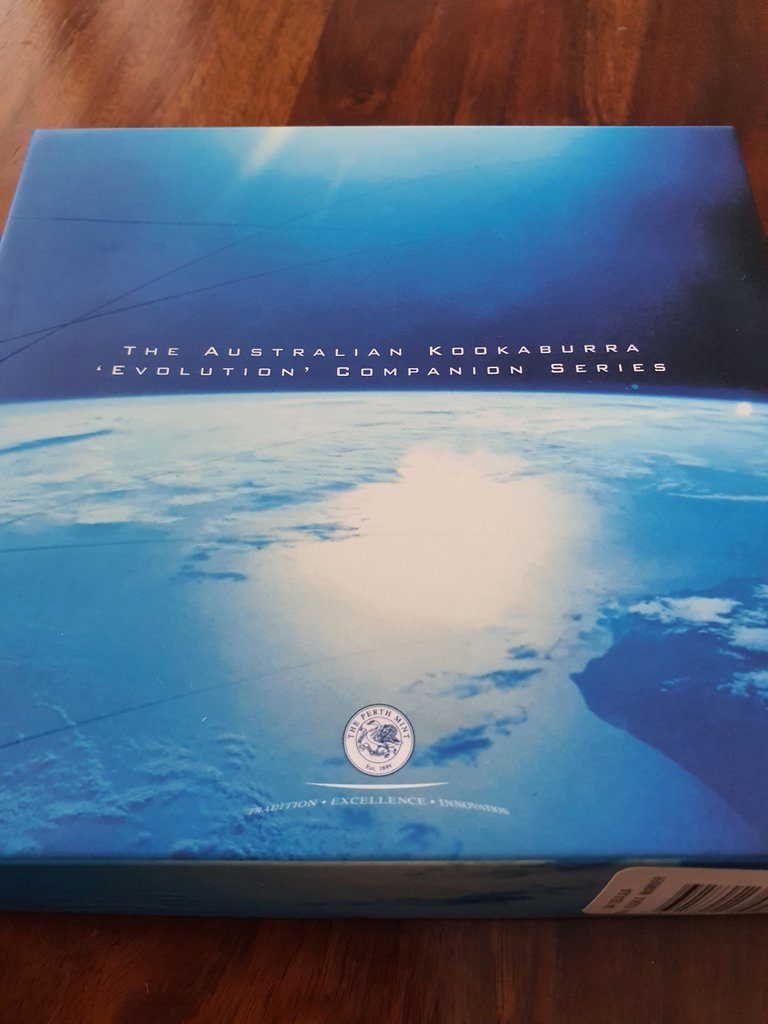 Each coin is packaged in a beautifully illustrated blue outer box, with the words 'THE AUSTRALIAN KOOKABURRA' and 'EVOLUTION COMPANION SERIES'. The 10oz Silver coin is presented in a sleek black case with a clear perspex lid and accompanied by a numbered certificate of authenticity.
3. Coin Details
a. Mintage
The maximum mintage of the 10oz Silver 2004 Australian Kookaburra Evolution Series proof coin was 1,500 and the declared mintage was 886 coins. The coin was issued as legal tender under the authority of Australia with a denomination of ten dollars.
b. Purity
The 2004 edition of the Australian Kookaburra Evolution Series coin has a purity of .999 fine silver.
c. Details
| | |
| --- | --- |
| Mint/Brand: | The Perth Mint |
| Silver Content: | 10 Troy Ounces |
| Purity: | .999 Fine Silver |
| Denomination: | $10 (Australian) |
| Year of Issue: | 2004 |
| Edge: | Milled |
| Weight: | 311.035g |
| Diameter: | 75.50mm |
| Maximum Mintage: | 1,500 |
| Declared Mintage: | 886 |
4. Coin Design
a. Reverse Design
The reverse of the coin depicts numbers, symbols, an abacus and a calculator, with a proof quality mirror finish. The design includes an inscription 'AUSTRALIAN KOOKABURRA', the words 'EVOLUTION OF NUMBERS', the coin weight '10oz' and purity '999 SILVER'.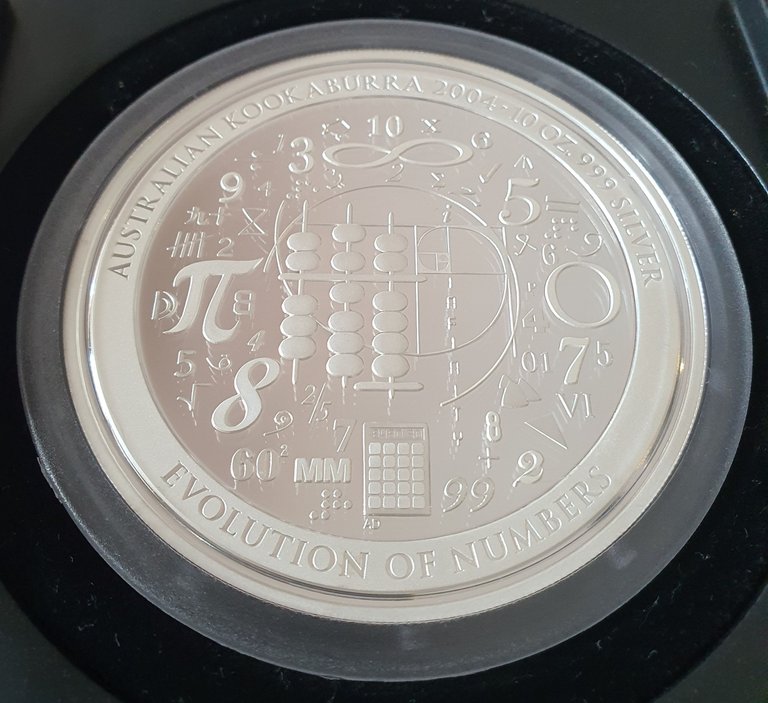 a. Obverse Design
The obverse of the coin portrays the Ian Rank-Broadley effigy of Her Majesty Queen Elizabeth II, the denomination of Australian '10 DOLLARS', with the words 'ELIZABETH II' and 'AUSTRALIA'.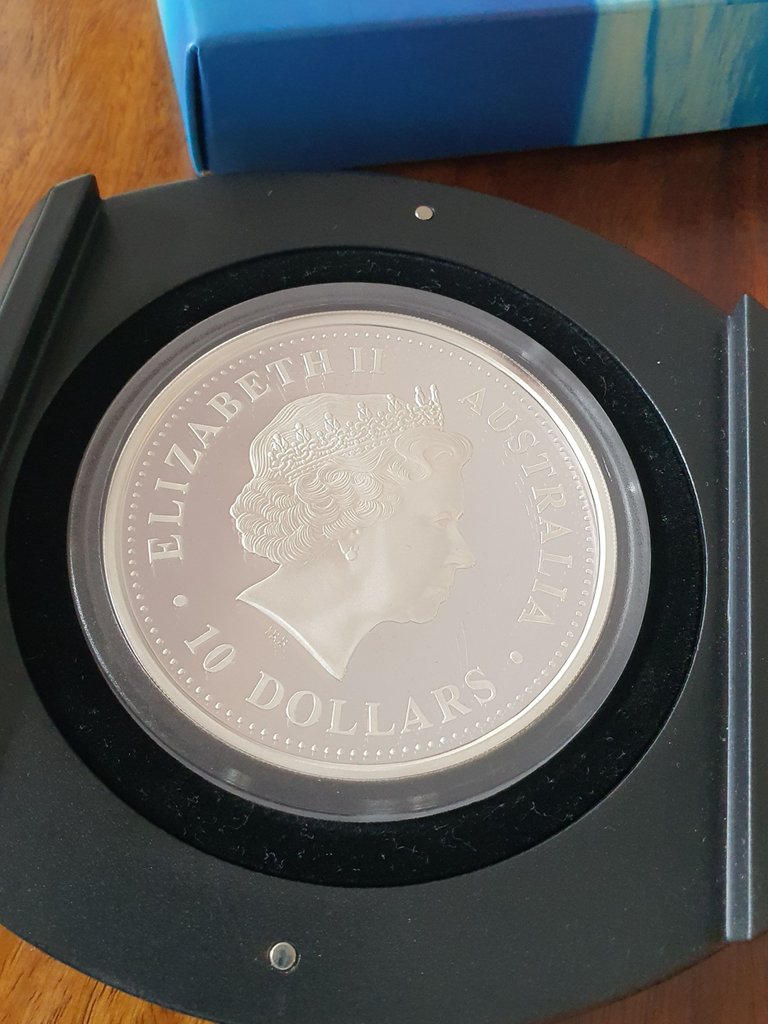 5. Coin Protection
This 10oz Silver Kookaburra coin should be stored in its original mint plastic capsule. It is highly recommended to keep any silver coin in their capsule to prevent tarnishing of the coin. If the original plastic capsule gets scratched, damaged or cracks, you can buy new plastic capsules from your trusted bullion dealer.
When handling your 10oz Silver Kookaburra coins, for extra protection use a pair of cotton gloves. Cotton gloves protect your silver coins from oils in your fingers that may cause discoloration, damaging the finish of the coin. I have formed the habit to use cotton gloves even when I am handling silver coins in their plastic capsules.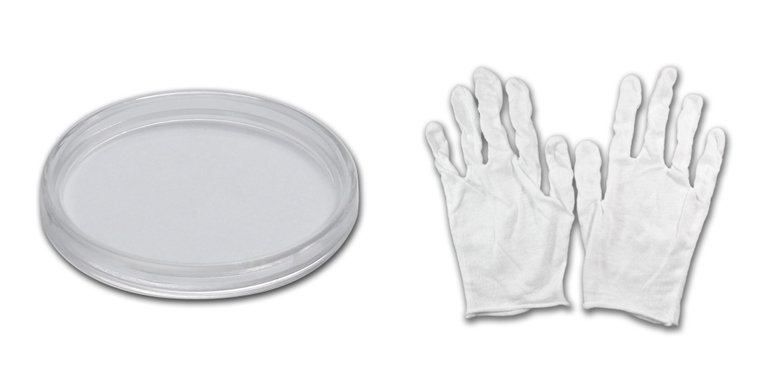 Post authored by @strenue