Today's featured coin is the 2014 Feng Shui Koi proof coin struck by the New Zealand Mint. This coin is a 1/4oz Gold proof quality coin.
For those of you who read my post three nights ago: Sneak Peak - Coin Reveal, may have already guessed this coin design in the comments of that post, if not, then this is the grand reveal.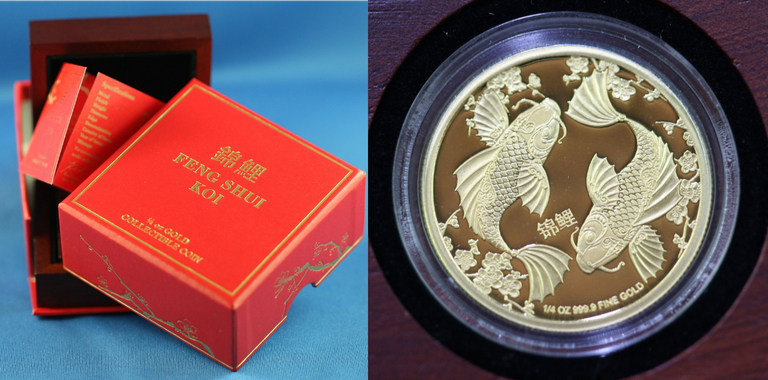 Contents
This post will focus solely on the 2014 Feng Shui Koi 1/4oz Gold proof coin. In this series of posts I will write about a specific special collector coin per post that I currently own in my stack or that I would love to own one day. The contents of each post will follow the same format and cover the five topics listed below:
Coin Story
Coin Packaging
Coin Details
Coin Design
Coin Protection
1. Coin Story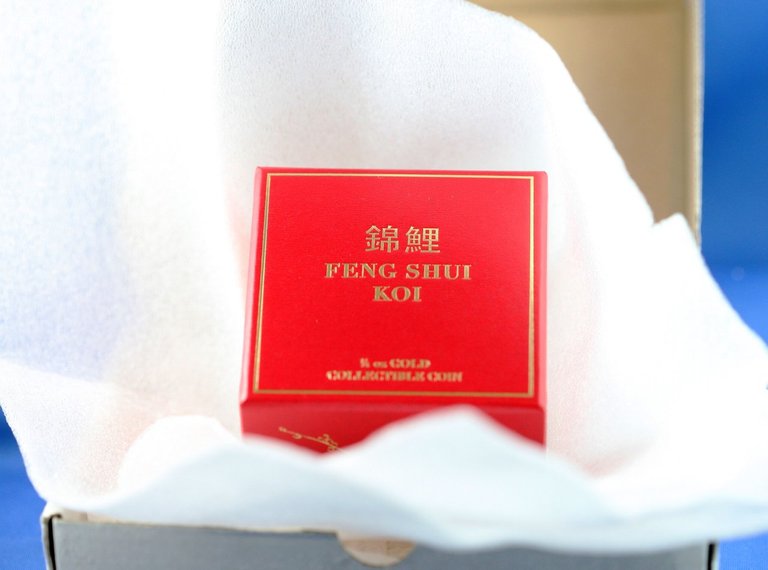 The Feng Shui Coins series was first released by the New Zealand Mint in 2014, with the Koi coin design. An extremely limited amount of 888 coins were minted each year. The series ran from 2014 - 2016. Two coin designs were issued in 2014, two in 2015 and three in 2016.
All the 'Feng Shui Coins' in the series are shown in the table below:
| NAME | DATE | DESIGN |
| --- | --- | --- |
| Koi | 2014 | |
| Cranes | 2014 | |
| Horses | 2015 | |
| Elephants | 2015 | |
| Phoenix | 2016 | |
| Dragon | 2016 | |
| Money Toad | 2016 | |
I am a member of a very popular and well-respected Australian precious metals forum. Through the forum I have been fortunate enough to get to meet a number of the incredible Australian and New Zealand stackers.
I sourced this particular coin through a first class stacker from New Zealand who was also a distributor for the New Zealand Mint. He was on holiday in Australia at the time, so we arranged to meet up, so that I could buy a number of 1oz Silver Fiji Taku coins from him, as shown below.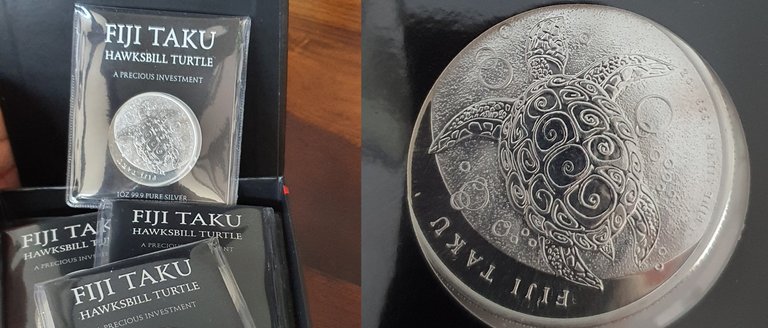 While we were doing the Taku trade, he showed me a number of other coins, one of those coins was this beauty. I was very lucky to get my hands on the inaugural issue of this amazing gold coin with such a limited mintage of only 888 coin sets.
There was another very unique and special coin that I bought as part of that trade. I will not reveal that coin in this post, but I have definitely reserved a future post to feature that coin. 🤐
In 2012 the Feng Shui Koi coin design appeared on a 1oz Silver Coloured coin, two years later the design appeared on the 1/4oz Gold proof coin, see comparison image below.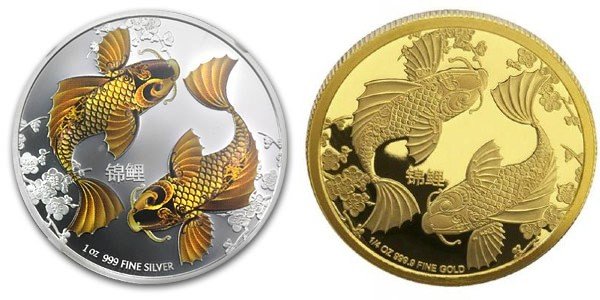 The 1/4oz 'Feng Shui Coins' coins attract a decent premium on the secondary market, especially the first issue 2014 coin. I had a look ebay.com.au this evening but could not find any active or sold listing for this coin series.
2. Coin Packaging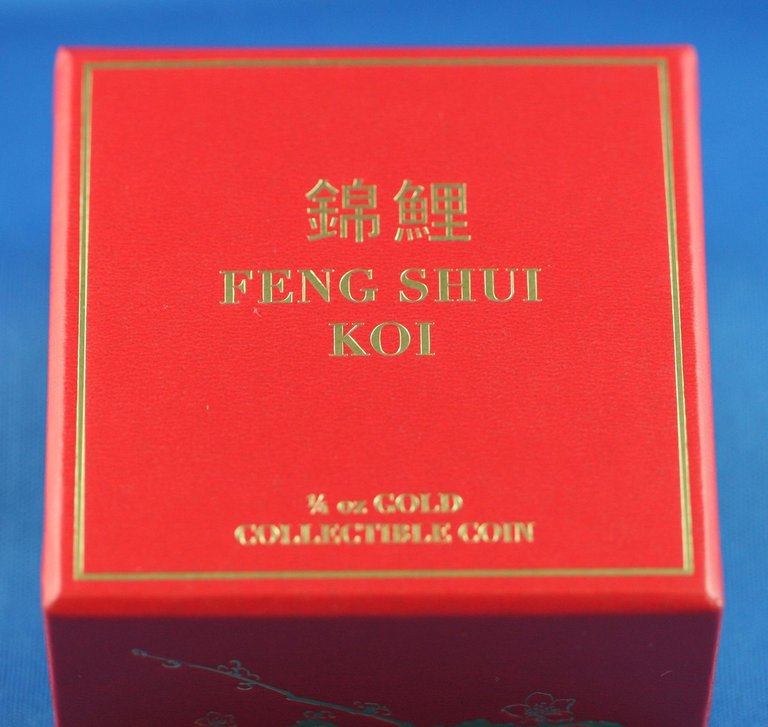 The outer box is bright red with a gold trim border, Chinese writing appears above the words 'FENG SHUI KOI' in gold text. In smaller gold text near the bottom of the box it reads '1/4 oz GOLD COLLECTIBLE COIN'.
Each 1/4oz Gold coin comes with an accompanying coin certificate, below is an excerpt from the certificate:
Certificate of Authenticity

In Chinese tradition, Koi are symbolic of unity and fidelity as they are known to swim together in pairs. Due to this, they are often given as wedding gifts in the form of charms and figurines. Koi are also seen as an auspicious sign of abundance, wealth, and of a perfect union between partners.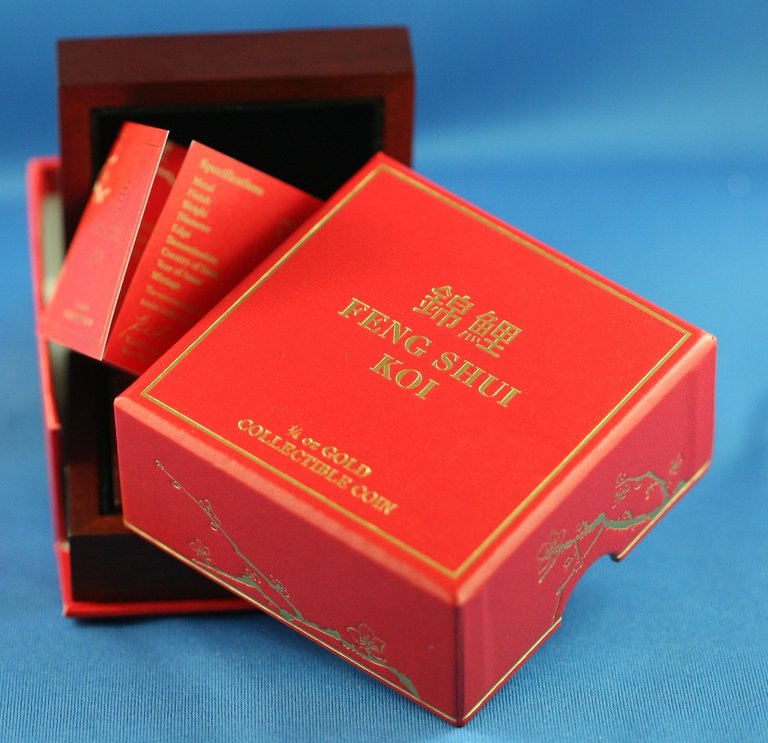 The 1/4oz Gold proof coin is housed and beautifully presented in a high quality wooden display case. The lid of the wooden box opens like a clam shell to reveal the coin. The coin is nestled in an inner piece of wood that slides up on an angle to display the coin.
3. Coin Details
a. Mintage
The maximum mintage of the 1/4oz Gold 2014 Feng Shui Koi proof coin was extremely limited at 888 coins. The coin was issued as legal tender under the authority of Niue with a denomination of twenty-five dollars.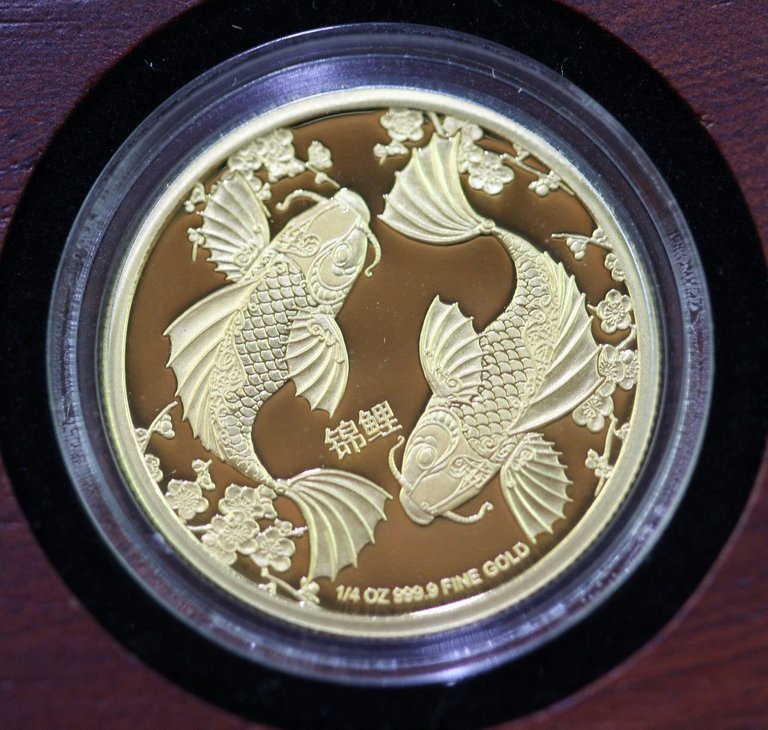 b. Purity
The 2014 edition of the Feng Shui Koi coin has a purity of .9999 fine gold.
c. Details
| | |
| --- | --- |
| Mint/Brand: | New Zealand Mint |
| Gold Content: | 1/4 Troy Ounce |
| Purity: | .9999 Fine Gold |
| Denomination: | $25 (Niue) |
| Year of Issue: | 2014 |
| Edge: | Milled |
| Weight: | 7.7769g |
| Diameter: | 22.00mm |
| Maximum Mintage: | 888 |
4. Coin Design
a. Reverse Design
The reverse of the proof coin depicts two Koi fish swimming around each other, bordered with cherry blossoms. The high quality design is finely etched into the coin, with a polished mirrored background.
The design includes an inscription '1/4 OZ 999.9 FINE GOLD'. In the centre of the coin, between the two Koi is Chinese writing.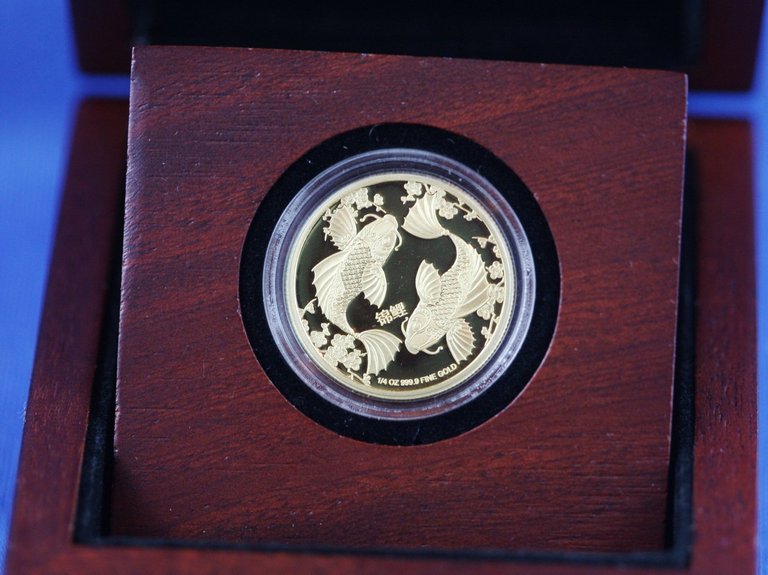 b. Obverse Design
The obverse of the coin portrays the Ian Rank-Broadley effigy of Her Majesty Queen Elizabeth II, the denomination of Niue '25 DOLLARS', the words 'ELIZABETH II' and 'NIUE', with the year inscription of '2014'.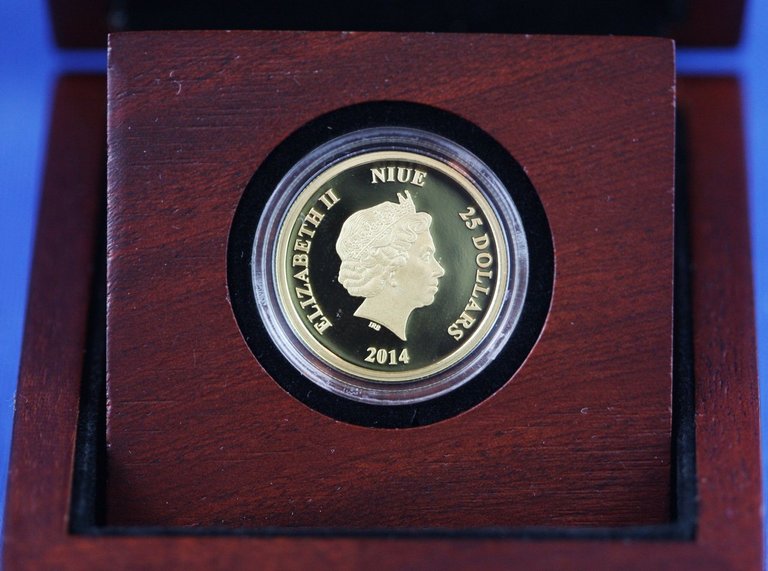 5. Coin Protection
Each 1/4oz Feng Shui Koi coin is stored in an original mint plastic capsule. It is highly recommended that you keep your gold proof coins in their capsules, although gold does not tarnish, handling the coin could result in scratches or marks.
When handling your 1/4oz Gold Feng Shui Koi coin, for extra protection use a pair of cotton gloves. Cotton gloves protect your gold coins from oils in your fingers that may cause discoloration, damaging the finish of the coin. I have formed the habit to use cotton gloves even when I am handling gold coins in their plastic capsules.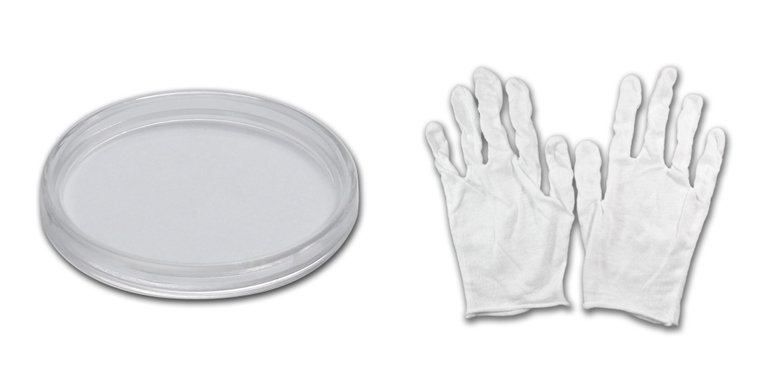 Post authored by @strenue