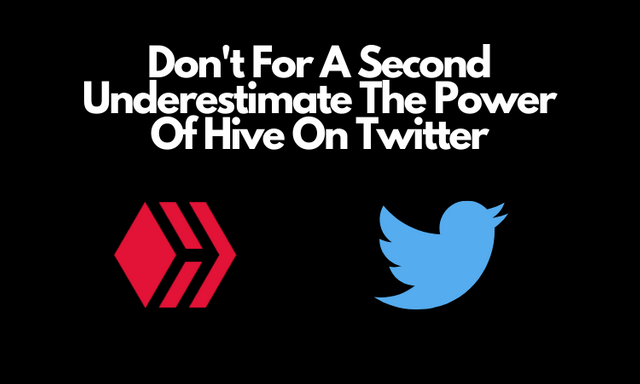 In case you haven't noticed... Our good friend @NathanMars is back on the blockchain.
Do you remember Seven77?
It was pretty powerful!
It went through changes, new initiatives but the general goal was to raise massive awareness for the blockchain on Twitter. And get more people, looking at the amazing community that exists here...
Fast forward and he's been spearheading the #Hive5 movement!
Now...Here's my plea....
Please don't ignore the power that these movements can have on Twitter.
Hate it or love it, the crypto sphere LOVES Twitter and everyone who is everyone, pays attention to the blue bird!
I have yet to get involved with the #Hive5 movement just because of my horrible internet and inability right now to upload any videos, but rest assured....I'll be all over this like white on rice!
We scream 'marketing this and marketing that'...Folks we have the BEST marketing strategy of all, right here...Community!
And when we start waving the flags that this is our home and this is our blockchain, people will notice.
I'm not sure why people say this stuff doesn't work...It does. And if you need a quick reminded, the 'hostile take over' was literally stopped in it's tracks because we, as an entire community, stepped up on Twitter!
Maybe it's not #Hive5 that captures your attention...
Perhaps it's the #HiveIsAlive hash tag...
Or a simple $HIVE in your Tweets...
Me myself, I've been using #ThriveOnHive since day one...
Whatever you choose to embrace, I implore you (if you are on Twitter) to get involved and use these hash tags.
You want marketing results...This is it!
No need to hire over priced consultants, because Hive has something most other blockchains would die for...And that is the community.
The people!
And when we start screaming to the world that we are out there, supporting each other and sharing the news about this blockchain...The world we hear and see us!
I'd recommend pointing them to HiveOnboard.com or a Dapp that helps brings people into our community quickly and then we support them...
Comment on their posts. Encourage them to get involved with a community. Embrace them with upvotes....Anything to make them feel like they've got a home here on the blockchain!
It'll start with attracting them via Twitter but then it'll really help growth when we get them involved and playing in our sandboxes with us...
Maybe I'm a dreamer. A dude that is so attached to this blockchain I can't see anything else...
I'm a shill, I admit it :)
But I still say, we've got the greatest blockchain online.
Let's tell it to the world!
---
Feel free to use this infographic is you wish...I designed it when HIVE first launched, but I think it helps bring the message home :)