It looks that Steem-Engine has some problems, so I don't know how will I make this post, but we will see when I reach the S-E part with tokens turn... Until then, let's take a look at my favorite major coins. Of course, with noob glasses... 8-)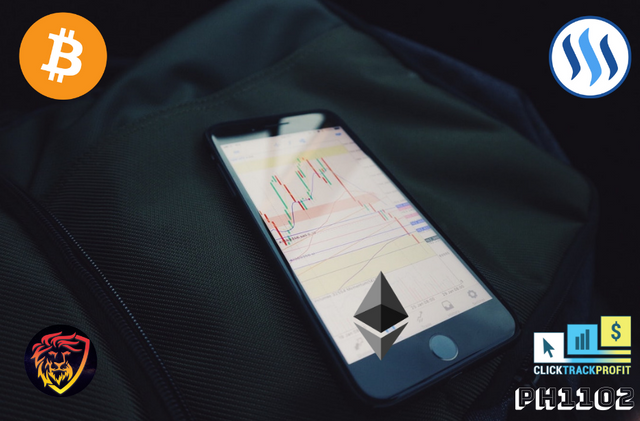 created on canva.com
Let's start with our favorite and daddy of all coins, Bitcoin. It wasn't so a good week for BTC, but whenever it goes, it comes back to the same price every Sunday... Lol... In my last report, it's price was $8280 and after that, it went down to $7900 through the week... Then we heard a lot of bears yelling that we are going down to $5400-$6000, but, BTC just said: "Nah"... Let's go up at almost the same price... :) Currently, it is traded around $8250. So, in the end, we are at the beginning... Or, vice versa... :)
Exactly 7 days ago Ethereum was traded for $181, but at the moment its value is around $176. Same story as Bitcoin... It was going down all week, and at the moment is struggling to keep pace with BTC and push up. If we take a look at its value in BTC regarding last week (when it was traded for 0.0219 BTC), the current value is around 0.0213 BTC which is not so big drop at all... For these though bearish days...
On the other side, we have seen a totally different story with our favorite coin, STEEM. It was pushing to the upside all week, volume was also surprisingly okay, but in the end, it just comes back to the same price where it was... Last Sunday it was $0.135 and now it is $0.138. If we take a look at the STEEM/BTC chart, the price has moved from 1650 satoshis to 1680 satoshis... Slightly better result, but better than dropping down... :)

As I said, it could be solved until we reach this section... and it is... Steem-engine fully works again :)
CTP token was traded from 0.020-0.049 STEEM (almost the same as last week), but the trading volume was really low all the week... The majority of the users don't want to sell their CTP tokens for a cheap price and staking them at the moment... The circulating supply is 515,044.416 CTP tokens and the last 24h volume was very low: 8 STEEM / $1.13.
DEC token didn't succeed to keep the price after the rise of the prices of BETA cards. It fell down to 0.00600 STEEM per token, but, as prices are coming back to normal, it also going slowly up. It was traded between 0.00600-0.00680 STEEM, with a circulating supply of 86.545M DEC tokens and the last 24h volume was 4,336 STEEM / $606.31.
PAL token continued with a free fall... Actually, at this moment I see the buying orders around 0.07001 which is awesome, as it was traded for 0.035-0.050 STEEM almost the whole week. The circulating supply is 15.619 M PAL and the last 24h volume was much better than last week, 313 STEEM / $43.74.
SPT token had a bad week and it came down to the current price of 0.00469 STEEM per token. It was traded around the price of 0.0046-0.0060 STEEM per token. Circulating supply is 24.72 M SPT and the last 24h volume was only 2 STEEM / $0.34.
LEO token has been stable around the price of 0.2 STEEM per token, probably because of a lot of improvements that they have done lately. The most important was the integration of their own DEX LEO exchange and of course a lot of ways of burning tokens that they are using. It was traded around the 0.150-0.217 STEEM. Circulating supply is lower than last week, 3.984 M LEO and a 24h volume was 584 STEEM / $81.36.
In general, it was not so a bad week at the markets... But, maybe too quiet... There is a lot of pressure on Bitcoin price and that wall at $7800-$7900 was tested a lot of times, and that is not a good sign... Anyways, everything is possible in crypto, so be open for every possible scenario...
---
My staked tokens summary (this week - last week):
CTP token - 14640 (12652)
PAL token - 748 (745)
SPT token - 12894 (12571)
BATTLE token - 7763 (7673)
LEO token - 3013 (2988)
~ph~

.:. .:. .:. .:. .:. .:. .:. .:. .:. .:. .:. .:. .:. .:. .:. .:. .:. .:. .:. .:. .:. .:. .:. .:. .:.

Don't forget to follow, resteem and browse my steempage to stay connected with all the great stuff!

Join SteemSavvy.com The Ultimate STEEM School
Do you need FREE affiliate marketing lessons? Join ClickTrackProfit
.:. .:. .:. .:. .:. .:. .:. .:. .:. .:. .:. .:. .:. .:. .:. .:. .:. .:. .:. .:. .:. .:. .:. .:. .:.