Hey JessTaxpayers
As I continue to talk about cryptocurrency no coiners will ask me questions I don't often consider and one of them was about tax on cryptocurrency. I'm not too sure about how it works in various parts of the world but in South Africa tax on cryptocurrency is only applicable once you cash out into poisonous fiat. While this can be avoided by selling your BTC peer to peer, most of us would sell via your local exchange with KYC so you will be liable for tax on capital gains.
The only other way to avoid paying tax is to keep your holdings within the blockchain and never selling. You can still get fiat from it by taking out a loan backed by your crypto holdings or protecting your purchasing power from volatile by converting into a stable coin like USDT or a range of others. Image source: - reddit.com
The penality for cashing out
The way I see it now is having a tax on cryptocurrency is the price you pay for wanting fiat and an incentive to keep your crypto. It's also an incentive to start accepting goods and services in cryptocurrency and avoid the tax implications of paying in fiat in your local currency.
I think that regulation is a good thing because it sets the precedent for those who want to work between fiat and crypto that they will have to give up purchasing power and certain freedoms when they cash out and think twice about taking gains.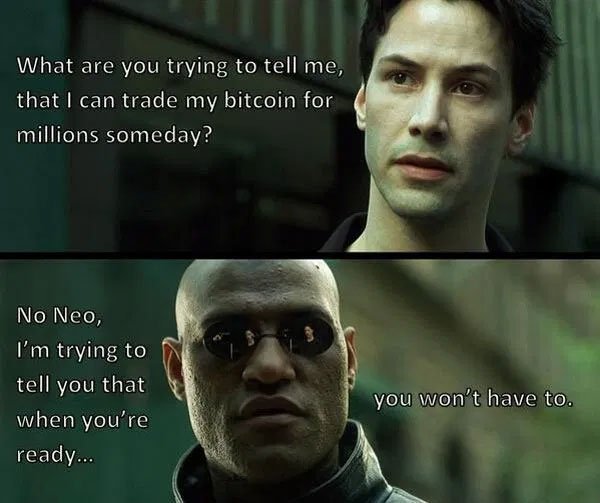 Image source: - masterthecrypto.com
A future where you don't need to cash out
I think as cryptocurrency users we can't rest on the idea of one-day taking gains its an indifferent system. We should be increasing the velocity of crypto by allowing more people to trade goods and services directly in cryptocurrency. The more ways people can spend, earn, sell, buy and get things they want, the more legitimacy these coins will get and people can see the practical use of a coin.
Have your say
What do you good people of steem think? Have you paid tax on your gains? How painful was it?
Holla at me in the comments! All my commenters I will now refer to as Jessie. Jessie is a good friend of mine, but Jessies got a girl, and I want to make her mine.
So have at it my Jessies! If you don't have something to comment, comment "I am a Jessie."
Let's connect
If you liked this post sprinkle it with an upvote or esteem and if you don't already, consider following me @chekohler


---
| Buy & sell STEEM | Donate LikeCoin For Free | Earn Interest On Crypto |
| --- | --- | --- |
| | | |