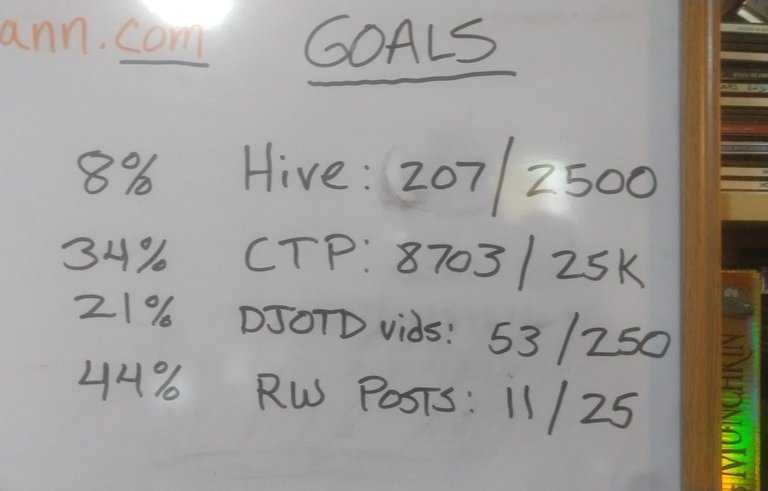 Setting Goals Matter.
Without Them, How Do you Know What You're Doing?
I have been an achiever my entire life because I learned to set goals and track my results. I haven't always succeeded or reached every goal, but I definitely had something to strive for.
This works on so many levels. Obviously the prime reason we set goals is to have something within our grasp to reach for.
Without goals, we just wander aimlessly.
WITH goals, we have focus and drive to get things done.
I've noticed that many people withing CTP seem to work towards challenges, but what's the end purpose? WHY are you doing it?
You obviously have a reason (there's your GOAL) WHY you are doing the Oasis, Gauntlet, Luke, IAmAliveChallenge, 2020Vision challenge, etc.
So let's start working toward goals that we associate with these behaviors. I bet many of you have such goals, they just aren't known to me and the rest of our Hive Swarm.
So yeah, I am calling us out. Let's set goals and kick butt.
My Current Progress
The photo above shows my current goals on my whiteboard that's in my office.
They're long-term. Here's what they are and why it matters.
Hive: 8%
I have 207 Hive tokens right now.
I want 2500.

CTP: 34%
I have 8703 CTP tokens right now.
I want 25,000.

"Dad Joke of the Day Videos": 21%
My son and I have been making daily dad joke videos. I love doing this. We are at 53. I want to have 250 of them. These really help make my DadJokesAndMemes.com a cut above the other dad joke sites, and it brands it indelibly with my image (and my son's!).

RobWillmann.com blog posts: 25%
I have 11. I want 25 blog posts to start. That will flesh out my site.
Long term it will bring me more traffic as my blog posts get ranked in Google and the other engines.
Plus, as I pile on more content, it makes me an authority.
These are all obtainable goals. I put the percentage to the left of each one on my whiteboard because I am a nerd.
I also picked numbers that were all related to the number 25 somehow, because from doing this in the past, I've discovered that it's easier for me to remember my goals if they're all relatable in some way.
Why it Matters:
By putting these in a public forum, it's forcing me to put effort into them. Otherwise anyone can come by, see this block-chain blog post, and then ask me "Hey Rob, How are you doing with your goals?"
Over the years I've found that having goals in a public place means there's no hiding from them. They aren't mine anymore. They're public. I am now accountable.
Challenge!
Everyone seems to have a challenge nowadays, whether it's #IAmAliveChallenge, finding Luke, #2020Vision, or other.
So I am starting a NEW challenge, and we can consider this post to be the instructions for it.
Write ONE Introduction post or video on CTPTalk.com or PeakD that describes your goals. Record your URL. You'll use it later.

Each day, post on CTPTalk about your efforts to reach your goals. This is important! Even if you didn't do anything toward them, by posting about your goals it will remind you to strive toward them, AND our community will encourage you.

Use #MyHiveGoals to tag any posts about your goals. Simple!

Include your original post URL where you spelled out long-term what your goals are. That way you don't have to repeat the story or WHY you have those goals every time. Write that up in the original post, like this one is for me. Then just reference the URL in the future if needed.
We are going to rock this, and reach some real milestones.
You don't need to post as many goals as I did. You can simply post one. Just make sure it's something that you really want to obtain, and is measurable in some way.
Examples:
I want to earn $100 or 500 a week online.
I want to lose 10/20/30 pounds over the Summer.
I want to write a blog post every 3 days.
Folks, let's turn CTPTalk into a success incubator. Quit playing around, and let's make our goals a reality!
Who's With Me?
I would LOVE to see some replies below or even some new posts with some goals set using the #MyHiveGoals.
I know there are some of you who read through this, and are right here with me. Let's create a challenge that's going to propel us to the next level.
Read? Set? Go!
Peace and Love,
-Rob